Hydraulic Adapters Tough Enough for the Construction Industry
Wednesday, November 27, 2019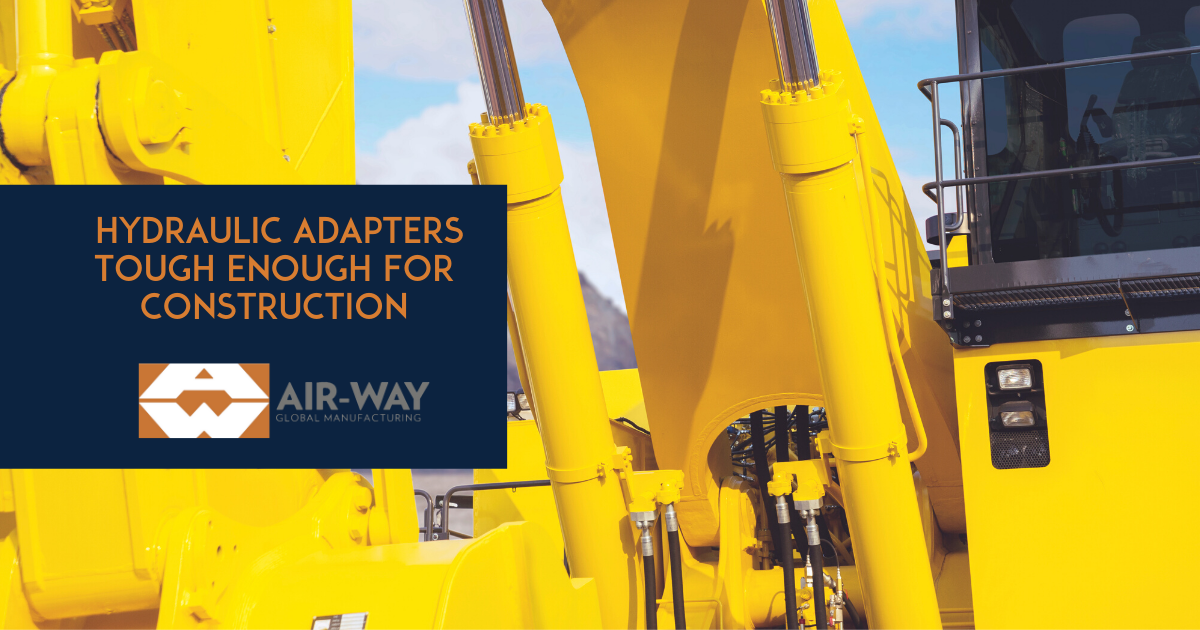 The construction industry focuses on the building, maintaining, and repairing of roads, buildings, and other structures. Here at Air-Way Global Manufacturing, we are pleased to offer a variety of hydraulic fittings for the companies who build, maintain and repair the heavy equipment used in construction. This equipment is put to the test every day, and must be durable, reliable, and efficient while operating at construction sites. Heavy equipment vehicles have hydraulic systems specifically designed for their application. And, these hydraulic systems must work properly in environments that are filled with dust, sand, mud, and other particles.
You can find our hydraulic fittings and adapters as part of hard working hydraulic systems on all types of equipment like skid steers, excavators, front-end loaders, back hoes, bulldozers and a variety of heavy equipment vehicles from leading Original Equipment Manufacturers. In addition to our full line of fittings and adapters, we offer quick-release couplings that are ideal in construction settings, where different attachments may be needed throughout the project. Hydraulic couplings and all of our adapters include corrosion resistant coatings helping them stand up in the harsh environment.
Quality Hydraulic Solutions No Matter the Application
Hydraulic systems on heavy equipment are under pressure. So are the construction workers and equipment operators on the job site. We work with OEMs to provide technical engineering design to ensure you have the right hydraulic fittings for your application. We also qualify our products through pressure testing, corrosion resistance, and other means, making sure our customers get the highest levels of quality in every adapter. One hydraulic assembly failure can delay an entire construction project. Not with Air-Way Global Manufacturing. You can count on our powerful, dependable, and performance-oriented hydraulic solutions.
OEM Hydraulic Solutions from Air-Way
Since Air-Way owns the entire manufacturing process start to finish, customers have a unique advantage. They can count on us for total hydraulic solutions. We're able to support you with experienced technical design engineers for custom hydraulic fittings, and our OEM Solution Centers provide complete hydraulic hose assemblies, adapter products, and supply chain solutions. Learn more about them here.
More Than A Fitting Supplier. We're The Manufacturer
Whether you're looking for replacement hydraulic adapters or a specific a new part for your unique hydraulic application, Air-Way Global Mfg. can help. You can shop all of our hydraulic fittings online now, contact us for a quote request or get in touch with us to discuss any custom fittings you may need. If many of the top OEMs of Heavy Equipment count on Air-Way, you can too!
Coronavirus Response For Customers

We remain staffed and in production at all locations, both US and China, including our Edgerton, Ohio, facility. Air-Way supplies Original Equipment Manufacturers in the Agriculture, Construction, Fire and Rescue, Defense, Access Equipment, and Material Handling industries to name a few. Several of our largest customers have been classified as "Essential Critical Infrastructure". As an integral supplier to these companies, Air-Way will continue operations at all of our facilities with as little disruption as possible.
READ MORE

Seven Key Qualities To Consider When Selecting Your Supplier

Just like a chain is only as good as its weakest link, a company is only as good as its worst supplier. Suppliers play a critical role in the production process, providing the materials a company uses to produce its own products and provide services. The right supplier can help a manufacturer improve the production process, maximize capabilities, create cost efficiencies, and deliver a higher-quality product. For some organizations, their suppliers are the secret sauce to their own success.
READ MORE

ATTENTION: Visitors to Air-Way Global Manufacturing Facilities

Air-Way proudly associates with businesses throughout the world and empathizes with the hardships that organizations are experiencing as a result of the coronavirus (COVID-19). Currently, this is a global concern, particularly in China and parts of Europe. As a company, we have an obligation to do our part to prevent its spread.
READ MORE