Hydraulic Fitting Supplier vs. Manufacturer
Thursday, October 4, 2018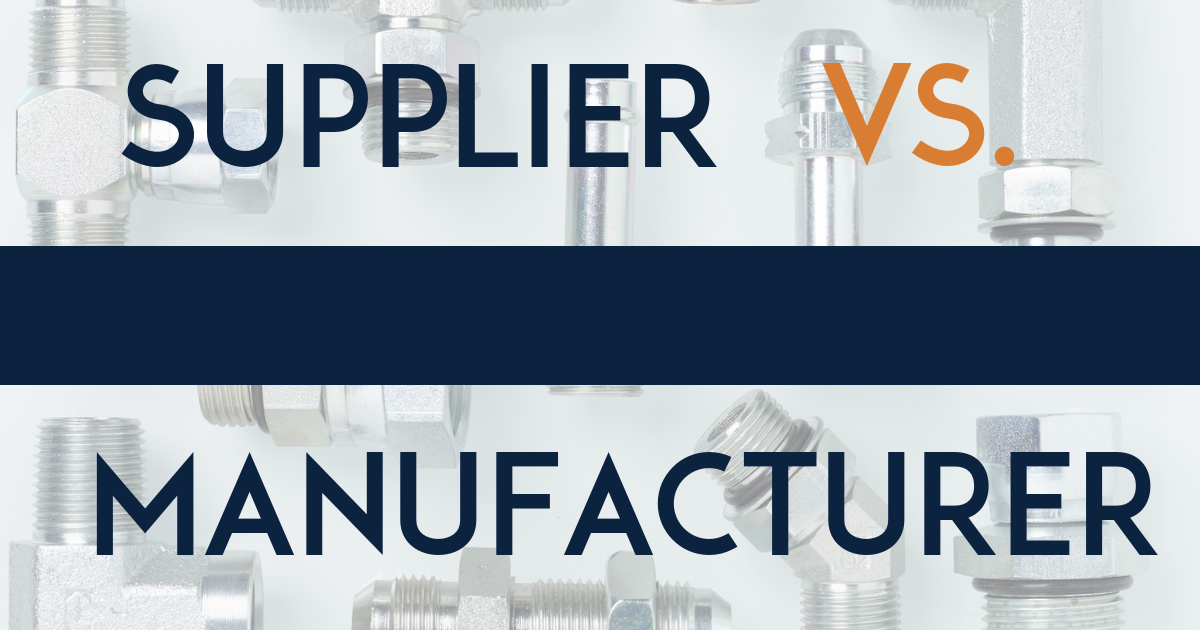 E-commerce impacts every industry, including ours, and is fast becoming demand-driven. The "have it now" mentality has taken hold and quite often, many seeking hydraulic fitting and hose solutions turn to online "suppliers" as their source of choice. A quick google search will certainly bring up several websites that claim they have exactly what you're looking for (with no shipping fee!), so why say no? It's important to realize that while they may offer a number of hydraulic fittings and hoses, working with a manufacturer vs. a supplier is the way to go.
What's the difference between a hydraulic fitting manufacturer and a supplier?
There are quite a few differentiators, but it all boils down to who is making the actual product. A supplier doesn't manufacture anything. They source hydraulic fittings and hoses from other companies, and sell them to customers, usually online only. They are a middle man of sorts, connecting the customer to the manufacturer.
Manufacturers cut out the middle man. They make the product in-house, and own the process – every step of the way. Our title says it all: Air-Way Global Manufacturing. We have innate knowledge of every product, material, type, application, etc., and because of our extensive knowledge base, we're able to answer questions and address tough application challenges that suppliers simply cannot do.
Manufacturers, like Air-Way Mfg, have more control over product inventory and availability.
We understand your customers count on you, just like you count on us, to get them the products they need quickly and affordably, no matter when the order comes in. Because we own the manufacturing process, we naturally have a personal interest in the success of your project or application. We manage an extensive inventory and know what we have on hand. Our products are reliable and we work hard to have them ready to ship — reducing overall downtime for our customers. We are staffed with a dedicated team of specialists that can support you, advise you and make sure the part you're ordering is the perfect one for the job.
Manufacturers have unique customization capabilities.
When you work with a supplier, it may be easy to order online, but it's a cost-driven process and what you see is what you get. While we offer a full line of standard catalog items available for purchase online, when you work with a manufacturer like Air-Way, our customization capabilities make it possible to go beyond the typical stock products. If your application requires minor modifications, like a different O-Ring or nut, or something more customized, those are a natural part of our job description. We offer a level of technical service far beyond that of most fitting suppliers, tailoring our approach to your needs. In addition to our standard items, we routinely design and manufacture custom hydraulic fittings in unique sizes and configurations.
All our manufacturing facilities located around the world are standardized and quality controlled. We are ISO 9001:2015 and ISO 14001:2015 certified, ensuring part accuracy and quality manufacturing on a global level, and are responsible environmental stewards as well. That's what you should expect when you choose to work with a manufacturer. Someone who's got your back and has an arsenal of expertise, experience and reliable inventory.
We invite you to learn more about our story, explore our inventory and of course, if you ever have a question please contact us.
Hydraulic Adapters Tough Enough for the Construction Industry

Hydraulic systems on heavy equipment are under pressure. So are the construction workers and equipment operators on the job site. We work with OEMs to provide technical engineering design to ensure you have the right hydraulic fittings for your application. Here at Air-Way Global Manufacturing, we are pleased to offer a variety of hydraulic fittings for the companies who build, maintain and repair the heavy equipment used in construction.
READ MORE

We're Headed to ConExpo 2020

If you've ever attended ConExpo in the past, you know it is an incredible opportunity to connect with vendors, manufacturers, and potential customers. Our staff is looking forward to ConExpo 2020, which will be held March 10-14. Visit our booth to learn more about our company, and the many hydraulic solutions we provide to some of the top OEMs in the world. Our team is excited about sharing how our technical engineering and design staff, can support our customers with hydraulic solutions for their specific applications.
READ MORE

We Provide Engineering Support for Hydraulic System Design

Is your business struggling with the skills gap or worker shortage in today's ever changing economy? We see it with many OEMs and hydraulic machinery manufacturers. Over the last several years our technical engineers have worked with an increased amount of customers to assist in their hydraulic system design, and component selection. Regardless of whether you need hose assemblies (hoses and adapters) or just components, we can help.
READ MORE