Distributors

What you need, when you need it.
At Air-Way, we understand your customers count on you to get them the products they need quickly and affordably, no matter when the order comes in. Our extensive inventory means our products are reliable, on-hand and ready to ship — reducing overall downtime for your customers. We specialize in short lead times, expediting and drop shipping which ensures orders are fulfilled on time. Whether you need a part for repair or to order new fittings, our comprehensive inventory and dedicated team of specialists will assure you have the products you need as quickly as possible.
Browse our catalog to check pricing, availability and order today!
Can't find what you need? Our online catalog represents only a portion of what we manufacture and offer. We specialize in handling special requests. Request a quote today.
Stay connected. Join our email list, sign up here
Learn more
Manufacturers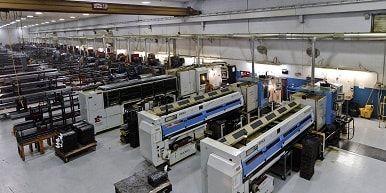 One size does not always fit all.
As industry changes, so do the needs of our customers. A one-size-fits-all approach no longer works for everyone or every product. Our engineering and design services team will work with you to assess your individual needs to provide a custom solution that works for you. We offer a level of technical service far beyond that of most fitting suppliers, tailoring our approach to your needs. In addition to our standard items, we routinely design and manufacture custom fitting sizes and configurations.
Air-Way Advantages
Rapid prototyping: Developing your concept into a production print for precise manufacturing.
PPAP (Production Part Approval Process): Ensures consistent quality for all new parts.
Customer-involved approval process: Parts are not released until you are 100% satisfied.
Learn more
Latest from blog
Stainless steel adapters and hydraulic fittings offer machine manufacturers multiple advantages over standard steel and plastic options. While stainless can be challenging to machine, oftentimes, it is the right or only solution, and Air-Way has the experience.

Located on Ascension Island, about halfway between South America and Africa in the Southern Atlantic Ocean, NASA's 20-thousand-pound Meter Class Autonomous Telescope (MCAT) hunts the sky for space debris. The telescope is part of the ARES Division's Orbital Debris Program Office, whose mission is to determine the total amount of orbital debris and predict the risk it poses to spacecraft, including the International Space Station.

A custom hydraulic fitting solution can ensure you have the right concept, design, and material for a perfect solution. Without the right hydraulic system connections, machinery will not work effectively or efficiently to provide the desired result. Sometimes, the only way to ensure a proper fit for your application is with a custom hydraulic fitting solution from Air-Way Global Manufacturing.
Visit the blog