Distributors

What you need, when you need it.
At Air-Way, we understand your customers count on you to get them the products they need quickly and affordably, no matter when the order comes in. Our extensive inventory means our products are reliable, on-hand and ready to ship — reducing overall downtime for your customers. We specialize in short lead times, expediting and drop shipping which ensures orders are fulfilled on time. Whether you need a part for repair or to order new fittings, our comprehensive inventory and dedicated team of specialists will assure you have the products you need as quickly as possible.
Browse our catalog to check pricing, availability and order today!
Can't find what you need? Our online catalog represents only a portion of what we manufacture and offer. We specialize in handling special requests. Request a quote today.
Learn more
Manufacturers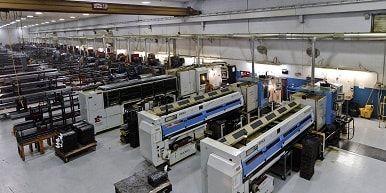 One size does not always fit all.
As industry changes, so do the needs of our customers. A one-size-fits-all approach no longer works for everyone or every product. Our engineering and design services team will work with you to assess your individual needs to provide a custom solution that works for you. We offer a level of technical service far beyond that of most fitting suppliers, tailoring our approach to your needs. In addition to our standard items, we routinely design and manufacture custom fitting sizes and configurations.
Air-Way Advantages
Rapid prototyping: Developing your concept into a production print for precise manufacturing.
PPAP (Production Part Approval Process): Ensures consistent quality for all new parts.
Customer-involved approval process: Parts are not released until you are 100% satisfied.
Learn more
Latest from blog
The term Internet of Things (IoT) has fast become a commonplace phrase referring to the interconnectedness via the Internet of computing devices embedded in everyday objects. An idea that has quickly grown into an industrial movement, how does the IoT apply under the umbrella of hydraulic system management and development?

At Air-Way Global Manufacturing, we make it as easy as possible to find the right part with the perfect fit for your industry application and equipment requirements. Learn how we've taken steps to streamline the process, making your search a snap.

Hydraulic fittings must meet stringent sanitary and aseptic standards within food and beverage processing facilities to keep production and assembly lines moving. Highly corrosive environments, extreme temperatures and submersive settings are all common components of a food processing facility and many hydraulic fitting materials are not engineered to withstand such harsh environments. So, when it comes down to it, what kind of food-grade fitting is best?
Visit the blog