OEM Solution Centers and Hydraulic Hose Assemblies
Tuesday, July 18, 2017
A key advantage our customers have is working with a large manufacturer who owns the entire manufacturing process from start to finish, and is able to support it with experienced technical design engineers. Another advantage is our capability with the breadth of hydraulic solutions we deliver every single day. This includes our OEM Solution Centers and hydraulic hose assemblies as part of our customer centered products and services.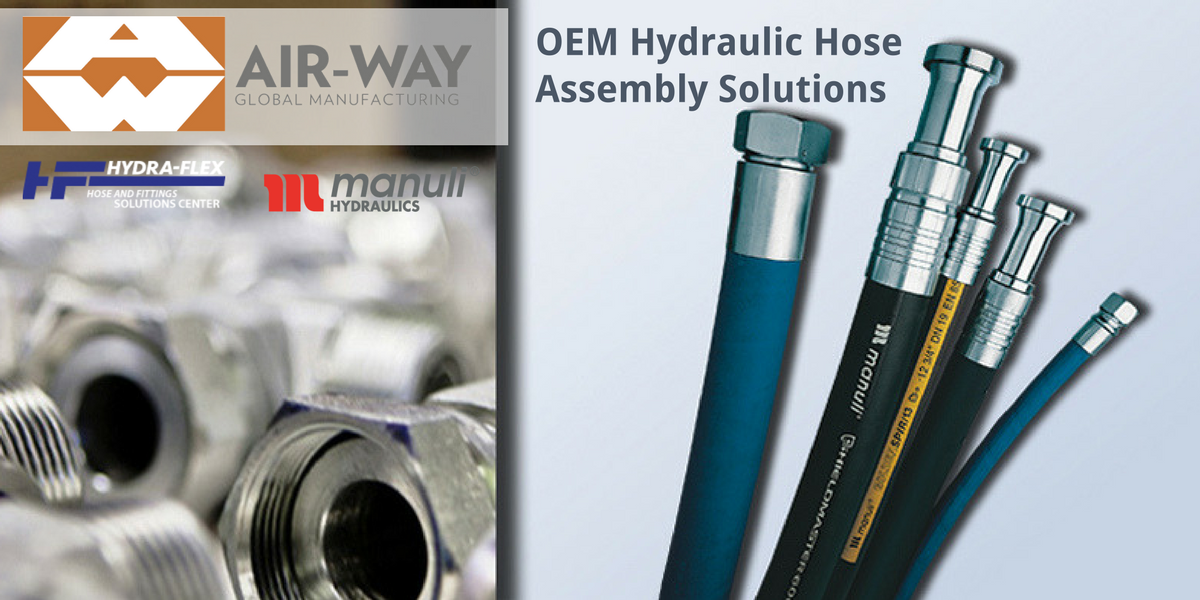 Located in Livonia, Michigan and Charlotte, North Carolina, our OEM Solution Centers serve under the Hydra-Flex Hose and Fittings Solutions Centers name. Our Solutions Center locations are designed to support our regional OEM customers under the Air-Way brand with complete hydraulic hose assemblies, adapter products, and supply chain solutions.
These solution centers, coupled with our additional U.S. manufacturing facilities and international hubs in Canada and China, have been built to provide OEMs with total hydraulic assemblies, true to specifications and requirements, anywhere in the world.
Air-Way OEM Solution Center Products
At our Solution Centers, we fabricate the hydraulic hose assemblies based on customer specs, and coordinate on-time deliveries or managed inventory options . We are also a Manuli Hydraulics OEM Alliance Partner, meaning that we have been certified by Manuli Hydraulics to provide OEM-grade hydraulic hose assemblies that meet industry standards for quality, performance, and reliability.
We maintain a consistent and extensive inventory of over 8,000 products including:
Air-Way Steel & Stainless Steel Hydraulic Adapters
Manuli Hydraulic Hose & Fittings
Flange Product & Live Swivels
Pneumatic Tubing and Fittings
Quick Couplers
Air-Way OEM Hydraulic Solution Center Services
Vendor Managed Inventory
We implement on-site services for OEM customers that begin with reviewing the existing "supplier to floor" methodology and making recommendations to improve logistical processes thereby minimizing on-hand inventory and improving productivity.
Kit Packaging
Packaged hose assembly, adapter, and accessory kits are designed to improve your production and assembly efficiency when needed.
Machine Routing and Product Study
As a three-pronged Solution Center including Air-Way, Hydra-Flex, and Manuli Hydraulics, we can provide a product and routing review of OEM equipment to ensure that the products being used are the most appropriate and cost effective.
Whether you're looking for hose fittings, hose assemblies, or hydraulic line hose ends, we have what you need. Can't find exactly what you are looking for? Don't worry, our technical engineering team can easily customize any part to find a quality solution to your hydraulic fitting issue.
We offer complete hydraulic assemblies to some of the most recognized OEMs in the world. That didn't happen overnight and is a result of the many years of combined experience between Air-Way and Manuli in manufacturing hydraulic hose and adapter products that meet the rigorous demands of our global OEM customer partners.
Learn more about the product line or customization capabilities of Air-Way and contact us to get started.
Celebrating Family Owned Business Month: Air-Way's History, Pride, and Future

In this blog, we are shedding light on the remarkable journey of Air-Way Manufacturing. From humble beginnings in 1950 to becoming a global player in manufacturing, Air-Way's story is one of pride, innovation, and relentless dedication to their craft.
READ MORE

6 Ways to Keep Your Hydraulic Fittings Leak Free

A common and persistent issue in hydraulic systems is leaks, which can lead to inefficiencies, downtime, and increased maintenance costs. To prevent leaks and ensure the optimal performance of your hydraulic system, follow these essential guidelines.
READ MORE

The Importance of Working with a Company Emphasizing Domestic Business Operations

Work with a company that emphasizes domestic operations, can offer numerous advantages and contributes to the overall success of businesses and the economy.
READ MORE