What's the Difference Between AN and JIC Fittings & Where Does Air-Way "Fit" In?
Friday, March 9, 2018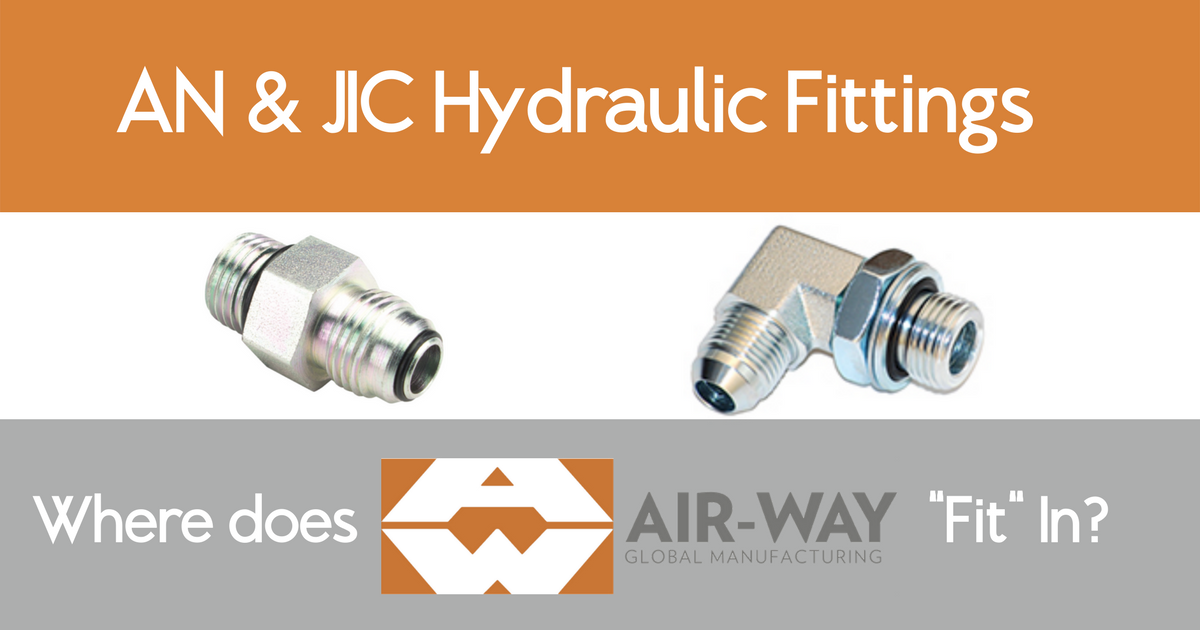 In the hydraulics industry, JIC and AN fittings are terms thrown around and searched for online interchangeably. But, are they? Are a JIC and AN hydraulic fitting the same thing? And if not, what's the difference? Air-Way digs in.
Historical Context of the AN Fitting
AN stands for Air Force – Navy Aeronautical Design Standards (also known as "Army Navy") that are used in U.S. Military aviation applications. These fittings are made to meet strict performance standards related to the aeronautical industry. The use of "AN" fittings increased to include most branches of U.S. Military, Military Contractors, General Aviation and Commercial Aviation. As these fittings were adopted for use in many land and sea applications, confusion between AN and its industrial counterpart, the SAE 37° fitting occurred. In the 1960s, several versions of 37° flare fittings flooded the industrial market, all claiming the AN standard, creating a nightmare for the users.
JIC Steps In
The Joint Industries Council (JIC), sought to clear the air by standardizing the specifications on this type of fitting by creating the "JIC" fitting standard, a 37-degree fitting with a slightly lower class of thread quality than the military AN version. The SAE went on to adopt this JIC standard as well. It's important to note that the AN and JIC specifications are no longer in existence in most cases.
The majority of the hydraulic population agrees, the JIC (or SAE) 37 degree fittings are generally interchangeable with AN fittings. Keep in mind that JIC fittings are not acceptable for military aviation or aerospace use, but for agricultural equipment, construction equipment, heavy machinery applications or material handling and the like, JIC / SAE adapters are the answer. And it's worth noting that the JIC fittings are a fraction of the price of their true "AN" counterparts.
Difference Details
Technically speaking, AN fittings are manufactured to MIL-F-5509, and industrial 37-degree flare fittings are manufactured to meet SAE J514/ISO-8434-2. (Learn how to cross reference Military Specification numbers with this Air-Way tutorial.)
The most notable difference between these standards are in the threads. AN fittings use an increased root radius thread ("J" thread) and a tighter tolerance (Class 3) to achieve a 40% increase in fatigue strength and 10% increase in shear strength. Material requirements also differ greatly. These two fittings function the same, they look the same, AND the industrial version is much less expensive to manufacturer. The "JIC" / SAE J514 fittings produced by Air-Way exceed all of qualification requirements specified.
How Air-Way Fits In
AW FLARE-O® Hydraulic Fittings provide the most reliable seal on the market, including an elastomeric seal for a leak-proof, drop-in replacement for SAE 37 Degree Flared Tube Fittings. In other words, The FLARE-O® adapter is fully compatible with the industrial 37° flare design, with its dual seal system. Make sense? And, with the addition of an elastomeric O-Ring, hydraulic leaks vanish.
Whether your fitting needs are Mil Spec, SAE, or custom, we have the experience and technical capability to provide you with accurate pricing structures and quick RFQ responses. Our goal is to streamline communication, simplify the process, and compress delivery time by staying up-to-date on all technical aspects of production. To learn more about our hydraulic fittings and adapters for any kind of application, please call us at 800-253-1036 or contact us today.
Sources:
http://blog.parker.com/an-37-flare-vs-industrial-37-flare-fittings-whats-the-difference
http://www.onallcylinders.com/2013/06/06/quick-tech-an-vs-npt-fittings-and-how-they-relate/
http://www.valvers.com/engineering/an-and-jic-fittings/
How To Measure Threads and Seat Angles for Hydraulic Adapters

Prior to selecting and installing the right hydraulic fittings, it's important to measure threads. We've created this article as a brief outline of the steps necessary to measure threads and what tools are required in order to do so.
READ MORE

How Air-Way Manufacturing is Using the Internet of Things to Continuously Improve

As we continue to expand our customer base to top OEMs and distributors worldwide, we are continuously improving our processes and facilities to optimize efficiency and communication with our customers. How are we doing this? We are taking advantage of the internet of things and improving to better serve our customers.
READ MORE

Air-Way Canada is Expanding its Inventory

Since 1977, Air-Way Canada, formerly known as Pacific Hose and Fittings, has supplied high quality hose, fittings and accessory products to customers in Western Canada. Through continued growth and evaluation of market needs, Air-Way Global Manufacturing is expanding its inventory to support the growing customer base in Canada.
READ MORE