Cross Referencing Made Easy with Military Specification Numbers
Thursday, February 9, 2017
At Air-Way Global Manufacturing, we specialize in engineering and designing customized hydraulic fittings and configurations tailored to customer specifications and industry needs. This means we employ technical engineers who can offer customers the support and expertise required to manufacture a high-quality hydraulic fitting. Our expertise and knowledge base goes beyond the basic to include a variety of technical specifications, including Military Specification (Mil Spec) Fittings.
Just supply us with a MS or MIL part number and we can provide pricing and RFQ responses quickly and accurately – with Air-Way it's that simple.
What is a Military Specification Fitting?
Hydraulic equipment utilizes fluid power to perform various types of machine-based work. Due to the fluid's inherent pressurization, durable fittings are necessary to ensure the integrity of hydraulic machines. A U.S. defense standard, often called a "MIL-SPEC", is used to help secure part standardization. Originally designed for the Department of Defense, these standards and specifications are used by other non-defense government organizations, technical organizations, and industries.
By establishing part standardization, interoperability is achieved ensuring products meet certain requirements, commonality, reliability, and compatibility with all hydraulic systems. Military Specifications describe the physical and/or operational characteristics of the product (hydraulic fittings in this case) and by using them as a cross reference, industry leaders can ensure proper machine performance, maintainability and reparability.
Why are they important?
Mil Spec part numbers are commonly used in the procurement of Hydraulic Fittings and Adapters for government contracts. As a worldwide manufacturing leader, we think it's of utmost importance to understand how Mil Specs are coded and broken down – that way we can supply accurate cross references, estimates, and bids based on those part numbers.
Here's an example of how the part numbering process works using MS51500 as an example.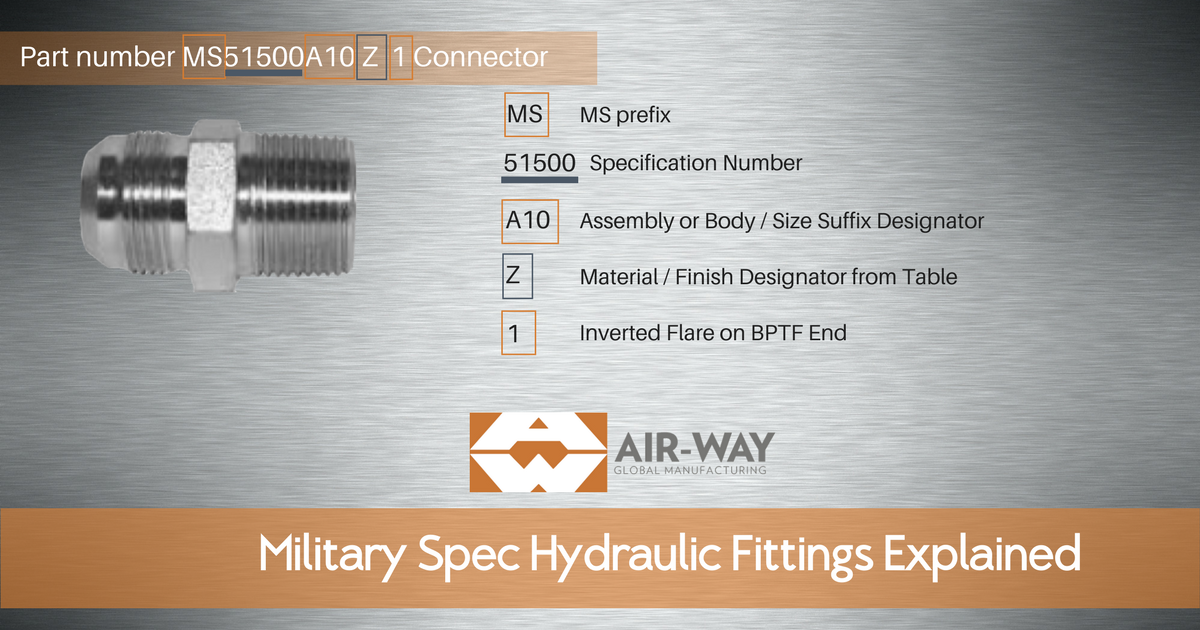 Additional Military Spec Fitting P/N Details:
The A10 designation indicates that this is a -10 (7/8-14 Thread) JIC 37° tube end with the nut and sleeve assembled (A designates assembly). Since 10 is the only size designated, the part would be supplied with a ½ inch NPTF Male end, since this is the standard NPTF end for a -10 JIC 37° end. If this were a jump fitting, a second size designation would be listed (Ex. A10-6)
The Z designation indicates that this part will be made from Steel with Zinc plating.
The 1 designation indicates the Male NPTF end will have the 30° inverted seat machined internally.
Here are a couple more examples to really get your head spinning.
MS51500A8-4Z = -8 Male JIC 37° to -4 (1/4 inch) Male NPTF with nut and sleeve (A = Assembly) made from zinc plated steel.
MS51500B12-8S = -12 Male JIC 37° to -8 (1/2 inch) Male NPTF without nut and sleeve (B = Body) made from Stainless Steel with passivation.
Mil Spec to SAE to JIC
Most Military specifications (MS and MIL) for hydraulic fittings and adapters have been inactivated for new designs. They often reference the appropriate SAE J (Ground Vehicle) Specification.
For example, MS51500 is the specification for a male JIC 37° tube end to Male NPTF Straight. This part is called out in SAE J514 as part 070102 – MALE CONNECTOR. JIC fittings are used in high pressure applications and connect hydraulic tubing to a hydraulic actuator. There is a notice within the MS51500 specification as follows; "Inactive for new design after 17 August 1999. For new design, use SAE J514."
At Air-Way, we can discern between Military Specifications and SAE Standards. They are relatively interchangeable, if you have an extensive knowledge base and experienced team of technical experts – which we do.
Whether your fitting needs are Mil Spec, SAE, or custom, we have the experience and technical capability to provide you with accurate pricing structures and quick RFQ responses. Our goal is to streamline communication, simplify the process, and compress delivery time by staying up-to-date on all technical aspects of production.
Learn more about Air-Way hydraulic fitting engineering and design or contact us today.
Custom Hydraulic Fittings: The Right Hydraulic Fitting for Your Application

A custom hydraulic fitting solution can ensure you have the right concept, design, and material for a perfect solution. Without the right hydraulic system connections, machinery will not work effectively or efficiently to provide the desired result. Sometimes, the only way to ensure a proper fit for your application is with a custom hydraulic fitting solution from Air-Way Global Manufacturing.
READ MORE

COVID-19 PREPAREDNESS & RESPONSE PLAN

The purpose of this Plan is to communicate and outline Air-Way's safety protocols during the COVID-19 pandemic. This Plan will be in effect until further notice. This Plan will be guided by recommendations from the CDC, OSHA, and federal, state and local laws, rules, regulations and orders. This Plan will be available to employees on the ADP portal site, the Company website, and hard copy if requested.
READ MORE

Introducing 3D CAD Models Available Online by Part #

We're pleased to announce that CAD 3D component models are available on our website for thousands of our parts. These Solidworks Models are animated to show the features, properties, functionality, mechanics, size, and structure. Not only are the surface features, edges, and orientations of the stock hydraulic adapters represented, but the entire body of the fitting can be sliced for a cross-section view.
READ MORE