What Hydraulic Fittings are Ideal for Food Processing Facilities?
Tuesday, March 27, 2018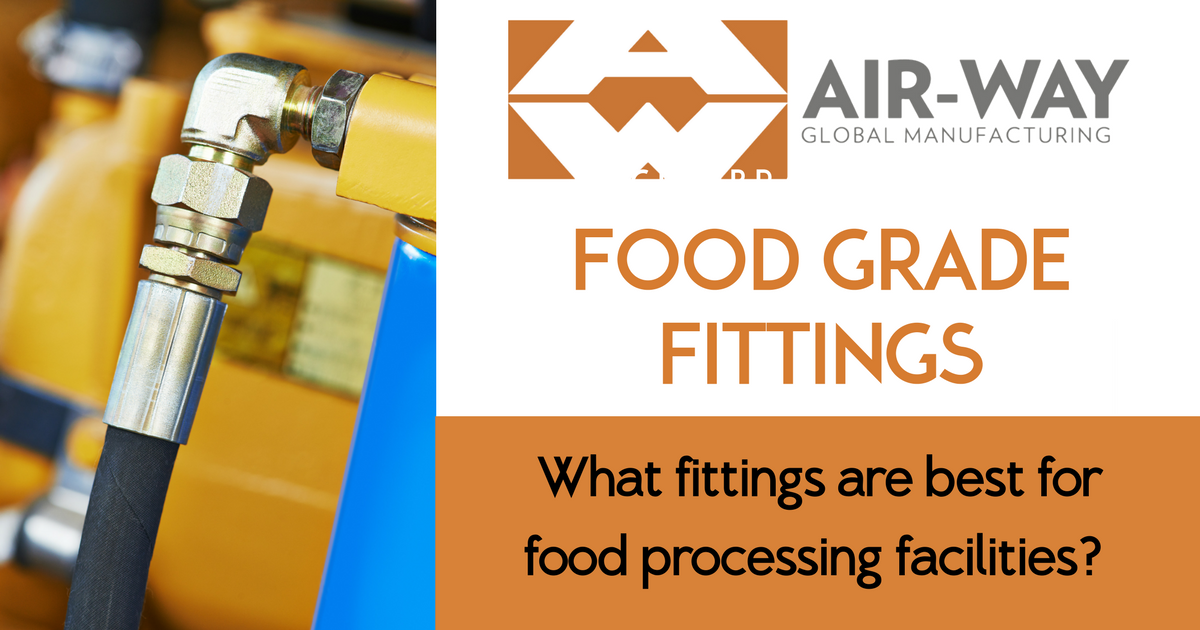 Hydraulic fittings must meet stringent sanitary and aseptic standards within food and beverage processing facilities to keep production and assembly lines moving. Highly corrosive environments, extreme temperatures and submersive settings are all common components of a food processing facility and many hydraulic fitting materials are not engineered to withstand such harsh environments. So, when it comes down to it, what kind of food-grade fitting is best?
Stainless steel is the ideal material for food grade hydraulic fittings
From high-powered wash downs to toxic chemical combinations used in machinery, stainless steel fittings beat out the competition based on their corrosion resistance in extreme temperatures and harsh environments. Stainless is also very durable and long lasting, reducing the need for costly maintenance or frequent fitting replacement.
Stainless steel retains its structural and anti-corrosive properties in temperatures ranging from cryogenic to hundreds of degrees and does not burn or emit dangerous smoke and carcinogens. Stainless steel does not harm the people producing or handling it and has a very minimal impact on water, air and carbon use - plus is recyclable at the end of its effective life cycle.
What about other materials?
While there are other materials available, when it comes to extremely abrasive conditions, aluminum components do not resist some chemicals and are susceptible to pitting. Zinc coatings and galvanized steel hydraulic fittings are not easily repaired and therefore need more frequent replacement. Stainless steel is the material of choice for a wide range of industries that require the very best and most reliable hydraulic fittings on the market such as wastewater treatment, mining, trucks and transportation, agricultural, biodiesel, marine applications, and food processing.
Food & Beverage
Stainless steel hydraulic fittings are ideal for food and beverage processing applications, due to their ability to stand up to the often-acidic content of wash-down chemicals commonly used in these environments. Stainless steel is a safer, more hygienic choice in these applications as it provides resistance to pitting and stress corrosion cracking and is easily sterilized to prevent bacteria growth.
Air-Way manufactures 316 stainless steel food grade fittings, a heavy-duty choice engineered for severe environments that require the highest levels of corrosion resistance, such as FDA-mandated wash downs in food processing facilities.
We carry a comprehensive inventory of 316 stainless steel hydraulic fittings and own the entire manufacturing process from start to finish, meaning we can handle quick response times and on-demand manufacturing. Air-Way has the experience and the capacity to get you what you need, when you need it.
Learn more about our inventory range and production capabilities, or start a conversation with us today.
Company Video: The Air-Way Way

Air-Way Global Manufacturing continues to be an industry leader by supplying hydraulic fittings and adapters in an ever-changing global marketplace. Flexibility, expertise and dedication to customer service make Air-Way Global Manufacturing the best choice when it comes to delivering parts on time and on spec – anywhere in the world. "Any piece of equipment that has hydraulic systems on it, Air-Way has been involved with. We've been selling to the hydraulic industry for over 70 years now." ~John Hamm, President of Manufacturing and Engineering for Air-Way Manufacturing
READ MORE

Hydraulic Adapters Tough Enough for the Construction Industry

Hydraulic systems on heavy equipment are under pressure. So are the construction workers and equipment operators on the job site. We work with OEMs to provide technical engineering design to ensure you have the right hydraulic fittings for your application. Here at Air-Way Global Manufacturing, we are pleased to offer a variety of hydraulic fittings for the companies who build, maintain and repair the heavy equipment used in construction.
READ MORE

We're Headed to ConExpo 2020

If you've ever attended ConExpo in the past, you know it is an incredible opportunity to connect with vendors, manufacturers, and potential customers. Our staff is looking forward to ConExpo 2020, which will be held March 10-14. Visit our booth to learn more about our company, and the many hydraulic solutions we provide to some of the top OEMs in the world. Our team is excited about sharing how our technical engineering and design staff, can support our customers with hydraulic solutions for their specific applications.
READ MORE