Cross References Made Easy with Online Conversions Tools from Air-Way
Tuesday, May 22, 2018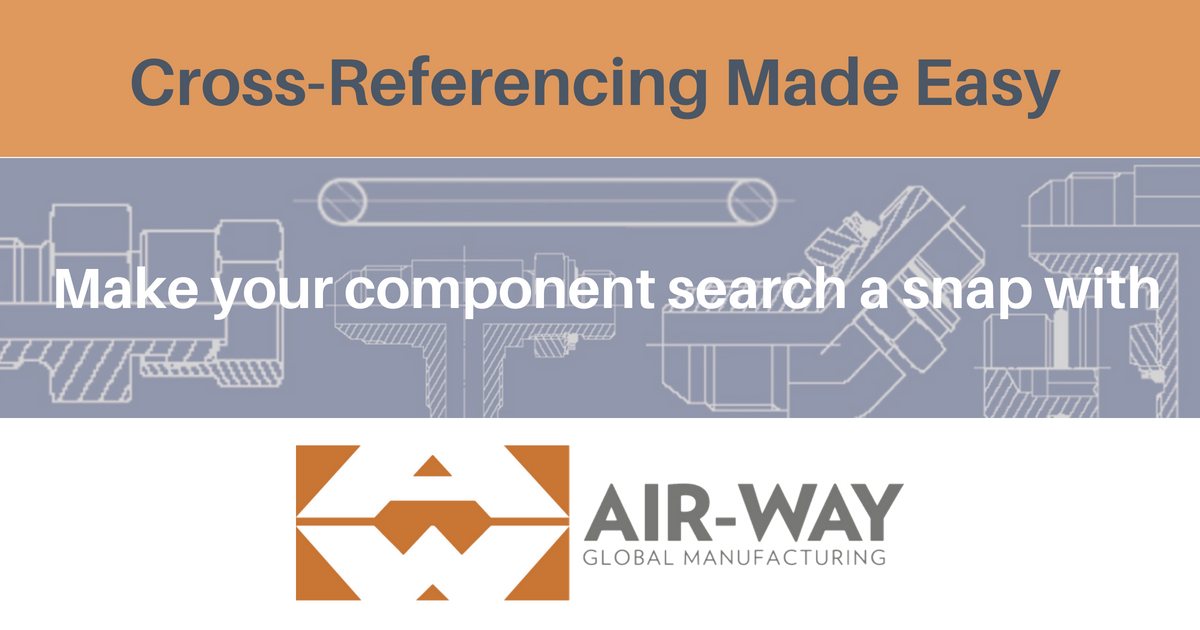 At Air-Way Global Manufacturing, we make it as easy as possible to find the right part with the perfect fit for your industry application and equipment requirements. Specializing in the manufacturing and supply of hydraulic fittings and adapters for Original Equipment Manufacturers (OEMs) and Distributors worldwide, we understand how time consuming it can be to secure the proper cross-referenced part. That's why we've taken steps to streamline the process, making your search a snap.
All you need is the fitting part number.
Whether it's Aeroquip, Eaton, Parker, Brennan, etc. just navigate to the appropriate component page and click on the product. At the very top of the chart, input the part number and our online conversion tool will pull up the Air-Way counterpart, including all relevant specs. It's that easy!
We are updating this information regularly, and if you ever need assistance getting a cross-reference to an Air-Way part number, just call or emaila representative. Help is always available.
Additional conversion tools available.
Located in the top menu bar of our homepage, you'll see a link to "conversion tools." These are incredibly handy measurement conversions, meant to make your life easier.
The following conversions are available on the site:
Pressure– BAR, PSI, MPa
Temperature– Celsius, Fahrenheit, Kelvin
Length– Millimeters, Centimeters, Miles, Inches, Meters, Kilometers, Feet, Yards
Weight– Metric Tons, Kilograms, Pounds, Ounces, Grams, Tons
Volume– Milliliters, Liters, FL Oz, Pints, Cups, Quarts, Gallons
Torque– RPM, Torque, HP
Complete lists or reports of cross-references are also available.
Reach out to us anytime for a downloadable list of cross-references and equivalent Air-Way part numbers. It's a helpful tool that we are happy to provide to any customer – past, present, or future.
Through simple item searches, online conversion tools, or by contacting an Air-Way representative, we can quickly cross reference any part for you, helping to streamline your decision-making process.
This feature is just one way we've recently updated our website, making it more user-friendly and easy to find information about parts, specifications, request custom fittings, and more. Check out all our website capabilities here.
Explore our extensive inventory of hydraulic fittings and adapters and of course, if you ever have a question please contact us.
Coronavirus Response For Customers

We remain staffed and in production at all locations, both US and China, including our Edgerton, Ohio, facility. Air-Way supplies Original Equipment Manufacturers in the Agriculture, Construction, Fire and Rescue, Defense, Access Equipment, and Material Handling industries to name a few. Several of our largest customers have been classified as "Essential Critical Infrastructure". As an integral supplier to these companies, Air-Way will continue operations at all of our facilities with as little disruption as possible.
READ MORE

Seven Key Qualities To Consider When Selecting Your Supplier

Just like a chain is only as good as its weakest link, a company is only as good as its worst supplier. Suppliers play a critical role in the production process, providing the materials a company uses to produce its own products and provide services. The right supplier can help a manufacturer improve the production process, maximize capabilities, create cost efficiencies, and deliver a higher-quality product. For some organizations, their suppliers are the secret sauce to their own success.
READ MORE

ATTENTION: Visitors to Air-Way Global Manufacturing Facilities

Air-Way proudly associates with businesses throughout the world and empathizes with the hardships that organizations are experiencing as a result of the coronavirus (COVID-19). Currently, this is a global concern, particularly in China and parts of Europe. As a company, we have an obligation to do our part to prevent its spread.
READ MORE