Custom Hydraulic Fittings from Engineering to Assembly in 24 Hours
Thursday, December 1, 2016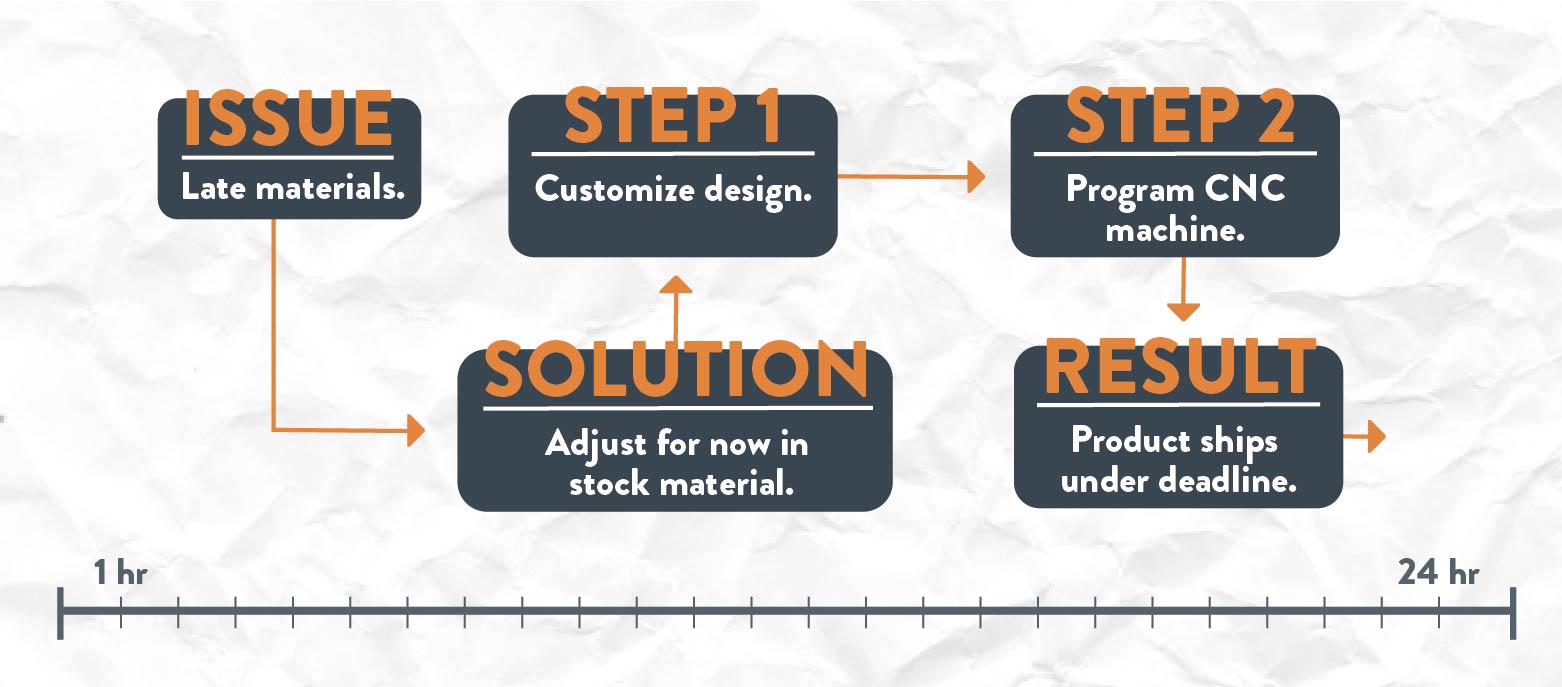 Here's an example that displays our inherent dedication to customers and ability to develop quick thinking solutions when things don't go as planned.
While manufacturing hydraulic fittings for a valued OEM customer, a shipping issue occurred and we did not receive the materials needed to complete the job. Occasionally in the manufacturing sector, a logistical hindrance can slow down production and postpone delivery. Our OEM client needed the custom fittings (a large forged T fitting) urgently and we wouldn't let the materials issue impede our delivery.
Part of our flexibility in manufacturing lies in the fact that we own the entire process, from start to finish. We design and customize our products in-house for all OEM and Distribution customers. Our technical Engineers provide clients with the support and expertise needed when things aren't progressing as expected. In this instance, instead of throwing our hands in the air, we sprang into action.
The Air-Way team identified another material in-house that was suitable for this kind of hydraulic fitting (stainless steel forged blanks). Based on the client's specifications and part requirements, our engineers drew up a customized design that met the customer's expectations using the alternative material. They immediately programmed the CNC machines and commenced production. The fittings were shipped to the customer within the deadline and to their exact specifications.
But here's the best part: ALL of this took place within 24 HOURS.
Because we own the entire manufacturing process, Air Way provides clients with engineering design and manufacturing capabilities that help resolve unpredictable production issues, alleviating urgent and detrimental situations. In this case, an OEM customer kept their production schedule on track due to our quick response time, experienced staff and innovative solutions.
We have a history of trust with customers - trust that their parts will be delivered on time and within specification, no matter what.
Learn more about the industries we work with by clicking here.
Since 1950, Air-Way has been the industry preferred source for customized hydraulic fittings and adapters. We serve industry leaders in many markets such as construction, forestry and material handling - just to name a few. Our reputation wasn't built in a day, rather, it's based on a history of quality manufacturing, part customization and rapid response time in cases just like this.
Engineering Capabilities: Trust Our Experience in Custom Designs

At Air-way Manufacturing, our engineering capabilities allow us to specialize in custom designs for fittings that are specific to your hydraulic application.
READ MORE

9 Testing Capabilities at Air-Way That Set Us Apart From Our Competitors

Discover nine of the testing capabilities at Air-Way that help us be one of the largest independent and most trusted hydraulic fitting manufacturers in the United States.
READ MORE

Our Commitment to Manufacturing Sustainability at Air-Way

Clean energy improvements continue to be an important mission for the US and the world. The US Department of Energy (DOE) recently announced $18.4 million through the Technology Commercialization Fund (TCF) for seven national laboratory projects with the goal of getting more clean energy technologies to the marketplace. This provides an opportunity for manufacturing sustainability and sustainable business practices as a whole.
READ MORE