Customization is our Specialty
Thursday, November 17, 2016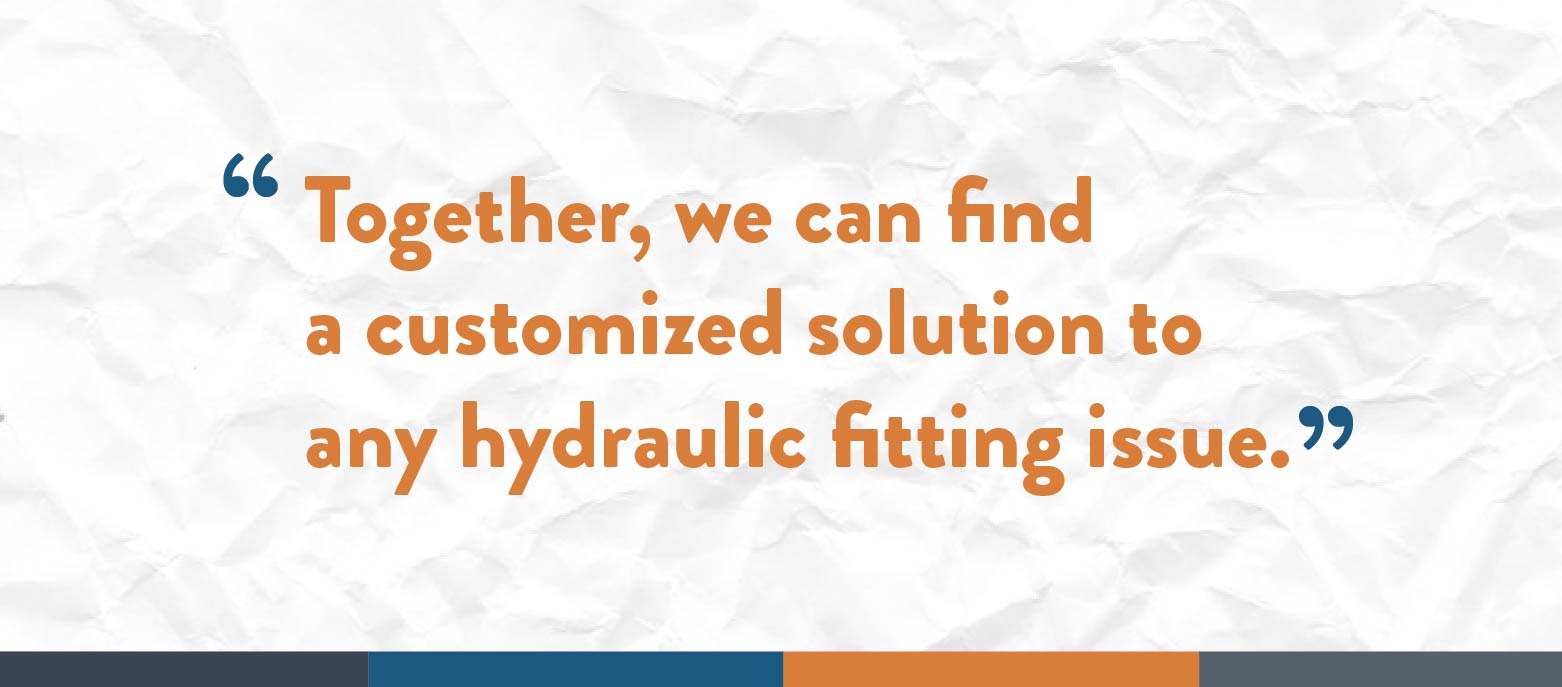 Did you know that Air-Way Manufacturing owns and controls its entire manufacturing process? Unlike many hydraulic fitting and adapter manufacturers out there today, we design, produce, and assemble our products in-house for Original Equipment Manufacturers (OEM) and distributors worldwide.
While this may not seem like a big deal, it is. Here are some of the benefits our customers can count on:
Hydraulic Fitting Customization
By owning the manufacturing process, we are able to easily develop and manufacture custom hydraulic fittings and adapters based on the specific needs of customers. While our customers already count on an extensive inventory of products on hand, sometimes they just can't find the right solution. We understand and have a history of designing fittings for one-of-a-kind sizes and configurations for a multitude of hydraulic applications.
Technical Collaboration
Ownership of the manufacturing process means that our tool design and production remains in-house. As part of the customization process, clients often turn to our technical engineers who can offer customers the support and expertise required to manufacture a high-quality hydraulic fitting. Our engineers work collaboratively with OEM product managers and engineers to design fittings that are compatible with their hydraulic applications and are tested to ensure quality. With decades of experience under our belt, we take challenges in stride and have an arsenal of knowledge available to us. Together, we can find a customized solution to any hydraulic fitting issue.
Timeline Compression
By owning the manufacturing process, clients receive rapid prototypes, get valuable information to their teams faster and receive parts quickly ensuring that production is on schedule. By manufacturing parts ourselves from start to finish, we are able to compress your overall timeline, resulting in increased efficiency and savings.
As the largest independent manufacturer of hydraulic fittings in the United States, we pride ourselves on our ability to work closely with leaders in a variety of industries on hydraulic fitting customization and production. Owning the manufacturing process from the beginning allows us to provide an enhanced level of customer service and work collaboratively towards hydraulic application solutions that distributors and other manufacturers simply cannot do.
Learn more about Air-Way hydraulic fitting engineering and design or contact us today.
6 Ways to Keep Your Hydraulic Fittings Leak Free

A common and persistent issue in hydraulic systems is leaks, which can lead to inefficiencies, downtime, and increased maintenance costs. To prevent leaks and ensure the optimal performance of your hydraulic system, follow these essential guidelines.
READ MORE

The Importance of Working with a Company Emphasizing Domestic Business Operations

Work with a company that emphasizes domestic operations, can offer numerous advantages and contributes to the overall success of businesses and the economy.
READ MORE

Newsletter–June-2023

Curious what Air-Way and our employees have been up to recently? Check out our June newsletter with some amazing stories including the 2022 employees of the year, the Morels Mushroom Annual Contest winners, and more!
READ MORE