3 Ways to Improve the Life-Span of Hydraulic Machinery
Thursday, June 1, 2017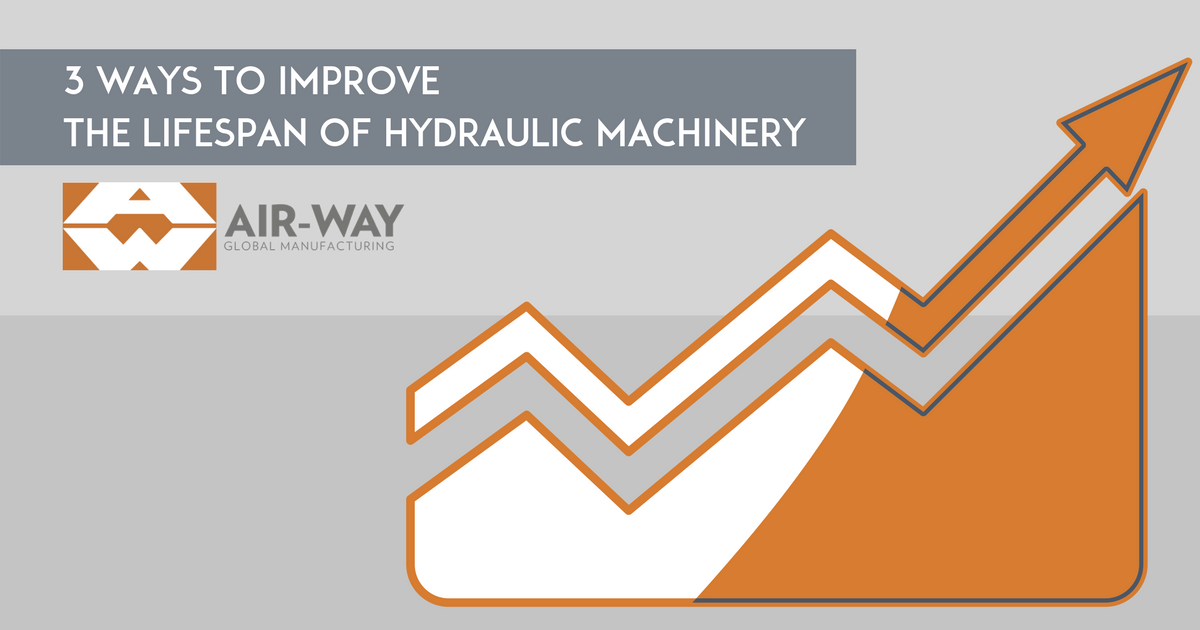 Properly maintaining hydraulic machinery and equipment, regardless of use or application, is imperative to productivity and progress. Ignoring the basic ideas behind hydraulic design can shorten equipment life, resulting in poor performance and unreliable manufacturing schedules. Get back to the basics with Air-Way Global Manufacturing – here are three ways to better optimize and improve the life-span of your hydraulic machinery today.
Prevent Contamination
David Marlowe, CEO of DMAR Technical Training, says the single greatest cause of poor performing oil is fluid contamination. If not prevented or controlled—contamination can cause the hydraulic system to work much less efficiently or even cause catastrophic failure.
Water contamination can happen through normal operation, during system design, faulty system components, or the new oil itself! You can prevent water contamination by paying attention when handling, storing or transporting components as well as the lube oils themselves. Evaluate fluids before they are initially introduced to a system and keep the outside of barrels and reservoirs clean so dirt doesn't flow in along with the new oil. Consistent use of a hydraulic filter is also a great way to keep your hydraulic fluid contaminant free.
Select and Maintain the Proper Hydraulic Hose
When a hydraulic hose fails without warning there is an unpredictable loss of production, not to mention the required repair cost and safety hazard to workers and other proximal machinery. A hydraulic hose will deteriorate over time, but that time fluctuates depending on ultra-violet light from the sun, thermal stress from weather extremes and mechanical stress in general.
One way to prevent hose malfunction from the onset is using the industry acronym 'STAMPED' to ensure the proper hose selection for your hydraulic application. STAMPED stands for: size, temperature, application, material (to be conveyed), pressure, ends (or couplings) and delivery. Each of these hose features should be considered prior to purchase and fitting.
Visual inspection of the hose should be part of a bigger operational routine to identify not only wear and tear, but any damage that may occur during operation. Companies have also begun replacing hoses on a scheduled basis regardless of direct need as part of a larger preventive maintenance strategy, creating a buffer between them and accidental malfunction.
Hydraulic Components Matter. Supplier Selection Matters.
While small in size, hydraulic fittings and adapters play a big part in determining the efficiency of a hydraulic machine. All hydraulic adapters, fittings and connectors selected should meet the Society of Automotive Engineers (SAE) standards – an indicator of high-quality products through rigorous testing. In order to assure superior corrosion resistance of the components, by only choose products that have been qualified to stated performance requirements in accordance with the American Society for Testing and Material (ASTM) B117 salt spray requirement.
Look for hydraulic component manufacturers that have certified, standardized processes in place that ensure the quality of their fittings and adapters. One of the easiest ways to identify this is working with companies whose manufacturing plants have been certified to ISO (International Organization for Standardization). Manufacturers with ISO certifications will have the best quality control in place, providing you with an immediate confidence and stable relationship.
Custom Hydraulic Fittings & Hose Assemblies for Your Specification
Many OEM (Original Equipment Manufacturer) hydraulic applications or systems require custom fittings and hose assemblies to meet exact equipment specifications. Those specifications can be related to component size and metal/material selection depending on the type of equipment and operational environment – marine, heavy equipment, highly corrosive environments, etc. From that perspective, it's important to work with a manufacturer who can collaborate with product managers and engineers to develop customized fittings and hose assemblies, producing quality components that support large scale OEMs.
Enable your hydraulic systems to look better, last longer and operate more efficiently by taking the necessary steps to prevent contamination and hydraulic hose failure while selecting the best manufacturer for fittings and adapters right from the start.
How Air-Way Manufacturing Measures Up
Air-Way Global Manufacturing's hydraulic fittings, adapters and hose assemblies meet SAE standards and undergo harsh ASTM salt spray testing guaranteeing their longevity in highly corrosive environments. We are a trusted, ISO certified manufacturer that has the experience, inventory and expertise needed to support OEMs large and small.
To learn more about our hydraulic offerings please contact us today!
6 Ways to Keep Your Hydraulic Fittings Leak Free

A common and persistent issue in hydraulic systems is leaks, which can lead to inefficiencies, downtime, and increased maintenance costs. To prevent leaks and ensure the optimal performance of your hydraulic system, follow these essential guidelines.
READ MORE

The Importance of Working with a Company Emphasizing Domestic Business Operations

Work with a company that emphasizes domestic operations, can offer numerous advantages and contributes to the overall success of businesses and the economy.
READ MORE

Newsletter–June-2023

Curious what Air-Way and our employees have been up to recently? Check out our June newsletter with some amazing stories including the 2022 employees of the year, the Morels Mushroom Annual Contest winners, and more!
READ MORE