Changing Market Demands Drive Increase in US Domestic Inventory & Production Capabilities
Wednesday, September 13, 2017
Product demand can be difficult to predict. With China championing itself (quite successfully) as the new leader of Globalism and uncertainty happening in the Eurozone as well as South America and part of Asia, manufacturers are finding that sourcing through traditional suppliers has become challenging. Companies are struggling to provide accurate forecasts in a timely manner, limiting the supplier's ability to manufacture and deliver on time. As such, supply chain organizations are seeking to improve their ability to respond quickly to changing market needs by functioning from an on-demand model, rather than maintaining large, long-term inventory.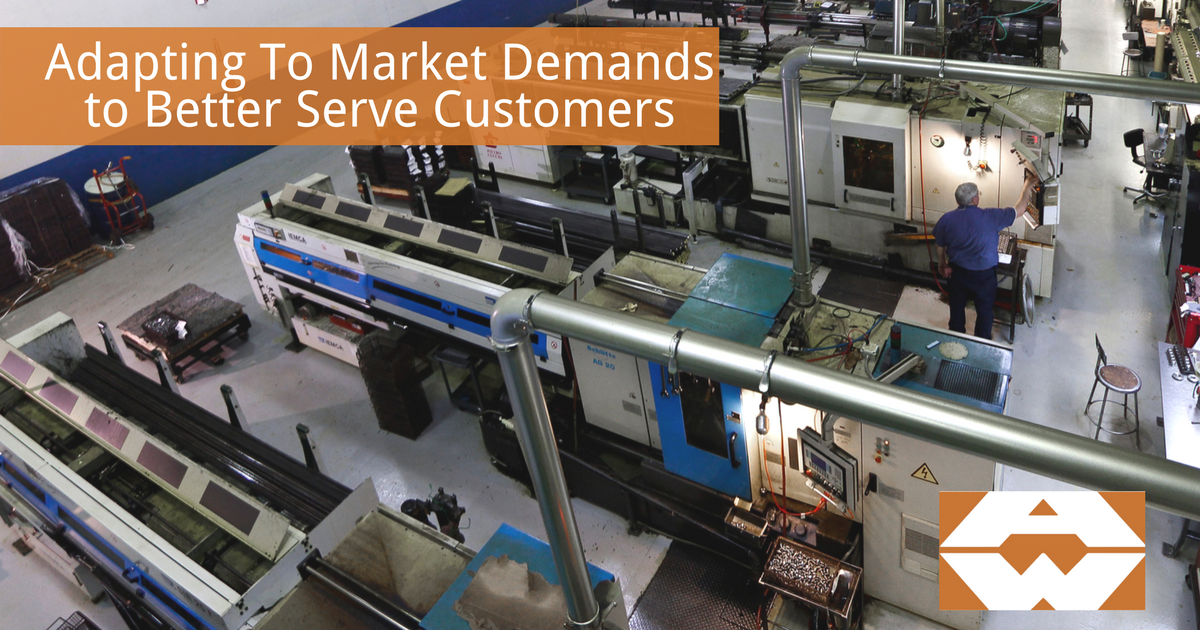 This strategy is often referred to as lean manufacturing – or the concept that products should flow through a lean organization at the rate in which the customer needs them without being caught up in inventory or delayed. In other words, pulling the value according to the customer's demand. Manufacturing components in lower volumes is believed to increase supply chain efficiencies by reducing lead times and minimizing risks associated with wasted inventory or product elimination.
US Domestic Manufacturing Capabilities
This changing market demand requires more domestic US support and regional in-sourcing than ever before, and Air-Way Global Manufacturing has more US domestic manufacturing capacity than most, if not all, competitors. Near-sourcing makes it easier to communicate and manage changes in the supply chain when manufacturing is closer to the customer base. It brings an added element of flexibility allowing suppliers to "roll with punches" and adjust production schedules easily and quickly, meeting the changing demands of their customers.
Air-Way has always kept a sizable inventory of forged stock and we are continuing to add more sizes, ensuring a breadth of materials are on-hand when our customers need them.
Adjusting to Market Demands
Our customers are our priority, and as we've observed the change in market trends like digitization of supply chains, we've made a concerted effort to continue serving OEMs and distributors in the most efficient way possible. Our extensive inventory means our products are reliable, on-hand and ready to ship when needed. We specialize in vendor managed inventory, short lead times, and order expediting, which ensures orders are fulfilled on demand – there are no delays with Air-Way. This allows our customers to confidently engage in strategies such as lean manufacturing and quick response manufacturing, knowing we are there to support them every step of the way.
Here are just a few of the ways we have improved our manufacturing facilities to meet the immediate demands of customers:
Added a new Computer Numerical Control (CNC) machine, and are in the process of installing more.
Increased production by adding another shift to our plant in Olivet, MI.
Machining parts 24 hours a day, 7 days a week.
Increasing inventory of bar stock, forged blanks, additional materials and machining capabilities, so that we can deliver parts domestically anywhere, anytime.
Expand and maintain an extensive supply of nuts, washers, o-rings, etc., as well as raw materials on-hand to complete high quality hydraulic fittings quickly and efficiently.
This isn't our first rodeo. We have a history of following through no matter what and developing quick thinking solutions when a deadline is looming.
Custom Fittings From Engineering to Assembly in 24 Hours
For example, while manufacturing hydraulic fittings for a valued OEM customer, a shipping issue occurred and materials needed to complete the job were delayed. Our OEM client needed the custom fittings (a large forged T fitting) urgently and we wouldn't let the materials issue impede our delivery.
The Air-Way team identified another material in-house that was suitable for this kind of hydraulic fitting (stainless steel forged blanks). Based on the client's specifications and part requirements, our engineers drew up a customized design that met the customer's expectations using the alternative material. They immediately programmed the CNC machines and commenced production. The fittings were shipped to the customer within the deadline and to their exact specifications – all within 24 hours!
Global Manufacturers Can Count on Other Global Manufacturers
That's what we do. By carrying a comprehensive inventory and owning the entire manufacturing process from start to finish, we can handle quick response times and on demand manufacturing. We adapt to what our customers need event if it means adjusting material inventories. Lean manufacturing requires building relationships with more US domestic suppliers, and with multiple assembly locations spread across the US, Air-Way has the experience and the capacity to get you what you need, when you need it.
Learn more about our inventory range and production capabilities, or start a conversation with us today.
Challenges in Supply Chain Management Today

Manufacturing can be a challenge for companies, no matter the size or geographic reach of your company. So many pieces have to fall into place for a successful and productive production line including lead times, vendor approval, regulations and compliance, component sourcing, shipping, customer service, and inventory maintenance. From a supply chain perspective, this isn't easy to do. Here are a few of the biggest challenges facing supply chains, big and small, today.
READ MORE

The Industrial Internet of Things - What it is and Where to Learn More

The term Internet of Things (IoT) has fast become a commonplace phrase referring to the interconnectedness via the Internet of computing devices embedded in everyday objects. An idea that has quickly grown into an industrial movement, how does the IoT apply under the umbrella of hydraulic system management and development?
READ MORE

Cross References Made Easy with Online Conversions Tools from Air-Way

At Air-Way Global Manufacturing, we make it as easy as possible to find the right part with the perfect fit for your industry application and equipment requirements. Learn how we've taken steps to streamline the process, making your search a snap.
READ MORE