Avoid Hydraulic Leaks & Contamination Before Fittings Are Even Installed
Tuesday, October 24, 2017
Believe it or not, hydraulic system leaking and contamination can happen at any time, even with freshly installed hydraulic fittings. While fittings and hoses are leak-free by design, when a leak or material contamination does occur, it becomes a major manufacturing issue, escalating in expense and lost production time quickly.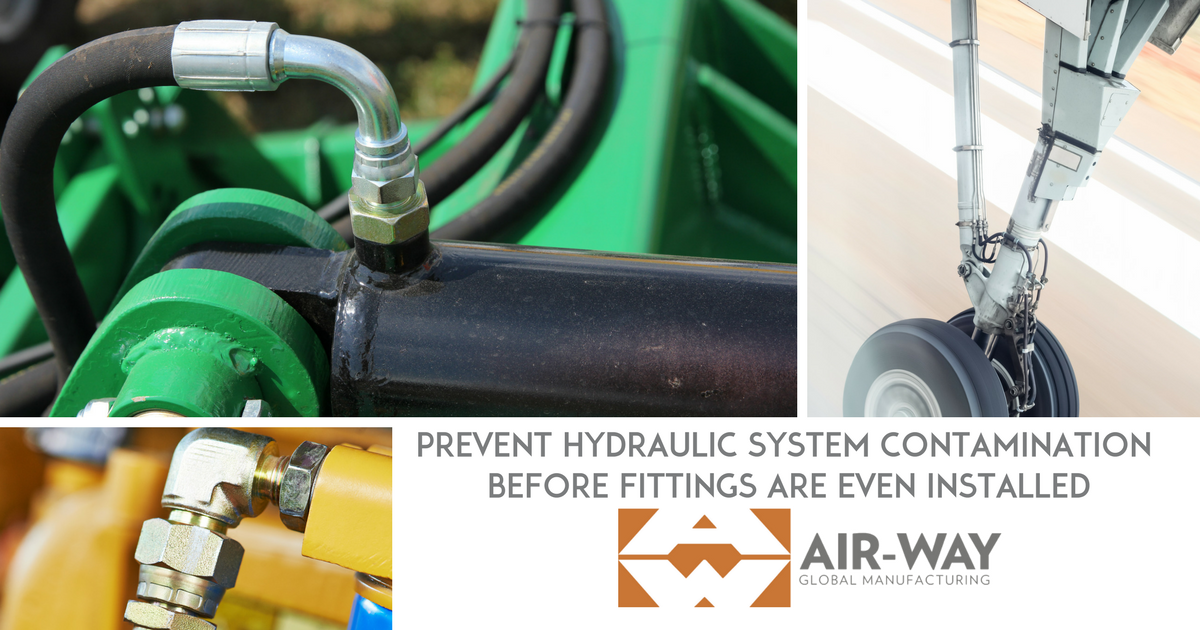 How does contamination occur within a newly tightened fitting? Look to the source of the hydraulic fitting itself for the answer. How the fitting was made, cleaned, and stored prior to installation on your machine matters.
Hydraulic Fluid Contamination Isn't Equal
There are different types of hydraulic contamination boiling down to abrasive and non-abrasive materials.
Abrasive contamination can be described as involving particles, such as a few grains of core sand left over from casting, small flakes of rust that fell into the system during routine servicing, or weld spatter that was introduced before the equipment ever left the manufacturer.
Non-abrasive contaminants can include particles, such as the remnants of shredded elastomeric seals from a pump, or chemicals, such as the byproducts resulting from the oxidation of the oil or the result of reactions involving additives. While not abrasive, these contaminants can still have an extremely negative impact on the hydraulic performance of motors and pumps.
Within new hydraulic equipment and components, contamination may already be built into the product, taking place during the manufacturing, shipping, or assembly process.
How Can Hydraulic System Contamination Be Prevented?
Hydraulic fitting manufacturers and suppliers like us play a critical role in helping avoid system contamination or leaks simply by establishing standardized processes and procedures regarding how the parts are handled prior to customer delivery.
At Air-Way Global Manufacturing, we've taken the necessary steps to ensure a clean, quality hydraulic fitting is sent to OEMs worldwide, no matter the manufacturing location, including:
Improved Hydraulic Fitting Manufacturing & Production Processes
As a hydraulic fitting specification originator, we help set the standard for the design and production process – a position we've earned based on our dedication to quality manufacturing of both industry standard and customer-specific parts.
For example, Air-Way recently updated our production and warehouse facility in Shandong, China by separating the production and machining processes from final assembly areas. This helps us ensure the assembly of quality products that meet or exceed the higher levels of cleanliness required by customers. By creating a controlled separation between these two spaces, any residual contamination or other particles created during the production process is separate from the assembly line.
ISO Certification 9001:2008
We have established a quality management system that is in conformance with the International Quality System Standard ISO 9001:2008. To receive this certification, a manufacturing facility needs to demonstrate its ability to consistently provide products that meet customer applicable and regulatory requirements. The idea is that by becoming certified, customer satisfaction is met or exceeded through the application of a quality management system that meets their specifications. Air-Way will be transitioned to the revised ISO 9001: 2015 edition of the standard during the first quarter of 2018.
ISO Certification 14001:2015
This environmental management certification pushes us to become more resource-efficient, reduce waste, and establish a greater sense of trust and environmental sustainability with our customers. We continue to maintain a focus on sustainability and environmental consciousness, ensuring that our management system is compliant and lends itself to the overall goal of delivering quality components to our customers.
Specialized Packaging & Shipping Solutions
We also engage in special packaging, shipping and service programs designed around customer requirements. These have helped us establish ourselves as the most versatile and customer-friendly manufacturer in the hydraulic fitting industry.
Setting production standards and establishing professional control over all assembly processes safeguards our hydraulic fittings and components from any contamination. In this manner, we ensure that Air-Way not only meets, but exceeds expectations of our manufacturing and distribution customers worldwide.
Have questions about our component or production capabilities, or how we can help you? Start a conversation with us today.
6 Ways to Keep Your Hydraulic Fittings Leak Free

A common and persistent issue in hydraulic systems is leaks, which can lead to inefficiencies, downtime, and increased maintenance costs. To prevent leaks and ensure the optimal performance of your hydraulic system, follow these essential guidelines.
READ MORE

The Importance of Working with a Company Emphasizing Domestic Business Operations

Work with a company that emphasizes domestic operations, can offer numerous advantages and contributes to the overall success of businesses and the economy.
READ MORE

Newsletter–June-2023

Curious what Air-Way and our employees have been up to recently? Check out our June newsletter with some amazing stories including the 2022 employees of the year, the Morels Mushroom Annual Contest winners, and more!
READ MORE