What Straight Threads Do I Need?
Monday, August 14, 2017

Thread Designation Elements
Threads have a few elements that should be considered when trying to identify the correct designation. Here are a few of the most common:
Major Diameter – Diameter across the crests of a male thread.
Minor Diameter – Inside Diameter across the internal crests of a female thread.
Pitch – The description of distance between thread crest
Inch Threads – Designation = Threads per Inch (TPI)
¾-16 = 16 threads per inch
Metric Threads – Designation = millimeters per thread
M22 X 1.5 = 1.5 mm between thread crests
Pitch Diameter - Theoretical diameter measured ¼ length between the crest and root. (Used in manufacturing and inspection only.)
Flank Angle – Angle between the threads.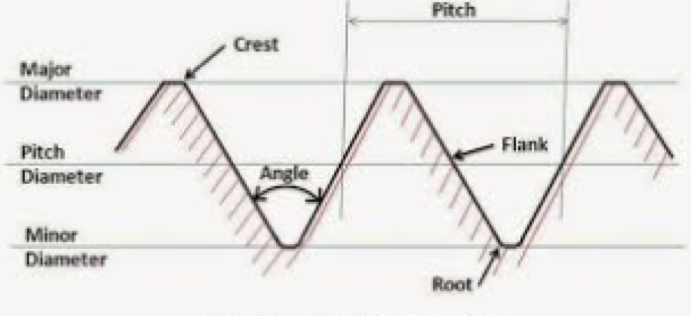 Using these descriptions will help you better understand the following thread designations for Inch and Metric Screw threads.

Measurement Processes Explained
Let's say we are measuring male screw thread...
Measure with calipers the diameter across the thread crests.
The diameter will be equal to or slightly less than an inch or metric designation i.e. ¾ inch, 22mm, etc.
Example; the diameter measures .747 inch (18.97 mm), this is most likely a ¾ UN inch series thread.
Now measure the distance between threads.
For inch thread, set calipers to 1 inch, and count the threads. If the threads are not one inch in length, measure between thread crests instead.
To calculate pitch using this method, divide 1 by the result. In other words, if the measurement between thread crest = .0625 in., then 1/.0625 = 16. Note, this method only works with inch measurements.
Based on the above example, we determined we have a ¾ inch thread with a pitch of 16 threads per inch, or ¾-16.
For metric threads, the process is the same, except the measurement between thread crests is the pitch.
Example: if the major diameter is equal to or slightly less the 22 mm, it is most likely a 22 mm diameter thread. Measure between two thread crests - if it measures 1.5 mm, it is a 1.5 pitch. In this example, the thread is an M22 X 1.5
Pitch Identification
Pitch identification can be simplified with a simple Pitch gage, which is readily available. These are simple, visual gages that contain individual cut-out plates for many of the common pitch threads.
Female Threads
Female threads can be a little trickier since the minor diameter does not correlate to a specific thread size; it will be smaller. Minor diameter tables are readily available through a simple search on the internet.
Flank Angle
All screw threads have a flank angle of 60 degrees, with the exception of British Standard Parallel Pipe (BSPP). The flank angle for BSPP is 55 degrees. The most efficient way to identify this is with an optical comparator.
Our team can help determine which class will be required based on whether the threads are plated or not (plated threads will be covered in another article).
Threads are complex, and these simple designation techniques are just the tip of the iceberg. Keep in mind, these procedures should only be used to identify a thread, not for thread inspection. However, following these simple guidelines will get you on the right track to identifying the threads you already have or need.
If you need some professional assistance, don't hesitate to contact us at any time – we are here to help!
Access Equipment Made Right with Air-Way Hydraulic Fittings

Unlike many hydraulic fitting and adapter manufacturers out there today, we design, produce, and assemble our products in-house for Original Equipment Manufacturers (OEM) and distributors worldwide. Our rich history of serving as a top-tier hydraulic fittings supplier extends into a variety of industrial and equipment needs and applications - including access equipment.
READ MORE

Challenges in Supply Chain Management Today

Manufacturing can be a challenge for companies, no matter the size or geographic reach of your company. So many pieces have to fall into place for a successful and productive production line including lead times, vendor approval, regulations and compliance, component sourcing, shipping, customer service, and inventory maintenance. From a supply chain perspective, this isn't easy to do. Here are a few of the biggest challenges facing supply chains, big and small, today.
READ MORE

The Industrial Internet of Things - What it is and Where to Learn More

The term Internet of Things (IoT) has fast become a commonplace phrase referring to the interconnectedness via the Internet of computing devices embedded in everyday objects. An idea that has quickly grown into an industrial movement, how does the IoT apply under the umbrella of hydraulic system management and development?
READ MORE