4 Reasons Behind Hydraulic System Failure
Friday, November 3, 2017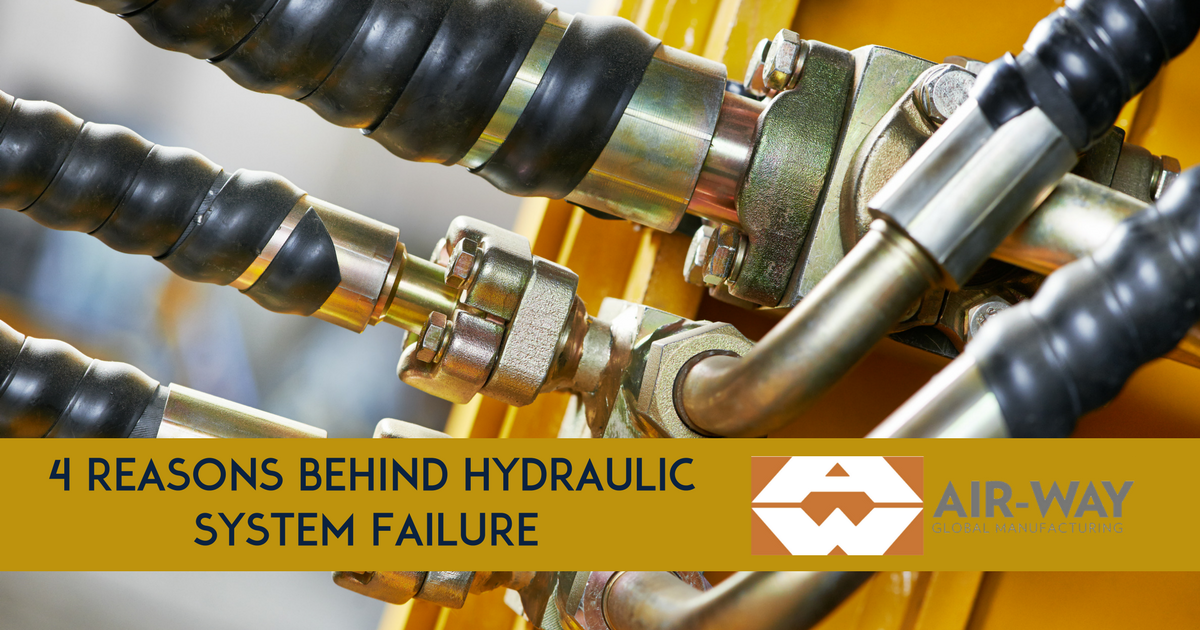 Even the strongest, most resilient hydraulic systems fail from time to time, and there can be 100 explanations behind it. Many of these failures are preventable if conditions are monitored appropriately, and a pro-active rather than reactive stance is taken to hydraulic system maintenance. But when things do go awry, count on Air-Way Global Manufacturing to keep you up and running. With an extensive hydraulic fitting and hose assembly inventory, we specialize in short lead times and have products on-hand and ready to ship at the drop of a hat.
Here's Part 1 of our series focusing on signs and symptoms of hydraulic failure – the 4 most common reasons.
Hydraulic Fluid Contamination
A leading cause of many hydraulic pump failures is hydraulic fluid contamination. It is very important to ensure that both components and fluids are clean prior to use. Fluid contamination forces hydraulic pumps and valves to wear prematurely resulting in hydraulic system failures and damaged system components. Read our article, Three Ways to Improve the Life-Span of Hydraulic Machinery, to learn how to prevent this common hydraulic mishap.
Heat-Aging
Over-heating a hydraulic hose can cause thermal expansion which can in turn cause premature aging of the elastomers and plastics within the material that comprises the internal hose tube. This condition leads to decreased elongation of the molecular structure of the material and contributes to increased brittleness eventually leading to premature hose failure.
General Abrasion
While many hose manufacturers produce anti-wear covers that include enhanced abrasion resistance characteristics, the hose assemblies must be installed in a manner that minimizes contact with other components in the system. They must also be clamped appropriately to ensure that they do not rub against other hoses or mechanical components during use. Improper installation of hose assemblies leading to excess abrasion will cause premature hose failure.
Incorrect Insertion Depth
When a hose assembly is not properly assembled, it can create a very dangerous situation. In fact, the most likely cause of hose assembly failure is a result of improper assembly rather than from manufactured defects. One of the most common assembly mistakes is caused by fittings that are not inserted to the proper insertion depth within the hose. When the crimp fitting is not inserted completely, the surface area where the crimp ferrule is clamped to the hose is reduced thus compromising the connection and leading to a condition where the fitting blows off the hose under pressure exposing the machine operator to a dangerous condition that could lead to serious injury.
Get Help Fast with Air-Way
We are the largest hydraulic fitting manufacturer in the United States! (Not to mention we operate multiple manufacturing facilities internationally as well.) Our scale means that we have the capability to keep a wide range of product inventory on-hand and ready to ship. This reduces the downtime our customers experience when their systems fail and fast component repair or replacement is time critical.
To learn more about our hydraulic offerings you can view our catalog online, or please contact us today!
Sources:
http://www.machinerylubrication.com/Read/531/hydraulic-root-causes\
http://blog.parker.com/top-8-reasons-hydraulic-hoses-fail
Celebrating Family Owned Business Month: Air-Way's History, Pride, and Future

In this blog, we are shedding light on the remarkable journey of Air-Way Manufacturing. From humble beginnings in 1950 to becoming a global player in manufacturing, Air-Way's story is one of pride, innovation, and relentless dedication to their craft.
READ MORE

6 Ways to Keep Your Hydraulic Fittings Leak Free

A common and persistent issue in hydraulic systems is leaks, which can lead to inefficiencies, downtime, and increased maintenance costs. To prevent leaks and ensure the optimal performance of your hydraulic system, follow these essential guidelines.
READ MORE

The Importance of Working with a Company Emphasizing Domestic Business Operations

Work with a company that emphasizes domestic operations, can offer numerous advantages and contributes to the overall success of businesses and the economy.
READ MORE