Our Commitment to Manufacturing Sustainability at Air-Way
Friday, August 19, 2022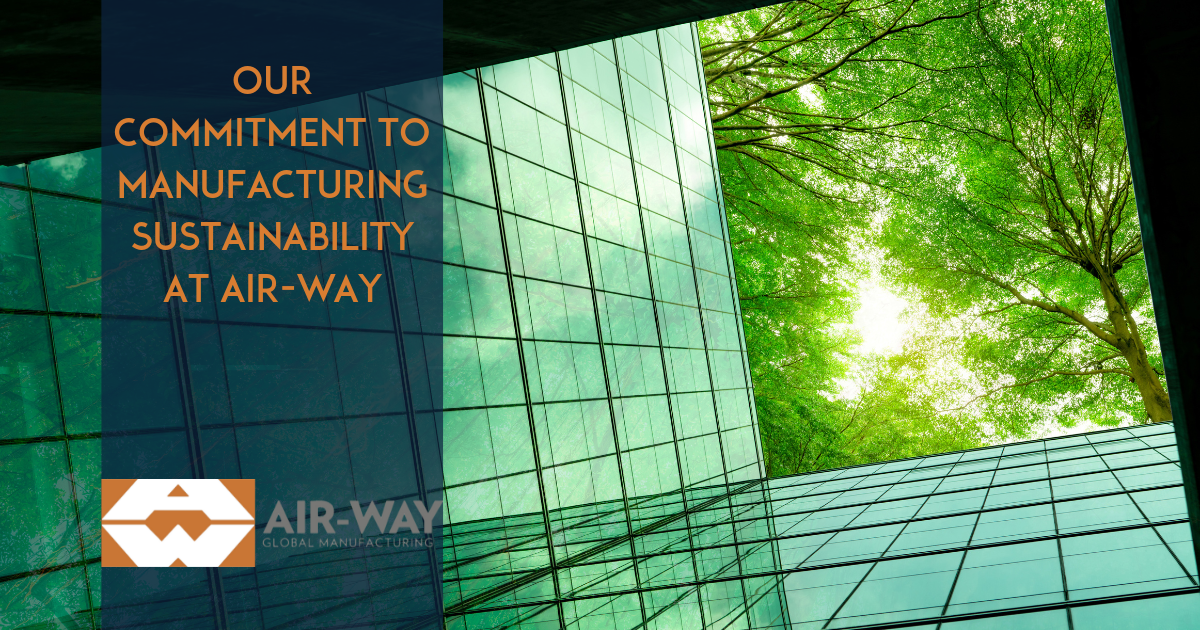 Clean energy improvements continue to be an important mission for the US and the world. The US Department of Energy (DOE) recently announced $18.4 million through the Technology Commercialization Fund (TCF) for seven national laboratory projects with the goal of getting more clean energy technologies to the marketplace. This provides an opportunity for manufacturing sustainability and sustainable business practices as a whole.
While there are still many barriers to clean energy that will continue to affect businesses even though funding and awareness around the issue have grown, we have taken several steps to go above and beyond for our planet
Barriers to Investment in Sustainability
Investing in sustainable business practices and clean energy can get expensive. Especially when it's a small or medium-sized business that won't see the financial payoff until years later. However, there are studies like this one from the Journal of Cleaner Production that confirm there are benefits to tackling barriers to sustainable energy.
It's important to research all resources in your area that assist in becoming a more sustainable business. In many cases, there are programs and partnerships that result in both participants being more profitable working together. It's even more appealing if a business has some excess capital to invest in green energy that will pay for itself given the time to mature.
Small Improvements Still Positively Impact the Environment
The entire production process does not have to change to make a positive impact on the environment. Small sustainability changes in a process add up. The demand for molded pulp packaging is forecast to increase 6.2% per year through 2026. Pulp packaging has the environmental benefits of molded fiber products, including its recyclability, biodegradability, and compostability. Therefore, helping companies get one step closer to meeting their clean energy goals.
Air-Way Utilizes an Environmental Management System (EMS)
At Air-Way, we have established an EMS that helps us continually be environmentally conscious. We identified our environmentally focused activities, products, and services. Then, we created an action plan and created roles that would move us towards fixing the issues. Lastly, we finalized our processes, notified our staff, and trained our employees.
We highly recommend implementing an EMS. It can be a daunting process for smaller businesses, but the United States Environmental Protection Agency (EPA) has an easy-to-follow guide that can assist you in reaching your clean energy goals.
Green Focused Practices Air-Way Uses
To reduce our carbon footprint we have added wastewater reclamation units, these units have dramatically reduced our output of liquid industrial bi-product (LIB) in our Olivet and Hamilton locations by separating the soap from mop water making it reusable. For example, in 2013 we had 27,521 gallons of LIB hauled. In 2021, we only had hauls totaling 5,844 gallons.
We also have an extensive recycling program in all facilities. There are large crates that we fill and are taken to our Edgerton location where they are hauled off by Wilton Keck Recycling. Wilton sends us a summary of our recycling efforts on an annual basis. In 2018, for example, our recycling efforts saved the following:
467 trees

4,951 gallons of oil

140,814 gallons of water

49,937 hours of electricity
Let an energy-conscious company like Air-Way Global Manufacturing supply the hydraulic fittings and adaptors you need to keep working. Whether you need standard parts or a custom solution, our team will partner with you to get you the parts you need, fast.
Celebrating Family Owned Business Month: Air-Way's History, Pride, and Future

In this blog, we are shedding light on the remarkable journey of Air-Way Manufacturing. From humble beginnings in 1950 to becoming a global player in manufacturing, Air-Way's story is one of pride, innovation, and relentless dedication to their craft.
READ MORE

6 Ways to Keep Your Hydraulic Fittings Leak Free

A common and persistent issue in hydraulic systems is leaks, which can lead to inefficiencies, downtime, and increased maintenance costs. To prevent leaks and ensure the optimal performance of your hydraulic system, follow these essential guidelines.
READ MORE

The Importance of Working with a Company Emphasizing Domestic Business Operations

Work with a company that emphasizes domestic operations, can offer numerous advantages and contributes to the overall success of businesses and the economy.
READ MORE