9 Testing Capabilities at Air-Way That Set Us Apart From Our Competitors
Thursday, September 29, 2022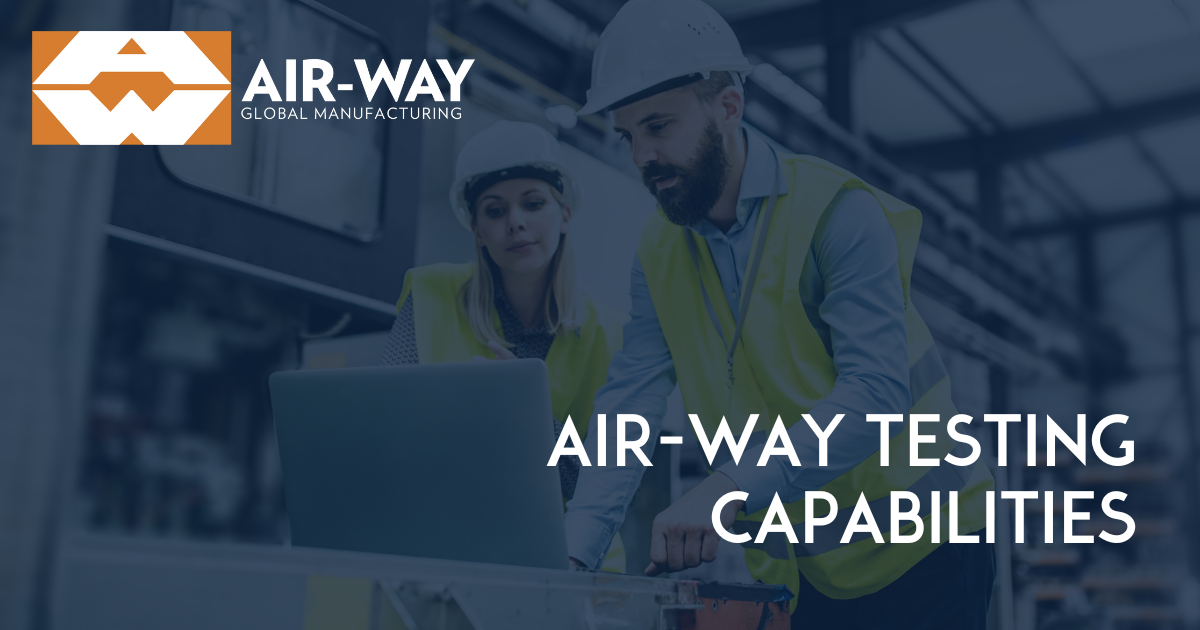 Hydraulic fittings undergo rigorous use in their final applications. Ensuring they can stand up to the job is critical to the operation of thousands of machines, vehicles, and more. OEM's need to be sure the fitting they use won't become a failure point. Having testing capabilities for every scenario ensures that at Air-Way we can provide the highest quality products and services to every customer. Owning the process from start to finish and offering customized solutions allows us to complete projects faster and get our clients their orders quicker.
These are nine of the testing capabilities at Air-Way that help us be one of the largest independent and most trusted hydraulic fitting manufacturers in the United States.
1. Industry Testing Requirements
It's important to have the basics covered. We are capable of testing to all ISO 19879 industry testing requirements that apply to our products.
2. Cyclic Endurance Test Stands
We have cyclic endurance test stands with pressure capabilities up to 15,000 psi. These stands allow us to confirm the endurance and life of our products and materials.
3. Static Pressure Test Stands
Air-Way uses static pressure test stands with capabilities of up to 50,000 psi to establish that all products meet durability standards.
4. Gravimetric Cleanliness Testing Capabilities
We have gravimetric cleanliness testing capabilities to ISO 4405, ISO 16232, and specific customer requirements. At Air-Way, we also use a stereo microscope with digital cameras and software that allows us to measure particle sizes down to 10 microns. Furthermore, the software also generates automatic reports for us. We also use the microscope for many other projects that may benefit from microscopy.
5. Salt Fog Test Chamber
At Air-Way, we use a salt fog test chamber that gives us corrosion resistance testing capabilities to ASTM B117 requirements. This allows us to validate all of our coating processes and services.
6. Hydraulics Lab
Our hydraulics lab allows us to perform custom testing as required, and we support it with our experienced design team. Machining and fabrication capabilities are also tested here under the R&D umbrella.
7. Research & Development's Design Capabilities
The Research and Development team has full design capabilities utilizing solid modeling CAD solutions. R&D has a CNC mill, lathe, and traditional machining equipment. They can also fabricate as necessary, with the use of welding and forming equipment. With all these resources, R&D can design and rapid prototype for our customers. Sometimes, in hours instead of days.
8. 3D Printing
R&D has additive manufacturing capabilities using our commercial 3D printer for design confirmation, proto-typing, and work holding requirements. We use the 3D printer to infuse reinforcement materials such as carbon fiber, Kevlar, and high-strength fiberglass (including high-temp, high-strength fiberglass) that can reach the mechanical properties of 6061 aluminum.
9. Custom Assembly Equipment
At Air-Way, our R&D team also designs and builds custom assembly equipment from design to delivery. Some of these machines use the latest control solutions on the market. This gives us vertical integrated capabilities that our competitors cannot match.
Work with Air-Way and you will benefit from both the technical expertise of a manufacturer who owns and controls the manufacturing process and provides world-class delivery performance. Our testing capabilities give our customers confidence that they will receive a high-quality product every time.
Contact us today and let us know how we can help you with any of your specific hydraulic fittings needs!
6 Ways to Keep Your Hydraulic Fittings Leak Free

A common and persistent issue in hydraulic systems is leaks, which can lead to inefficiencies, downtime, and increased maintenance costs. To prevent leaks and ensure the optimal performance of your hydraulic system, follow these essential guidelines.
READ MORE

The Importance of Working with a Company Emphasizing Domestic Business Operations

Work with a company that emphasizes domestic operations, can offer numerous advantages and contributes to the overall success of businesses and the economy.
READ MORE

Newsletter–June-2023

Curious what Air-Way and our employees have been up to recently? Check out our June newsletter with some amazing stories including the 2022 employees of the year, the Morels Mushroom Annual Contest winners, and more!
READ MORE