Hydraulic Fittings: Witness Air-Way in Your Everyday
Wednesday, July 13, 2022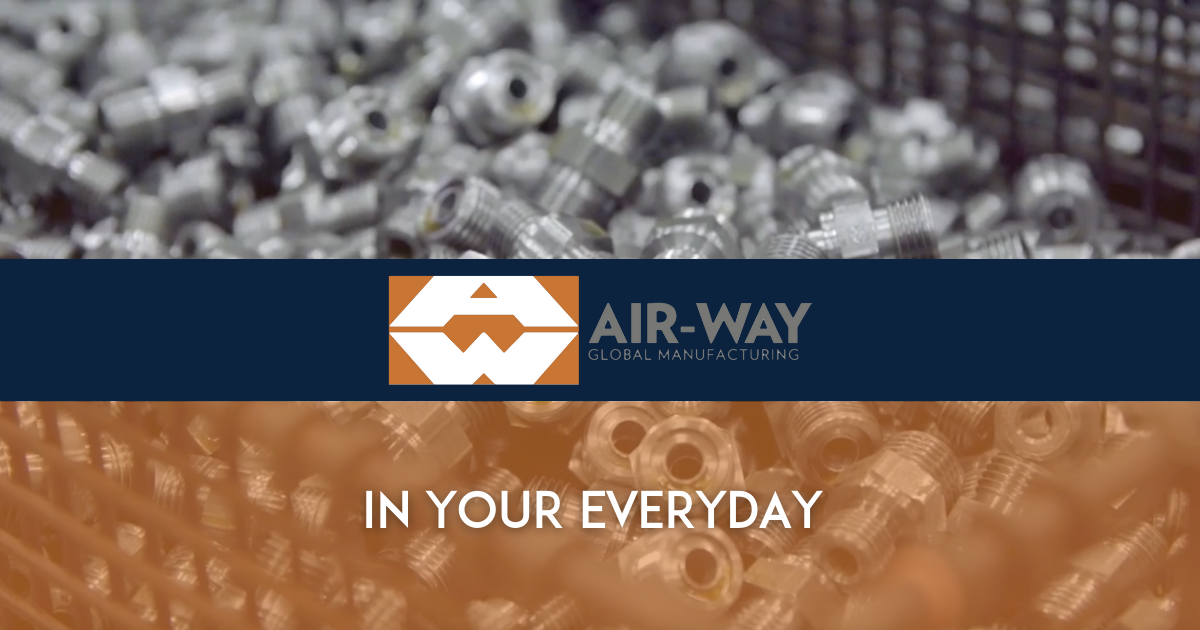 Today, hydraulic and pneumatic fittings have more machines and equipment running smoothly than you might think. You probably pass by hundreds, if not thousands, of these fittings every day without even realizing it.
However, they're essential for properly functioning equipment, which in turn keeps your business fully operational. One small hydraulic fitting breaking or missing means that production (and cash flow) stops immediately.
Whether it's a metric fitting, FLARE-O, compression fitting, or anything else, Air-Way Manufacturing has the supply of these essential machine components readily available. We can even work with you on a custom design!
Below, we outline the everyday utilization of our products, the industries we proudly serve, and how we can serve your business today.
Hydraulic Fittings in Your Everyday
From trucks to boats, hydraulic fittings keep systems connected across a variety of industries. According to FactMR, the hydraulic hose market was valued at US $9.8 billion in 2017. The market is forecasted to expand in value at a compound annual rate (CAGR) of 5.23% by 2027.
Since hydraulic systems are constantly used, they undergo tremendous amounts of wear and tear. Therefore, it's only a matter of time before some sort of maintenance will be necessary, and finding the correct replacement parts can be difficult, timely, and costly.
It's important to find and reassemble with a perfect match, without halting production. Otherwise, the system will fail quicker than anticipated. That's why we have a multitude of resources available, with the purpose of helping you purchase the right hydraulic fitting or adapter.
Air-Way Serves Hydraulic Fittings for Your Industry
The usability of hydraulic fittings across a variety of industries means that we serve many different customers on a daily basis (fun fact: we even supplied parts for NASA's telescope in 2021!)
Below are just some of the different industries we work with:
Agriculture Equipment Manufacturers

Heavy Equipment

Trucks & Transportation

Military & Defense

Oil & Gas Industries

Alternative Energy

Marine & Boating Industries

Mining Equipment

Forestry Equipment

Railroad Equipment

Material Handling

Access Equipment
Don't see your industry on the list? Not a problem! As a long-time manufacturer of hydraulic fittings, Air-Way specializes in custom design.
Our experience in specialty fittings design ensures that you select the right type of fitting for your application. From the initial idea concept, through design development, and final part production, Air-Way offers the support and expertise you need to complete your project.
Hydraulic Fittings in Your Back Pocket
Next time you drive by a bulldozer or over a railroad, remember the hydraulic fittings that make it all possible. And, if you work with hydraulic fittings on a daily basis, keep Air-Way in mind for your basic replacements or specialty projects.
As a family-driven company, we always go the extra mile to give our customers the best experience. Contact us to learn more about how we can assist your business today!
Air-Way's 2022 Employees of the Year

We're excited to celebrate our employees of the year for 2022! Thank you for all of your hard work and dedication.
READ MORE

5 Reasons Your Company Should Attend National Conferences

Discover 5 reasons why companies should be attending relevant national conferences.
READ MORE

Newsletter–December 2022

Air-Way's December Newsletter. Read to learn more about, celebrating retirees, the Hydra-Flex Charlotte expansion, and much more!
READ MORE