How Air-Way Manufacturing is Using the Internet of Things to Continuously Improve
Thursday, May 23, 2019
Since 1950, Air-Way Manufacturing has manufactured high-quality hydraulic fittings and adapters. Today, we're known as the largest independent hydraulic fitting manufacturer in the country, maybe the world. Our customers count on us for our manufacturing expertise and superior and technical support.
As we continue to expand our customer base to top OEMS and distributors worldwide, we are continuously improving our processes and facilities to optimize efficiency and communication with our customers. How are we doing this? We are taking advantage of the internet of things.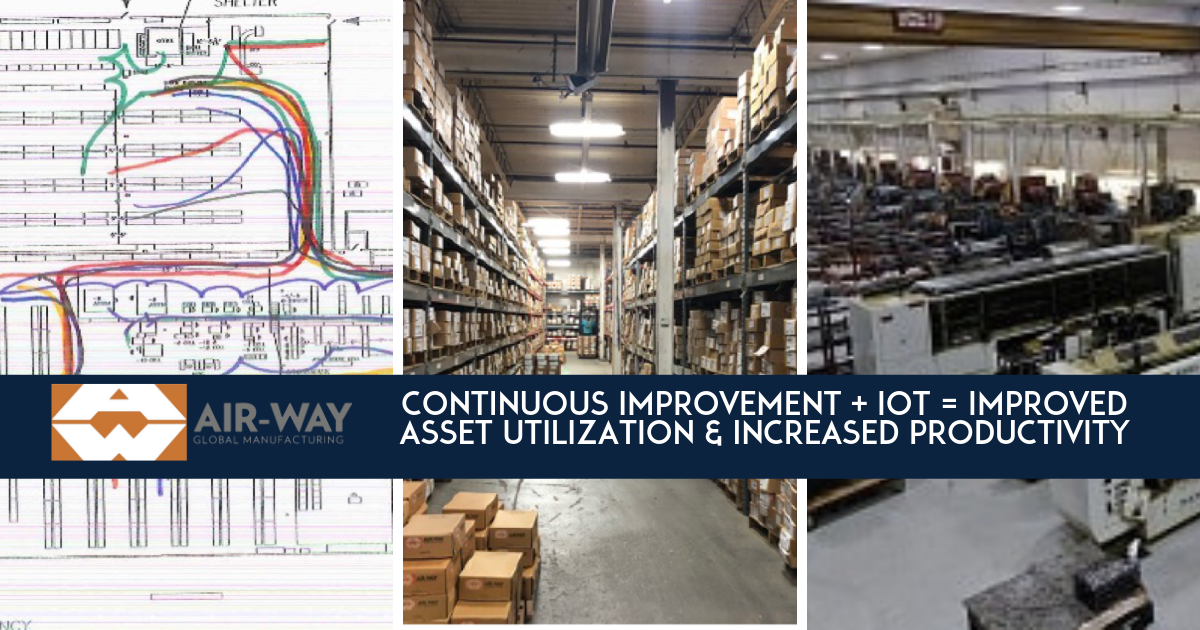 What is the Internet of Things (IoT)?
The Internet of Things refers to a network of physical objects that use sensors and APIs to connect and exchange data over the internet. In recent years, the internet things has completely revolutionized the manufacturing industry.
By implementing the Internet of Things, manufacturing facilities of all shapes and sizes have experienced less machine downtime, improved asset utilization, and faster time to market. IoT has allowed them to create an environment where all information is captured in real-time, made visible, and turned into actionable insights.
IoT has played a vital role in helping manufacturing facilities become more proactive as it has allowed them to predict and fix problems, improve operations, and exceed customer expectations, all while increasing revenue. It also continues to impact shipping and logistics, which also use IoT to keep supply chains operating smoothly.
How We've Used the Internet of Things to Improve
We have recently made some updates to our manufacturing facility in Edgerton, Ohio. The goals of these updates was to increase capacity, reduce customer lead times, improve efficiency of all processes, and streamline processes for our employees. We reconfigured the facility and implemented several process improvements to meet these goals.
One of the most significant changes we made to the Edgerton facility was adding additional equipment to reduce downtime and boost productivity. This equipment included handheld devices and label printers that allow for product labeling and documentation to be performed in multiple areas. Since there was no longer one dedicated area for these tasks to be completed, we were able to make the most out of resources and ensure optimal efficiency.
The improved Edgerton facility has demonstrated just how powerful the Internet of Things can be to our business, and ultimately for our customers. We're able to meet the ever-evolving demands of our growing customer base – getting products to them quicker, improving communication and more.
Contact Air-Way For More Information
If you're intrigued and would like more details on how we're continuously improving our processes to best serve our customers, contact us today. Whether you're an OEM or distributor, you deserve a hydraulic adapter supplier who understands the needs for continuous improvement.
Company Video: The Air-Way Way

Air-Way Global Manufacturing continues to be an industry leader by supplying hydraulic fittings and adapters in an ever-changing global marketplace. Flexibility, expertise and dedication to customer service make Air-Way Global Manufacturing the best choice when it comes to delivering parts on time and on spec – anywhere in the world. "Any piece of equipment that has hydraulic systems on it, Air-Way has been involved with. We've been selling to the hydraulic industry for over 70 years now." ~John Hamm, President of Manufacturing and Engineering for Air-Way Manufacturing
READ MORE

Hydraulic Adapters Tough Enough for the Construction Industry

Hydraulic systems on heavy equipment are under pressure. So are the construction workers and equipment operators on the job site. We work with OEMs to provide technical engineering design to ensure you have the right hydraulic fittings for your application. Here at Air-Way Global Manufacturing, we are pleased to offer a variety of hydraulic fittings for the companies who build, maintain and repair the heavy equipment used in construction.
READ MORE

We're Headed to ConExpo 2020

If you've ever attended ConExpo in the past, you know it is an incredible opportunity to connect with vendors, manufacturers, and potential customers. Our staff is looking forward to ConExpo 2020, which will be held March 10-14. Visit our booth to learn more about our company, and the many hydraulic solutions we provide to some of the top OEMs in the world. Our team is excited about sharing how our technical engineering and design staff, can support our customers with hydraulic solutions for their specific applications.
READ MORE