How To Measure Threads and Seat Angles for Hydraulic Adapters
Monday, June 24, 2019
Prior to selecting and installing the right hydraulic fittings, it's important to measure threads. We've created this article as a brief outline of the steps necessary to measure threads and what tools are required in order to do so.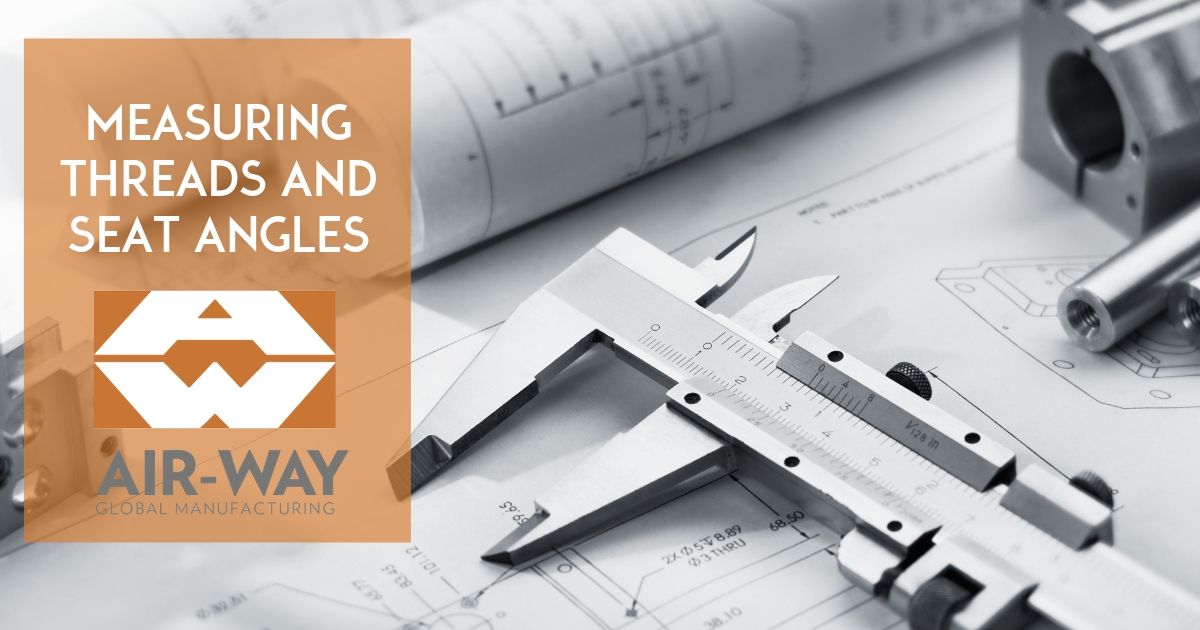 If you do need help identifying the right fitting or adapter for your application or as a replacement part, we do offer many different conversion tools (located at the top of our website), and cross reference for other manufacturer part numbers - simply search by your part number or give us a call to verify.
1. Measure Thread Diameter
To measure thread diameter, a combination of O.D./I.D. caliper should be used. Since the threads of a used fitting are prone to wearing and damage, these measurements may not be 100% accurate. A thread chart should be used to match measurements.
2. Determine the Number of Threads Per Inch / Millimeter per thread
In order to determine the number of threads per inch for Inch, and BSPP threads, a thread pitch gauge should be used. In the absence of a pitch gage, the distance between threads can be measured.
Inch threads are designated in threads per inch.
Measuring the distance between threads will identify metric thread pitch.
When using a pitch gauge it should be placed on the threads until there is a snug fit.
3. Types of Measuring Tools
There are two tools that can be used to measure threads. These tools include an I.D./O.D. caliper (pictured above), and thread pitch gauge, which allow for optimal measurement accuracy.
4. How to Measure Sealing Surface (Seat) Angles
Female seats are very difficult to measure. For this reason, the manufacturer should be consulted. If you're unsure, reach out to us today.
Male connections can be measured by placing a protractor gauge on the sealing surface while making sure that the connection and gauge are parallel to allow for correct angle identification.
Contact Air-Way Mfg for Assistance
For more information on how to measure threads, or if you're looking for a replacement fitting or cross reference, please let us know by calling 800-253-1036 or reaching out online today.
Air-Way's U.S. Based Hydraulic Fitting Manufacturing Keeps Your Operation Moving

If it lifts, moves or operates under hydraulic power, Air-Way Global Manufacturing is there. Although there have been changes to how we work, just like the hydraulic operations we help power every day, we haven't missed a beat. With U.S. based manufacturing capabilities for our hydraulic fittings, Air-Way has continued to supply top Original Equipment Manufacturers (OEM) and Distribution serving the essential critical infrastructure sectors.
READ MORE

Coronavirus Response For Customers

We remain staffed and in production at all locations, both US and China, including our Edgerton, Ohio, facility. Air-Way supplies Original Equipment Manufacturers in the Agriculture, Construction, Fire and Rescue, Defense, Access Equipment, and Material Handling industries to name a few. Several of our largest customers have been classified as "Essential Critical Infrastructure". As an integral supplier to these companies, Air-Way will continue operations at all of our facilities with as little disruption as possible.
READ MORE

Seven Key Qualities To Consider When Selecting Your Supplier

Just like a chain is only as good as its weakest link, a company is only as good as its worst supplier. Suppliers play a critical role in the production process, providing the materials a company uses to produce its own products and provide services. The right supplier can help a manufacturer improve the production process, maximize capabilities, create cost efficiencies, and deliver a higher-quality product. For some organizations, their suppliers are the secret sauce to their own success.
READ MORE