Growth in Hydraulic Hose and Fitting Market Driven by Industry Mechanization
Tuesday, August 3, 2021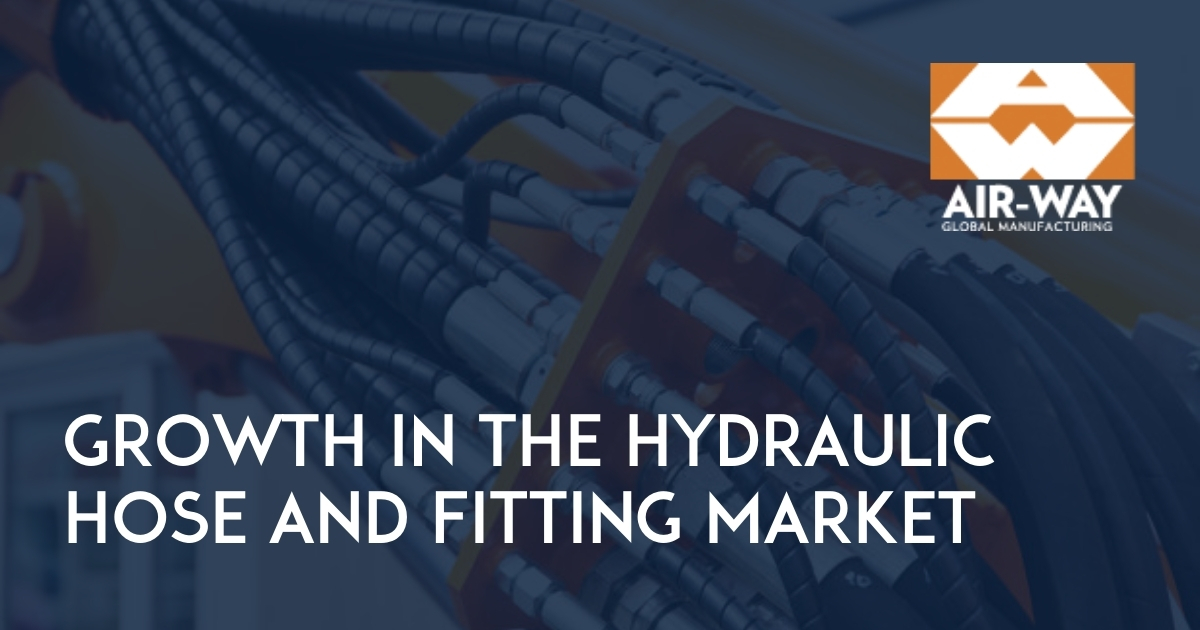 The global hydraulic hose and fittings market is expected to grow by almost $400 million USD over the next four years according to research by Technavio, a leading global technology research and advisory company. A major factor in the growth in the hydraulics market is mechanization in the agriculture industry.
As global demand for food increases, traditional agricultural processes are being mechanized to scale up overall production. As stated in a release from PR Newswire, "This has increased the adoption of various agricultural machineries such as tractors, automatic seed dispensers, and harvesting machines. In addition, technological innovations and the rise in per capita income of farmers in developed economies have further increased the affordability and adoption of agricultural machinery."
Hydraulics in Robotics
But it's not only the agriculture industry that is scaling up mechanization. While electric motors are often chosen for robotic systems, hydraulics have a growing application especially in robotic arms. Hydraulic systems can perform every motion that electric motors can and have several advantages. "For applications where precise control of large forces and smooth motion are required, or applications that require 'forgiveness' in the motion, fluid power can deliver significant benefits compared to electromechanical motion" (Tech Briefs).
Industries like automotive, general manufacturing, warehousing, healthcare, and food service have been improved by robotic automation. The automotive industry utilizes robotic hydraulic arms for assembly, machine tending, material removal, and part transfer. Pharmaceutical and healthcare product manufacturing facilities have used robotic arms as part of their process for some time. Robotics are also helping doctors, nurses and hospital staff improve patient care by automating and assisting with tasks.
Applications of robotics are continuously being developed to make manufacturing, construction, and other processes faster, safer, and more efficient.
Automation for Post-COVID Production Demands
Manufacturers in general will likely rely more on automation post-COVID to reduce health risks in the workplace. Automation allows manufacturers to maintain social distancing best practices and reduce the spread of infection. Additionally, manufacturers that prioritize automation will be able to lower costs and improve efficiencies and product demands and competition ramp up.
As mechanization continues to grow across industries, especially those that have utilized mainly manual labor in the past, hydraulic systems are a preferred power source. Hydraulic systems are easy to control and are extremely accurate, are easier to maintain with less moving parts and can deliver consistent torque or force regardless of speed changes.
If your innovation is fueled by hydraulic power, Air-Way Global Manufacturing can provide the hydraulic fittings and adaptors to keep you running. Whether you need standard parts or a custom solution, our team will partner with you to get you the parts you need, fast.
Air-Way's 2021 Employees of the Year

Air-Way is proud to recognize our hard-working employees that went above and beyond in 2021. We are able to provide excellent products and value to our customers because of the dedication and work ethic of our team. These three Air-Way employees went the extra mile and embody the family-minded values that motivate our company culture.
READ MORE

Can I Reassemble or Do I Need to Replace My Hydraulic Fitting?

Performing regular maintenance on your hydraulic system can prevent problems and maximize uptime. When your maintenance involves hose changes or disassembly of your hydraulic fittings, it's a good idea to consider using new fittings when you reassemble your connections. But, thanks to stronger materials and advances in the design and manufacturing process, hydraulic fittings that are in working order may be reused.
READ MORE

Challenges in the Supply Chain Due to COVID-19 and What You Can Do About It Today

Nearly every industry has been impacted by supply chain issues during the COVID-19 pandemic. Manufacturing, construction, and retail trade have experienced the most significant disruption in their supply chains, and many continue to feel that pain yet today. So much so, that in June of 2021, the White House announced the formation of a Supply Chain Disruptions Task Force to address short term supply chain issues nationally.
READ MORE