Air-Way Global Manufacturing Celebrates 70th Anniversary
Tuesday, June 29, 2021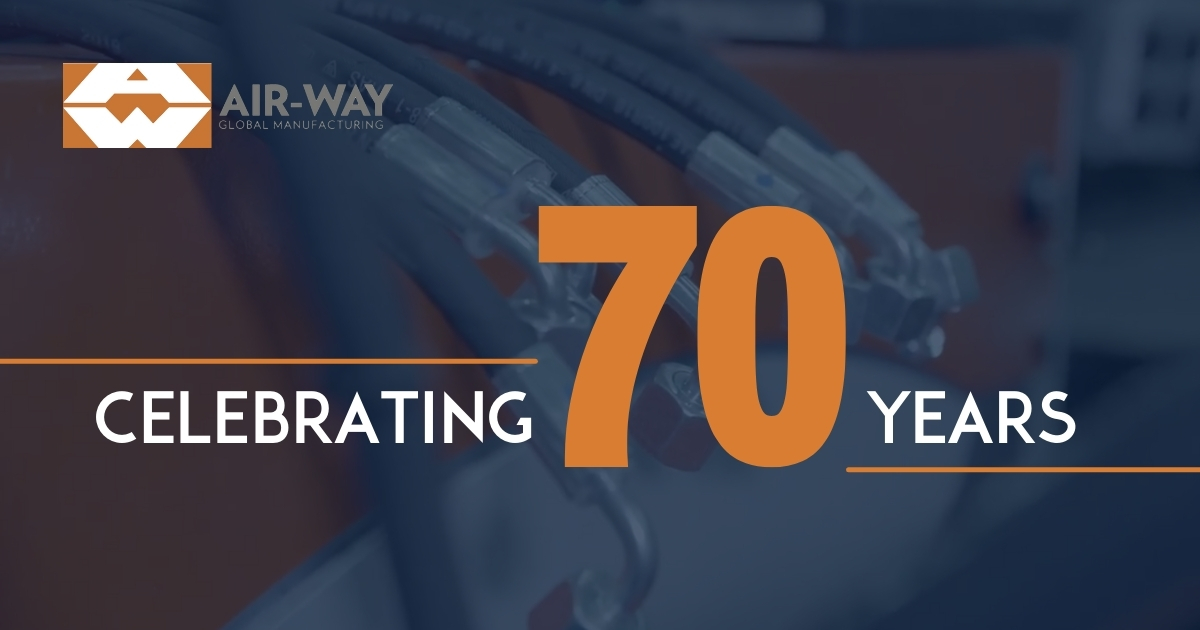 Family-owned hydraulic fitting company commemorates 7 decades of success.
OLIVET, MI: This year, Air-Way Global Manufacturing is celebrating its 70th year of operations. The family-owned companystarted in an old airplane hangar in Romeo, Michigan has since become the largest independent hydraulic fitting manufacturer in the United States.
Since their start in 1950, Air-Way Global has thrived amongst its competitors, serving numerous industries and hundreds of clients. Air-Way has found success through a unique approach that allows the organization to stay dedicated to tradition and family values, all while operating on a global scale. Founded by the Hamm and Jacob families, the second, third and fourth generations are still a part of the company's leadership today. The family-owned business serves customers ranging from John Deere and Caterpillar to NASA.
As a company that began through the efforts of two families working together, Air-Way saw major success last year, even amidst the global pandemic. President of Manufacturing and Engineering John Hamm said "We had already transitioned our key people's abilities to successfully work from home which made the unplanned requirement to do so achievable." The entire team fully embodied integrity, transparency, and collaboration in the face of a challenge, and it paid off. Air-Way Global Manufacturing continues to be an approved supplier to several of the largest and most recognized Original Equipment Manufacturers in the world.
Can I Reassemble or Do I Need to Replace My Hydraulic Fitting?

Performing regular maintenance on your hydraulic system can prevent problems and maximize uptime. When your maintenance involves hose changes or disassembly of your hydraulic fittings, it's a good idea to consider using new fittings when you reassemble your connections. But, thanks to stronger materials and advances in the design and manufacturing process, hydraulic fittings that are in working order may be reused.
READ MORE

Challenges in the Supply Chain Due to COVID-19 and What You Can Do About It Today

Nearly every industry has been impacted by supply chain issues during the COVID-19 pandemic. Manufacturing, construction, and retail trade have experienced the most significant disruption in their supply chains, and many continue to feel that pain yet today. So much so, that in June of 2021, the White House announced the formation of a Supply Chain Disruptions Task Force to address short term supply chain issues nationally.
READ MORE

Growth in Hydraulic Hose and Fitting Market Driven by Industry Mechanization

The global hydraulic hose and fittings market is expected to grow by almost $400 million ISD over the next four years according to research by Technavio, a leading global technology research and advisory company. A major factor in the growth in the hydraulics market is mechanization in the agriculture industry.
READ MORE