Coronavirus Response For Customers
Monday, March 30, 2020
Updated: March 30, 2020 at 3:05 pm EST: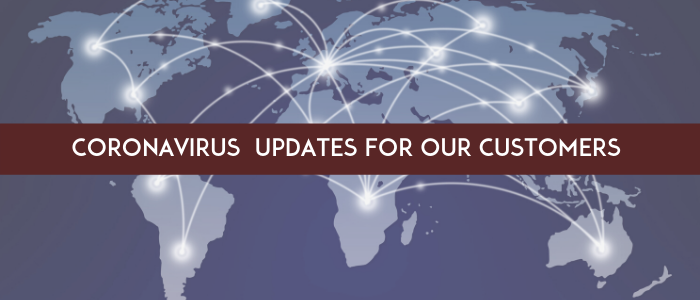 Air-Way Global Manufacturing continues to adapt to the current global situation with COVID-19 (Coronavirus), We continue to assess and develop strong internal policies to mitigate the threat, for the safety of our team members, and business partners.
We remain staffed and in production at all of our US, Canada and China locations. Air-Way supplies Original Equipment Manufacturers in the Agriculture, Construction, Fire and Rescue, Defense, Access Equipment, and Material Handling industries to name a few. Several of our largest customers have been classified as "Essential Critical Infrastructure". As an integral supplier to these companies, Air-Way will continue operations at all of our facilities with as little disruption as possible.
There is the possibility we may experience some temporary staffing shortages, depending on specific circumstances at individual Air-Way facilities. Air-Way staff with the ability to work remotely are doing so, in support of our Social Distancing directives. We have implemented an internal Pandemic Coordination Team, which is meeting regularly to address any potential disruptions that may arise related to plants, suppliers, etc.
Internal Pandemic procedures have been implemented in line with United States Guidelines regarding personal protection. We continue to do everything possible to mitigate any potential impacts. Communication with our customers remains a priority, and we will continue to provide timely updates as the situation evolves. Of course, any disruptions caused by this global pandemic will be communicated as soon as possible.
If you have questions about your orders or are looking for a quote, please reach out to us today.
Seven Key Qualities To Consider When Selecting Your Supplier

Just like a chain is only as good as its weakest link, a company is only as good as its worst supplier. Suppliers play a critical role in the production process, providing the materials a company uses to produce its own products and provide services. The right supplier can help a manufacturer improve the production process, maximize capabilities, create cost efficiencies, and deliver a higher-quality product. For some organizations, their suppliers are the secret sauce to their own success.
READ MORE

ATTENTION: Visitors to Air-Way Global Manufacturing Facilities

Air-Way proudly associates with businesses throughout the world and empathizes with the hardships that organizations are experiencing as a result of the coronavirus (COVID-19). Currently, this is a global concern, particularly in China and parts of Europe. As a company, we have an obligation to do our part to prevent its spread.
READ MORE

Company Video: The Air-Way Way

Air-Way Global Manufacturing continues to be an industry leader by supplying hydraulic fittings and adapters in an ever-changing global marketplace. Flexibility, expertise and dedication to customer service make Air-Way Global Manufacturing the best choice when it comes to delivering parts on time and on spec – anywhere in the world. "Any piece of equipment that has hydraulic systems on it, Air-Way has been involved with. We've been selling to the hydraulic industry for over 70 years now." ~John Hamm, President of Manufacturing and Engineering for Air-Way Manufacturing
READ MORE