Seven Key Qualities To Consider When Selecting Your Supplier
Thursday, March 26, 2020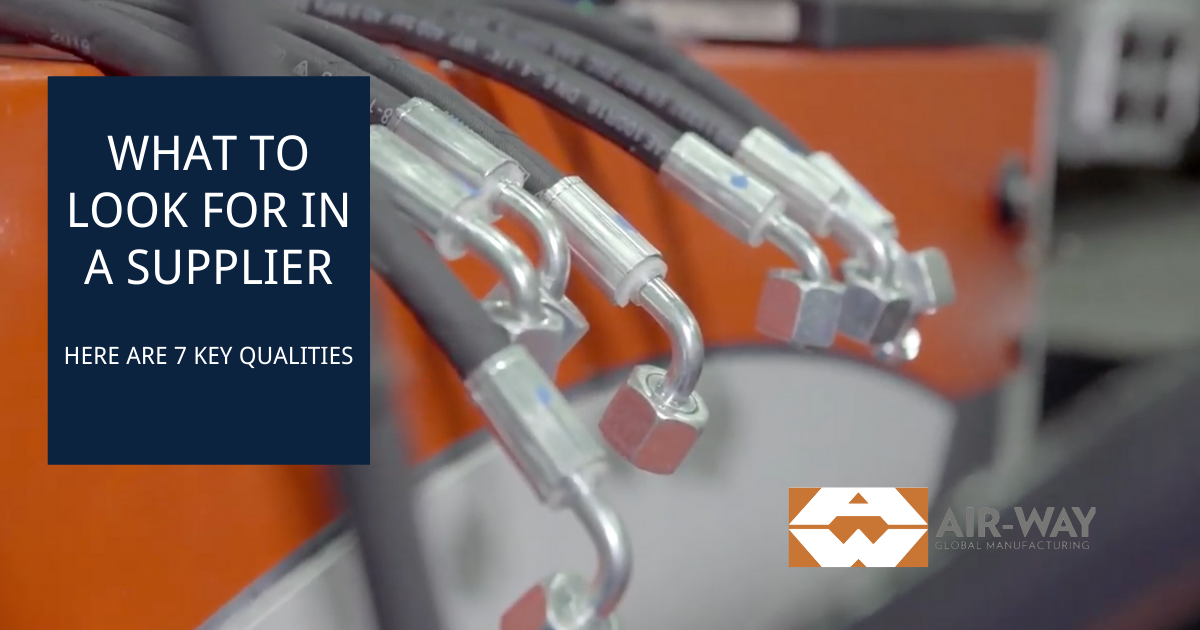 Just like a chain is only as good as its weakest link, a company is only as good as its worst supplier. Suppliers play a critical role in the production process, providing the materials a company uses to produce its own products and provide services. The right supplier can help a manufacturer improve the production process, maximize capabilities, create cost efficiencies, and deliver a higher-quality product. For some organizations, their suppliers are the secret sauce to their own success.
Beyond meeting regulatory and ethical requirements, there are key factors that can help you distinguish the right supplier for your organization. Here are seven key qualities to think about when you are selecting your suppliers.
Value
Price and value are not the same thing. Yes, an honest price is important, but price becomes relative when a supplier can help improve product design, improve product quality, improve your speed to market, or reduce your total production cost. Low cost isn't always the best deal. If the supplier's product quality is poor, you will likely spend more in the long run. Make sure you are looking at a supplier from the total value they bring your production process, not just the sticker price.
Stability
It's important to have a supplier that can fulfill the obligation they make to you. Especially if you are entering a long-term contract with a supplier, you want to make sure they are going to be there for the long haul. Years in business, a credit check, longevity of senior staff, and customer references will help you feel more confident in your supplier's stability.
Location
In this global marketplace, you can source products from just about anywhere. But your business strategy is likely tied to a schedule. If all of their products are coming from overseas and there is a delay, how does that affect your success? You need to make sure you have a supplier that can deliver on time and on budget. Supplier capabilities to look for in this area include domestic manufacturing, inventory access, transportation capacity, and 'just-in-time' performance.
Communication
Not only should your supplier be open and direct, but also responsive. You rely on your suppliers to ensure the integrity of your manufacturing process. Consider how a supplier communicates and the availability of that communication, including a support staff you can actually get a hold of on the phone, and if they speak a common language.
Production Capabilities
Can the supplier manufacture the product you want? The most effective way to verify production capabilities is to visit the supplier in person, or use a third-party agent representative. Your assessment should cover:
Raw materials and finished product inventory
Incoming quality control, in-process quality control and pre-shipment quality control procedures
Design and development capabilities
Approach to design changes
Machine and equipment maintenance and calibration
Certifications or licensing
If you can't visit the supplier in person, use certifications and third party audits such as the ISO 9001 to verify quality standards.
Additionally, ask your potential suppliers for a product sample. Especially if your supplier is manufacturing the part for you, request a sample run before mass production.
Expertise in Your Market
From knowing the legal requirements and regulations in your target market to troubleshooting during the design process, a supplier with knowledge of your market and technical expertise of the product is immensely valuable. You don't want to be a supplier's guinea pig. Look for a supplier that specializes in the product they manufacture.
Alignment
Chances are you will be working with your supplier for a long time. In a way, it's like a marriage. You want to make sure you can work together. You need to share a similar vision and values. You need to know they will be there for you if something goes wrong. And, don't overlook the fact that you should like each other. Although you don't have to go work alongside them every day like a coworker, you should have a pleasant and productive relationship. A good supplier shows a willingness to work with you and puts your requirements first.
Your suppliers can turn into partners, helping you improve your products, improve efficiency and ensure a smooth production process. If you find yourself linked to a poor supplier it will take a toll on profitability. Take the time to review your suppliers thoroughly to make sure they are a good fit, both from a capability and culture standpoint.
Working together, you will benefit from both the technical expertise of a manufacturer who owns and controls the manufacturing process, along with world class delivery performance.
Consider Air-Way As Your Hydraulic Fitting & Adapter Supplier of Choice
Let's talk about your specific hydraulic applications, and how our commitment to these 7 qualities (and more) can fulfill your hydraulic adapter and fitting needs. Air-Way Global Manufacturing strives to partner to our customers, delivering better results. Please give us a call at 800-253-1036 or contact us today.
Coronavirus Response For Customers

We remain staffed and in production at all locations, both US and China, including our Edgerton, Ohio, facility. Air-Way supplies Original Equipment Manufacturers in the Agriculture, Construction, Fire and Rescue, Defense, Access Equipment, and Material Handling industries to name a few. Several of our largest customers have been classified as "Essential Critical Infrastructure". As an integral supplier to these companies, Air-Way will continue operations at all of our facilities with as little disruption as possible.
READ MORE

ATTENTION: Visitors to Air-Way Global Manufacturing Facilities

Air-Way proudly associates with businesses throughout the world and empathizes with the hardships that organizations are experiencing as a result of the coronavirus (COVID-19). Currently, this is a global concern, particularly in China and parts of Europe. As a company, we have an obligation to do our part to prevent its spread.
READ MORE

Company Video: The Air-Way Way

Air-Way Global Manufacturing continues to be an industry leader by supplying hydraulic fittings and adapters in an ever-changing global marketplace. Flexibility, expertise and dedication to customer service make Air-Way Global Manufacturing the best choice when it comes to delivering parts on time and on spec – anywhere in the world. "Any piece of equipment that has hydraulic systems on it, Air-Way has been involved with. We've been selling to the hydraulic industry for over 70 years now." ~John Hamm, President of Manufacturing and Engineering for Air-Way Manufacturing
READ MORE