Air-Way's U.S. Based Hydraulic Fitting Manufacturing Keeps Your Operation Moving
Tuesday, August 18, 2020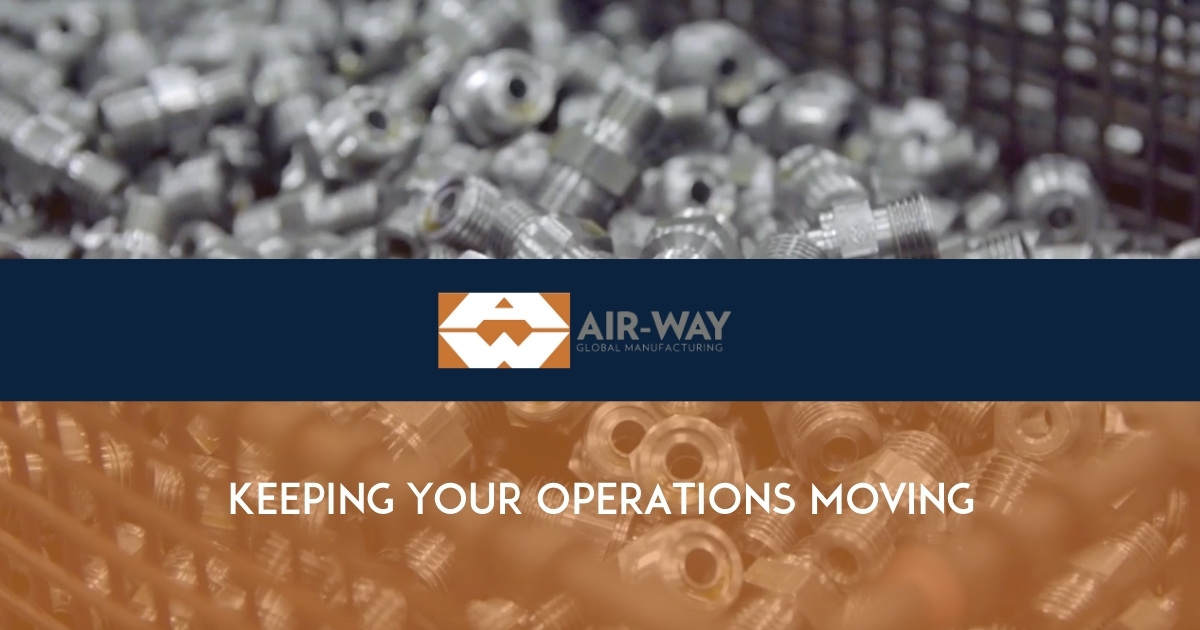 If it lifts, moves or operates under hydraulic power, Air-Way Global Manufacturing is there. Although there have been changes to how we work, just like the hydraulic operations we help power every day, we haven't missed a beat. With U.S. based manufacturing capabilities for our hydraulic fittings, Air-Way has continued to supply top Original Equipment Manufacturers (OEM) and Distribution serving the essential critical infrastructure sectors.
U.S. Based, Global Footprint
Our plants in Michigan, Indiana, Ohio, North Carolina, and Canada have been instrumental in ensuring Air-Way customers have the hydraulic fittings they need to build equipment. We are also happy that we have been able to keep our employees working during the COVID-19 pandemic.
When the tariff concerns arose in 2018, Air-Way took the initiative to increase our domestic inventory. Our proactive approach positioned us to be able to respond quickly to customers that need hydraulic fittings and adaptors, no matter the situation. While we maintain and expand overseas manufacturing, we wanted our customers to be able to depend on our flexibility during rapid shifts in the market, or any other extenuating circumstances. Establishing operations both locally and globally enables to serve our customers best.
Shorter Lead Times
Manufacturing in North America means that we can deliver to our clients more quickly. Whether the part you need is off-the-shelf or custom made, our versatility in manufacturing gives us the ability to deliver timely solutions and inventory to customers when they need it most.
Quality Control
By keeping it local, we have greater control over the manufacturing process. Air-Way has a team of highly skilled experts that ensure your hydraulic fitting parts meets your specs. Additionally, keeping a closer watch on the manufacturing process presents us with more opportunities to innovate our production, design process, and customer offering. We manufacture our hydraulic adapter and fitting products with quality materials and take every single detail into account. Controlling the development first-hand enables greater quality control and helps to reduce waste and overproduction.
Customer Service
Air-Way's customer service team is located in Olivet, Michigan. We are a family-owned business and believe that a customer should be able to talk to a person when they need a solution or answer. Working with Air-Way ensures easy, open communication which results in you receiving the product you need for your specific application.
Air-Way is an ISO 9001:2015 (with design) certified manufacturer, as well as certified to ISO 14001:2015, which demonstrates our commitment to the environment; we are also an approved supplier to several of the largest and most recognized Original Equipment Manufacturers (OEMs)in the world.
Working together, you will benefit from both the technical expertise of a manufacturer who owns and controls the manufacturing process, along with world class delivery and quality performance.
We are looking forward to working alongside you to help with your specific hydraulic fitting needs. Please give us a call at 800-253-1036, or contact us today.
Hydraulic Fittings: Witness Air-Way in Your Everyday

Today, hydraulic and pneumatic fittings have more machines and equipment running smoothly than you might think. You probably pass by hundreds, if not thousands, of these fittings every day without even realizing it.
READ MORE

June Newsletter 2022

The June newsletter is here. Check out all of the amazing things that have been going on at Air-Way!
READ MORE

Top 14 Reasons You Should Accept That Second or Third Shift Opportunity

Second and third shift positions tend to be less popular than a typical day shift; however, there are plenty of benefits of taking the shift less traveled. Working at an unconventional time can have positive effects on your work life balance – if you take advantage of them.
READ MORE