Challenges in Supply Chain Management Today
Thursday, July 12, 2018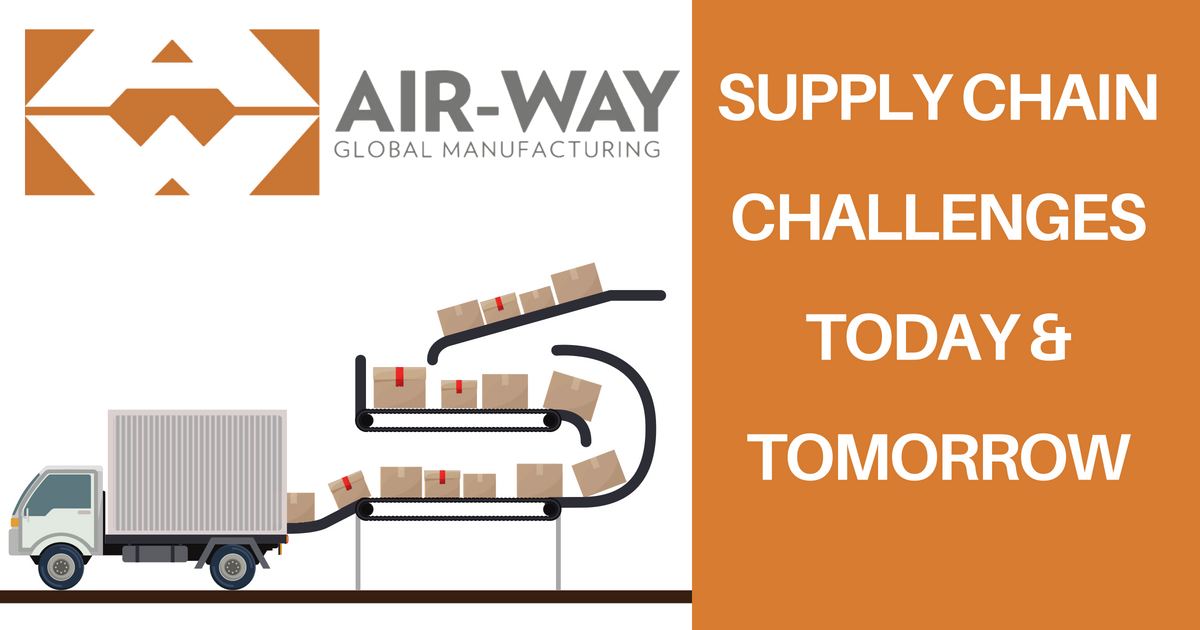 Manufacturing can be a challenge for companies, no matter the size or geographic reach of your company. So many pieces have to fall into place for a successful and productive production line including lead times, vendor approval, regulations and compliance, component sourcing, shipping, customer service, and inventory maintenance. And those are just a few!
In the end, the goal is to satisfy customer lead times, getting the right components, equipment, and systems in place that make the national or global relationship a positive one for everyone. From a supply chain perspective, this isn't easy to do. Here are a few of the biggest challenges facing supply chains, big and small, today.
Driver Shortage
To put it simply, there just aren't enough truck drivers on the road right now to satisfy the growing demand. In fact, the ratio of loads requiring movement versus available trucks has exceeded all previous records. Supply Chain Dive cites misclassification lawsuits, dissatisfaction with the ELD mandate, and non-competitive wages as contributing factors to this shortage.
In the "gig economy" era, spending long hours far away from family and friends is looking less and less attractive to young, prospective workers. As a result, the logistics industry (and all of those impacted by it) is feeling the squeeze in predicting accurate lead times and mitigating the increasing costs of transportation and delivery.
Customer Service
A fast-changing consumer market has led to shorter product life cycles and the expectation for companies to keep up with, and adapt to, the latest technology trends and industry digitalization efforts while keeping costs at a minimum. This, coupled with ever-increasing demands for faster and more accurate order fulfillments around the globe has brought about some amazing IT innovations.
Tools that facilitate order tracking, e-commerce, and industry performance can be incredibly helpful, but also a major challenge for many manufacturers and their supply chain systems that want to provide an enhanced customer service experience but have minimal time or budgetary investment available to do so.
Rising Fuel Cost
Operating costs are under pressure due to rising fuel and energy costs. These impact the supply chain a couple key ways. Supply chains place more focus on nearshoring and product design becomes geared more toward "shipability" instead of marketability. Rising fuel costs force the supply chain industry to focus on trimming expenses and efficient transportation of parts, and inventory may be the first thing to go.
We continue to monitor and adjust our inventory and production teams to mitigate impact on our deliveries, still we too are impacted by these supply chain challenges in today's economy. In your opinion, what are some major challenges facing your supply chain today? Comment on below!
Hydraulic Adapters Tough Enough for the Construction Industry

Hydraulic systems on heavy equipment are under pressure. So are the construction workers and equipment operators on the job site. We work with OEMs to provide technical engineering design to ensure you have the right hydraulic fittings for your application. Here at Air-Way Global Manufacturing, we are pleased to offer a variety of hydraulic fittings for the companies who build, maintain and repair the heavy equipment used in construction.
READ MORE

We're Headed to ConExpo 2020

If you've ever attended ConExpo in the past, you know it is an incredible opportunity to connect with vendors, manufacturers, and potential customers. Our staff is looking forward to ConExpo 2020, which will be held March 10-14. Visit our booth to learn more about our company, and the many hydraulic solutions we provide to some of the top OEMs in the world. Our team is excited about sharing how our technical engineering and design staff, can support our customers with hydraulic solutions for their specific applications.
READ MORE

We Provide Engineering Support for Hydraulic System Design

Is your business struggling with the skills gap or worker shortage in today's ever changing economy? We see it with many OEMs and hydraulic machinery manufacturers. Over the last several years our technical engineers have worked with an increased amount of customers to assist in their hydraulic system design, and component selection. Regardless of whether you need hose assemblies (hoses and adapters) or just components, we can help.
READ MORE