Access Equipment Made Right with Air-Way Hydraulic Fittings
Tuesday, July 24, 2018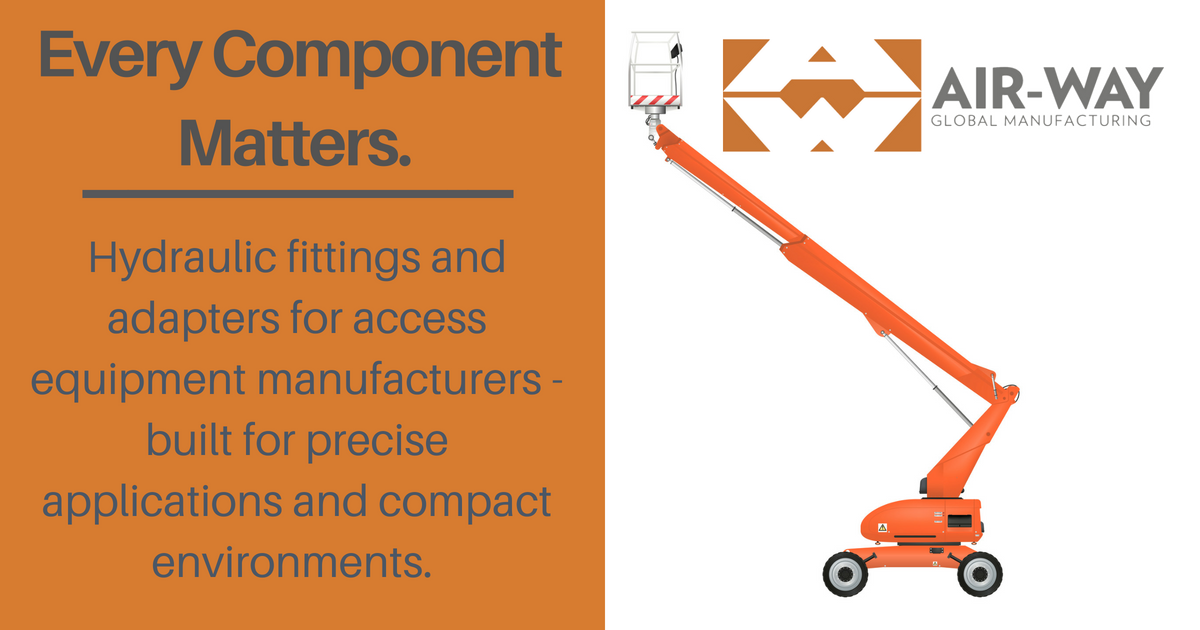 Unlike many hydraulic fitting and adapter manufacturers out there today, we design, produce, and assemble our products in-house for Original Equipment Manufacturers (OEM) and distributors worldwide. Our rich history of serving as a top-tier hydraulic fittings supplier extends into a variety of industrial and equipment needs and applications - including access equipment.
Hydraulic Access Equipment
Any equipment that is specifically designed to allow the user to work safely at different heights is commonly called access equipment. Common examples of access equipment include:
Articulation boom lifts
Vertical lifts
Stock pickers
Scissor lifts
Telehandlers
Aerial work platforms
Mobile elevating work platform
And more
Access equipment is used for temporary or flexible access purposes in many different industries such as: aviation, construction, maintenance, utilities, warehouses, firefighters, and emergency access. The specific lift manufactured varies based on the industry and intended functionality of the equipment, and the possibilities are endless.
Hydraulic systems are generally used as the drive mechanism that propels the working platform towards and away from the desired location. The most challenging part about the hydraulic systems in access equipment is the compactness, and the articulation / length of stroke. Custom solutions often are necessary due to space constraints the designs must be robust, adhering to stringent safety factors based on the unique applications.
Your Source for Hydraulic Fittings & Solutions in Access Equipment
We've been supplying OEM manufacturers of industrial and agricultural equipment around the world for as long as we've been in business. Manufacturing hydraulic fittings and adapters for access equipment manufacturers is no different. We understand that your customers depend on your design, technology, reputation for excellence, and manufacturing expertise to help them successfully fulfill their job every day. Proper assembly of access equipment is paramount, and every little component matters. This equipment is meant to lift people high into the air for extended periods of time, and must be made with perfection in mind, safeguarding for any unexpected issue. Your hydraulic fittings supplier must hold themselves to the same standards of excellence (or higher!), being equally committed to quality and consistency no matter where the part is sourced.
At Air-Way Global Manufacturing, we pride ourselves on our high international manufacturing standards and certifications, product availability, engineering capabilities and exceptional service to OEMs and distributors around the world. We are committed to customers end result and the satisfaction of each and every customer you service. That's our promise.
If you're interested in learning more about our line of hydraulic fittings for access equipment, we would be happy to coordinate a test order, or a smaller order to see how our products fit into your equipment manufacturing plan. Contact us today to get started!
Hydraulic Adapters Tough Enough for the Construction Industry

Hydraulic systems on heavy equipment are under pressure. So are the construction workers and equipment operators on the job site. We work with OEMs to provide technical engineering design to ensure you have the right hydraulic fittings for your application. Here at Air-Way Global Manufacturing, we are pleased to offer a variety of hydraulic fittings for the companies who build, maintain and repair the heavy equipment used in construction.
READ MORE

We're Headed to ConExpo 2020

If you've ever attended ConExpo in the past, you know it is an incredible opportunity to connect with vendors, manufacturers, and potential customers. Our staff is looking forward to ConExpo 2020, which will be held March 10-14. Visit our booth to learn more about our company, and the many hydraulic solutions we provide to some of the top OEMs in the world. Our team is excited about sharing how our technical engineering and design staff, can support our customers with hydraulic solutions for their specific applications.
READ MORE

We Provide Engineering Support for Hydraulic System Design

Is your business struggling with the skills gap or worker shortage in today's ever changing economy? We see it with many OEMs and hydraulic machinery manufacturers. Over the last several years our technical engineers have worked with an increased amount of customers to assist in their hydraulic system design, and component selection. Regardless of whether you need hose assemblies (hoses and adapters) or just components, we can help.
READ MORE