Introducing 3D CAD Models Available Online by Part #
Monday, November 23, 2020
Introducing 3D CAD Models for Air-Way Global Manufacturing Hydraulic Fittings
What if you could decrease the risk of expensive production mistakes and issues?
What if you could give more attention to minute details and product innovation?
What if you could fully realize your product end result before you begin production?
Solidworks CAD 3D models provide you with an accurate, 360 real-view of Air-Way hydraulic fittings and adapters before you purchase stock hydraulic fittings or begin manufacturing a custom hydraulic component. Our 3D models allow you determine with confidence which hydraulic adapter is going to be the best solution for your application.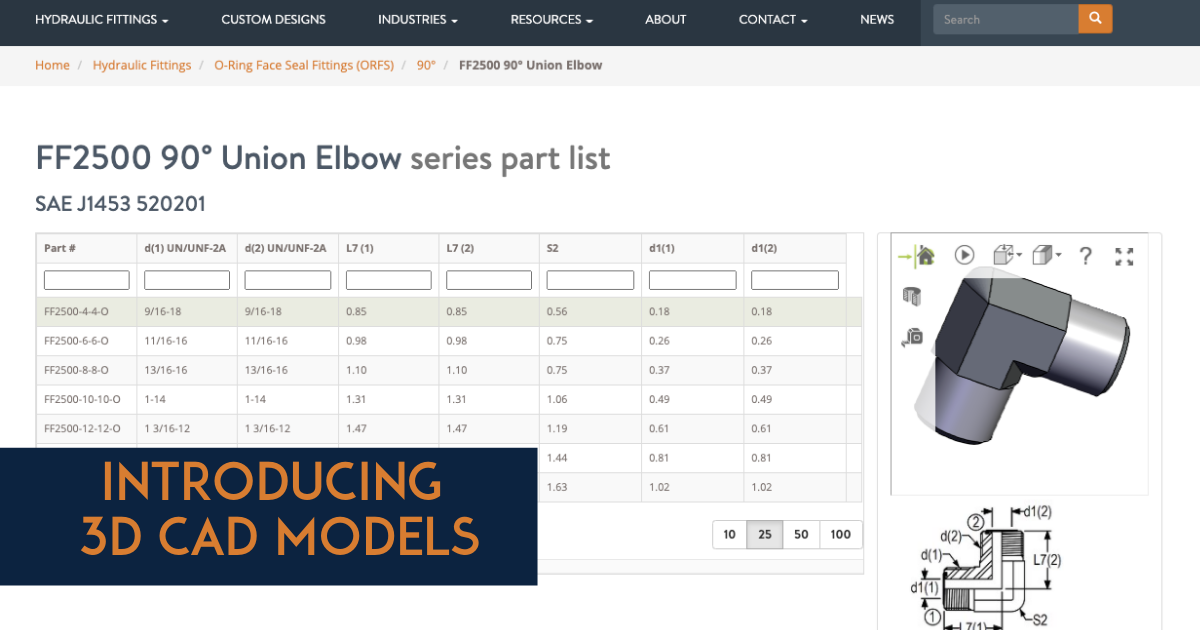 Informed Hydraulic Fitting Decisions
We're pleased to announce that CAD 3D component models are available on our website for thousands of our parts. These Solidworks Models are animated to show the features, properties, functionality, mechanics, size, and structure. Not only are the surface features, edges, and orientations of the stock hydraulic adapters represented, but the entire body of the fitting can be sliced for a cross-section view. With the interactive 3D model, you can choose what part of the component you'd like to see. Easily zoom in and out, rotate the object, and view a line drawing. Additionally, you can picture how your components will behave under various conditions and operating situations so you can adjust your hydraulic system design or product requirements accordingly.
This powerful information fosters better collaboration and communication between machinery OEM's and our Product Engineers. When manufacturing a custom hydraulic fitting, 3D modeling technology helps streamline the design and development process.
In addition, we have provided the ability to download the models into most CAD formats, which allows designers to "plug them into" their designs, and perform virtual fit up activities.
Whether your fitting is custom or stock, you can make faster, more informed decisions about the hydraulic fittings and hydraulic components you need for a successful end result.
We continue to add models for parts numbers daily, focusing on the most popular and standard parts. If the model is not available on the website for the part you are looking for, simply contact Air-Way Engineering. We will generate the model and get it to you quickly.
3D Modeling and Rendering Improves Processes
Incorporating 3D models makes the product design process more efficient. Engineering and manufacturing resources aren't spent making endless exploratory prototype units. We can dedicate more time to product innovation and quality, which results in bringing better products to market faster. Challenges can be detected early and our engineers and designers can quickly solve issues in a cost-effective manner.
Solidworks is an efficient and robust system for designing 3D systems that delivers premier 3D CAD models and renders quickly and easily.
View any hydraulic adapter on our website to view corresponding 3D models.
Simply go to the adapater category, click on the type, and click into the part number to see the 3D Model (if available) and drawing.
You can always contact us to learn about our rapid prototyping for custom hydraulic fittings and adapters, or get a Solidworks Model that may not be listed on the website (yet).
Celebrating Family Owned Business Month: Air-Way's History, Pride, and Future

In this blog, we are shedding light on the remarkable journey of Air-Way Manufacturing. From humble beginnings in 1950 to becoming a global player in manufacturing, Air-Way's story is one of pride, innovation, and relentless dedication to their craft.
READ MORE

6 Ways to Keep Your Hydraulic Fittings Leak Free

A common and persistent issue in hydraulic systems is leaks, which can lead to inefficiencies, downtime, and increased maintenance costs. To prevent leaks and ensure the optimal performance of your hydraulic system, follow these essential guidelines.
READ MORE

The Importance of Working with a Company Emphasizing Domestic Business Operations

Work with a company that emphasizes domestic operations, can offer numerous advantages and contributes to the overall success of businesses and the economy.
READ MORE