Industries that Benefit from Stainless Steel Hydraulic Fittings & Adapters
Monday, May 24, 2021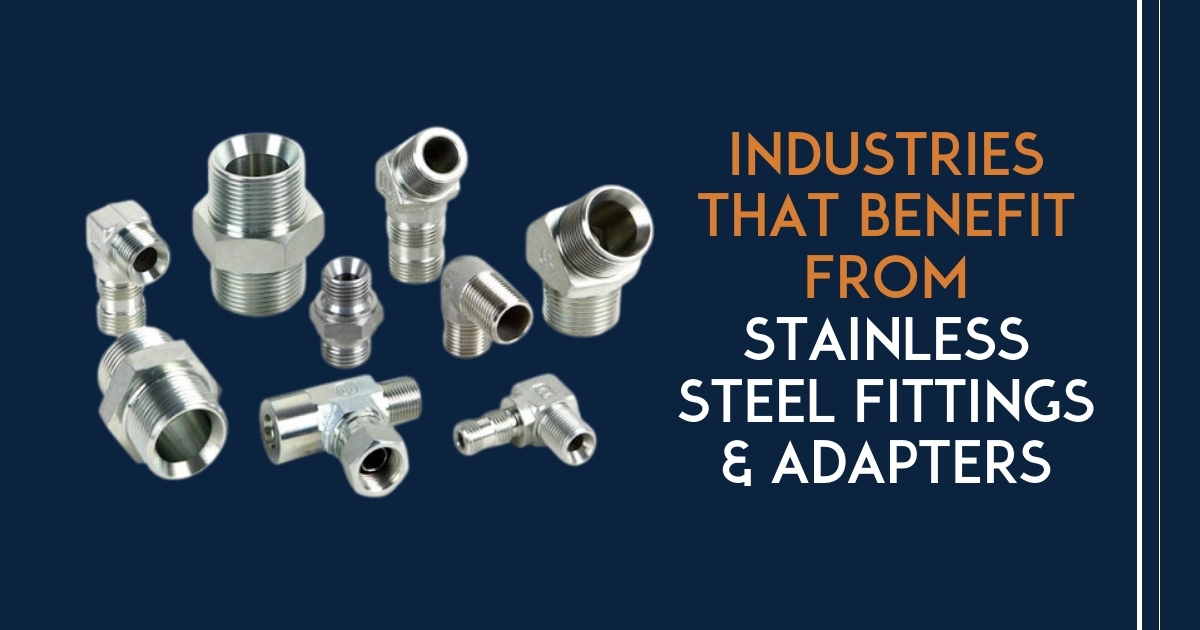 Stainless steel adapters and hydraulic fittings offer machine manufacturers multiple advantages over standard steel and plastic options. While stainless can be challenging to machine, oftentimes, it is the right or only solution, and Air-Way has the experience.
In addition to being corrosion and rust resistant, stainless steel is extremely durable. It retains strength at both remarkably high and exceptionally low temperatures, won't buckle under weight, and can endure weather extremes. Lastly, stainless steel is environmentally friendly. It's 100% recyclable, and many stainless steel products contain previously recycled material.
Here are a few industries and applications that benefit from the use of stainless steel fittings and adapters.
Food Processing Equipment
Food and beverage manufacturing, processing, and packaging equipment must be able to stand up to high temperatures and exposure to liquids while remaining clean and hygienic.
Stainless steel fittings and adapters can take the heat, resisting pitting, cracking and ultimately corrosion. It's easy to clean and maintain and doesn't support the growth of bacteria and other pathogens. Stainless steel is also neutral to food items, so it won't change the color, taste, or smell of the food or beverage.
A hydraulic fitting operating in an ocean environment with salt spray and other corrosion-inducing factors needs a different material than a fitting in a dry application. Hydraulic components on equipment used in or around the oceans need to be reliable, durable and stand up to some of the harshest conditions.
Stainless steel is recognized as the choice material for marine environments because of its resistance to corrosion and overall strength. Air-Way manufacturing uses high grade stainless steel and the expertise to keep your marine equipment running efficiently and effectively.
Pharmaceutical Manufacturing
The pharmaceutical industry is governed by strict regulatory norms. In the rules for equipment construction in CFR Title 21, the FDA states that:
"Equipment shall be constructed so that surfaces that contact components, in-process materials, or drug products shall not be reactive, additive, or absorptive so as to alter the safety, identity, strength, quality, or purity of the drug product beyond the official or other established requirements." and Material used in the industry needs to interact with corrosive chemicals, high temperature, high pressure and withstand frequent fierce cleaning regimes."
Stainless steel is highly stable, dependable, and hygienic. It can be easily cleaned and sanitized without any particles coming off in the process. Stainless steel fittings and adapters are also a popular choice for precision machining applications for versatility, durability, and efficiency.
From offshore rigs to equipment in drilling facilities, hydraulic applications in the chemical, oil, and gas market need fittings that are designed to stand up to the toughest demands of the industry. At Air-Way Global Manufacturing, we specialize in producing hydraulic fittings and adapters with longevity and dependability in mind.
No matter what chemical combinations are used in your pumps, drills, cranes, drilling rigs, or hydraulic rig mains, stainless steel outperforms other materials based on its corrosion resistance in extreme temperatures and harsh environments. Stainless steel also reduces the need for costly maintenance or frequent fitting replacement.
Stainless Steel Hydraulic Fittings & Adapter Expertise
We work with equipment manufacturers in industries that require solutions for unique and diverse conditions. There are various grades of stainless steel that can add longevity and corrosion resistance to your hydraulic fitting or adapter. Our product experts can help you determine the best component for your application.
Our stainless steel fittings and adapters are made in the USA. We can work with your product and engineering teams to create custom stainless hydraulic fittings and adapters. From heavy equipment to precision machining, Air-Way has the solution to ensure quality and efficiency at the right price.
Can I Reassemble or Do I Need to Replace My Hydraulic Fitting?

Performing regular maintenance on your hydraulic system can prevent problems and maximize uptime. When your maintenance involves hose changes or disassembly of your hydraulic fittings, it's a good idea to consider using new fittings when you reassemble your connections. But, thanks to stronger materials and advances in the design and manufacturing process, hydraulic fittings that are in working order may be reused.
READ MORE

Challenges in the Supply Chain Due to COVID-19 and What You Can Do About It Today

Nearly every industry has been impacted by supply chain issues during the COVID-19 pandemic. Manufacturing, construction, and retail trade have experienced the most significant disruption in their supply chains, and many continue to feel that pain yet today. So much so, that in June of 2021, the White House announced the formation of a Supply Chain Disruptions Task Force to address short term supply chain issues nationally.
READ MORE

Growth in Hydraulic Hose and Fitting Market Driven by Industry Mechanization

The global hydraulic hose and fittings market is expected to grow by almost $400 million ISD over the next four years according to research by Technavio, a leading global technology research and advisory company. A major factor in the growth in the hydraulics market is mechanization in the agriculture industry.
READ MORE