70 years, 4 Generations, One Air-Way Global Manufacturing
Friday, December 21, 2018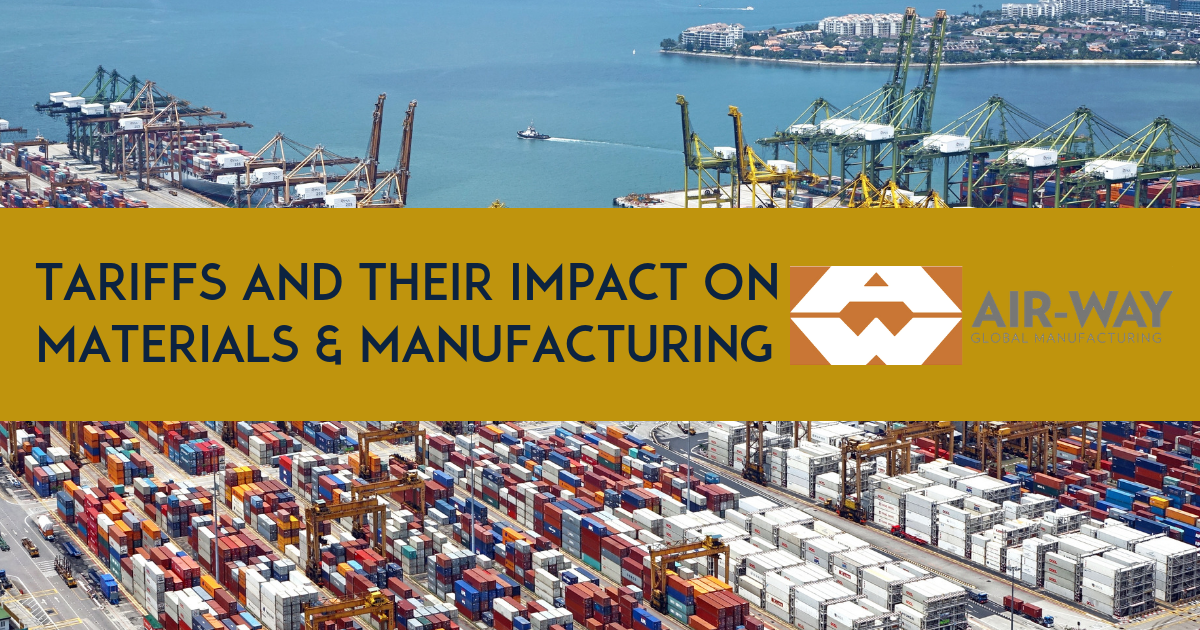 Coming on the tails of Family Owned Business Month in October, the holiday season marks a time to reflect on our beginnings nearly 70 years ago. We feel an immense sense of gratitude at how we've grown so much, yet have been able to remain a strong, privately owned, family business. And, are very proud of the fact we supply global leaders in manufacturing and compete with organizations exponentially larger than us.
Air-Way Global Manufacturing continues to be an industry leader by supplying hydraulic fittings and adapters in an ever-changing global marketplace. While 98 percent of family-businesses fail by now, we feel compelled to explore our past and how we've stayed family-focused for 4 generations – and counting. It certainly wasn't easy long ago, just like it is not easy today. It took a lot of perseverance and skill, while experiencing both wins and losses to get where we are now.
Humble Beginnings – Hamm and Jacob Families
Raymond Hamm, grandfather to John Hamm, President of Manufacturing and Engineering, got his start manufacturing hydraulic fittings and components for V.L. Graf Co. and Power Tube in Olivet, MI. In 1950 he met Edward Jacob, grandfather to Bill Blank, President of Finance and Marketing, and with his help, opened his own shop in an old airplane hangar just outside of Romeo, Michigan – hence the name "Air-Way"! In 1955 the team moved to a larger building in Olivet, Michigan where they continued to grow and expand their manufacturing capabilities. This original building is now used as an Air-Way office area. View the full Air-Way timeline here.
Air-Way from Day One
John Hamm shares that many of his earlier memories as a child are of the family business. "As some would describe themselves as an 'Army Brat', I tend to call myself an 'Air-Way Brat' – I've been part of this business for as long as I can remember," says Hamm. "Some of my earliest memories are of the huge Air-Way Christmas parties, I knew many of the employees even before I started working here."
Firm, Fair and Consistent
When asked what really sets Air-Way apart as a global manufacturer and what's helped them grow from 12 employees inside the airplane hangar to 550 today, Hamm focused on two central aspects:
We really care.
"I believe that when you work with Air-Way, you're dealing with someone who really cares," says Hamm. "That's one of our defining factors; we work closely with general managers at our plants around the world to make sure there's a strong consistency. No matter who you're working with at Air-Way, we run our company based on caring and consideration, and we are conscious of how we treat people."
We train talented people.
Air-Way is focused on training up and training well. "When I walk around the plants, what do see? Talented people," says Hamm. "Anybody can buy a machine and put it on the floor, anybody can buy a desk and put a computer on it. But, if you don't have talented people, so what? At Air-Way we have built a solid training program that has evolved over the years. We value education and believe me when I say, here, you can be hired to sweep the floor and train to become the President of the company. Time and time again, we look for talented, hard-working individuals, and provide them with the education and training necessary to advance their career."
The Air-Way Way
John Hamm's dad, Ronald John Hamm Sr., currently stands as Air-Way's most senior employee, with 68 years under his belt. "Like me, he grew up within Air-Way," says Hamm. "No matter how old he is, the principles he believed in 68 years ago are still part of who he is today." Like John, Air-Way is part of his DNA, too.
This holiday season, as you're gathering together with family and friends in celebration, we will be as well, both within and outside our facility doors. To us, we treat our company and our employees like family. That's because we started this company with family and no matter how big we grow, or how many facilities we open, we will always focus on life's important things. By doing so, we have been able to build a culture based on quality work from quality people – that's the Air-Way way.
It's also a reason why customers, which include some of the largest OEMs in the world, turn to Air-Way. Our level of service has been driven by our culture from the beginning.
We answer our phones and provide good communication, with a customer friendly attitude.
Combining this with excellent technical assistance for custom hydraulic solutions, allows Air-Way to provide the best overall value in our industry.
If you're looking for a supplier with more to offer, we invite you to discover the Air-Way Way. Contact us anytime to learn more!
Coronavirus Response For Customers

We remain staffed and in production at all locations, both US and China, including our Edgerton, Ohio, facility. Air-Way supplies Original Equipment Manufacturers in the Agriculture, Construction, Fire and Rescue, Defense, Access Equipment, and Material Handling industries to name a few. Several of our largest customers have been classified as "Essential Critical Infrastructure". As an integral supplier to these companies, Air-Way will continue operations at all of our facilities with as little disruption as possible.
READ MORE

Seven Key Qualities To Consider When Selecting Your Supplier

Just like a chain is only as good as its weakest link, a company is only as good as its worst supplier. Suppliers play a critical role in the production process, providing the materials a company uses to produce its own products and provide services. The right supplier can help a manufacturer improve the production process, maximize capabilities, create cost efficiencies, and deliver a higher-quality product. For some organizations, their suppliers are the secret sauce to their own success.
READ MORE

ATTENTION: Visitors to Air-Way Global Manufacturing Facilities

Air-Way proudly associates with businesses throughout the world and empathizes with the hardships that organizations are experiencing as a result of the coronavirus (COVID-19). Currently, this is a global concern, particularly in China and parts of Europe. As a company, we have an obligation to do our part to prevent its spread.
READ MORE