Visit Us at NAHAD
Monday, March 25, 2019
NAHAD 2019 is happening April 2-7 in Las Vegas.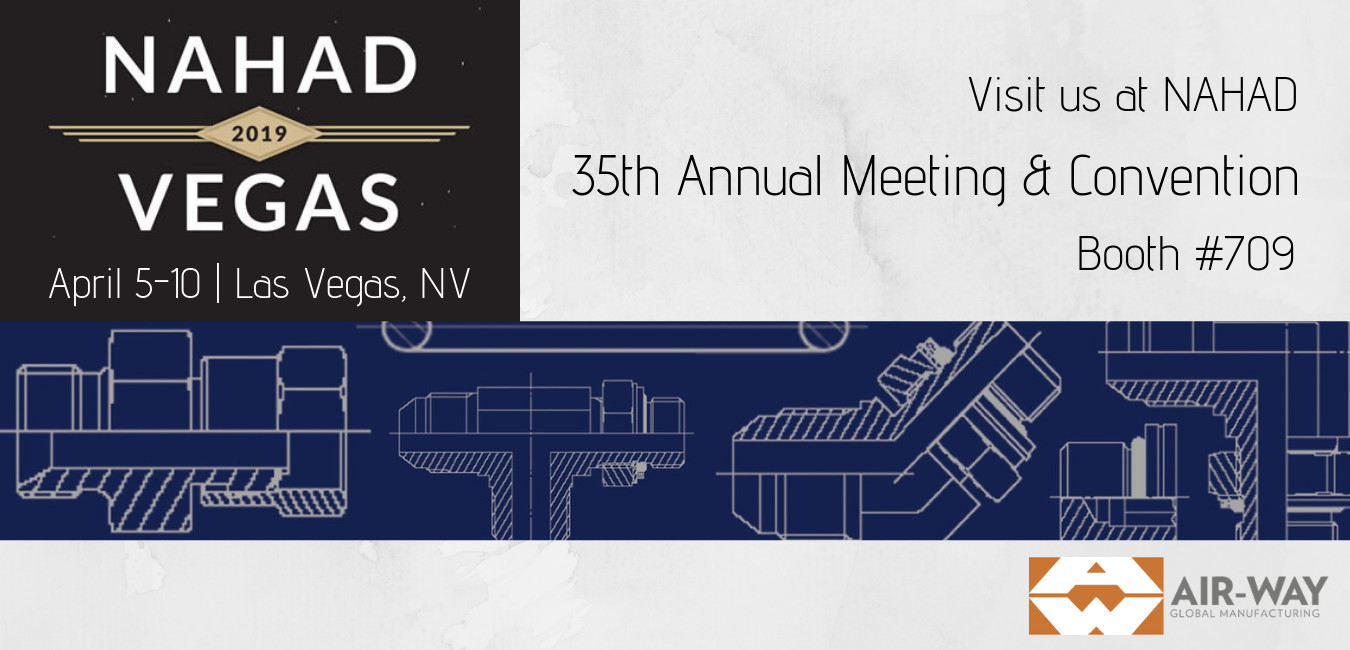 We'll be there along with many fellow hose industry professionals sharing in ongoing education, training, networking, and fun at the beautiful Bellagio Resort and Casino. This is the 35th Annual Meeting & Convention. Stop by our booth #709 to see what Air-Way has to offer you and your business this year.
Why NAHAD?
It is a members-only organization committed to those in the hose and hose accessories industry (hydraulic fittings, adapters, couplings and more). Members gain useful information in tools and resources to give them leverage in the industry. This conference is an exciting opportunity to connect with industry leaders, business partners and friends from across the country.
We look forward to seeing you there! Learn more about this year's NAHAD Annual Meeting at nahad.org.
Coronavirus Response For Customers

We remain staffed and in production at all locations, both US and China, including our Edgerton, Ohio, facility. Air-Way supplies Original Equipment Manufacturers in the Agriculture, Construction, Fire and Rescue, Defense, Access Equipment, and Material Handling industries to name a few. Several of our largest customers have been classified as "Essential Critical Infrastructure". As an integral supplier to these companies, Air-Way will continue operations at all of our facilities with as little disruption as possible.
READ MORE

Seven Key Qualities To Consider When Selecting Your Supplier

Just like a chain is only as good as its weakest link, a company is only as good as its worst supplier. Suppliers play a critical role in the production process, providing the materials a company uses to produce its own products and provide services. The right supplier can help a manufacturer improve the production process, maximize capabilities, create cost efficiencies, and deliver a higher-quality product. For some organizations, their suppliers are the secret sauce to their own success.
READ MORE

ATTENTION: Visitors to Air-Way Global Manufacturing Facilities

Air-Way proudly associates with businesses throughout the world and empathizes with the hardships that organizations are experiencing as a result of the coronavirus (COVID-19). Currently, this is a global concern, particularly in China and parts of Europe. As a company, we have an obligation to do our part to prevent its spread.
READ MORE