Setting the Bar on Quality, Internationally
Wednesday, February 1, 2017
At Air-Way Global Manufacturing, we have expanded our hydraulic solution center capabilities, locations, and distribution reach since our beginning in 1950. We don't stay still for long, and function within a state of continuous improvement in our standards and processes at every facility, world-wide.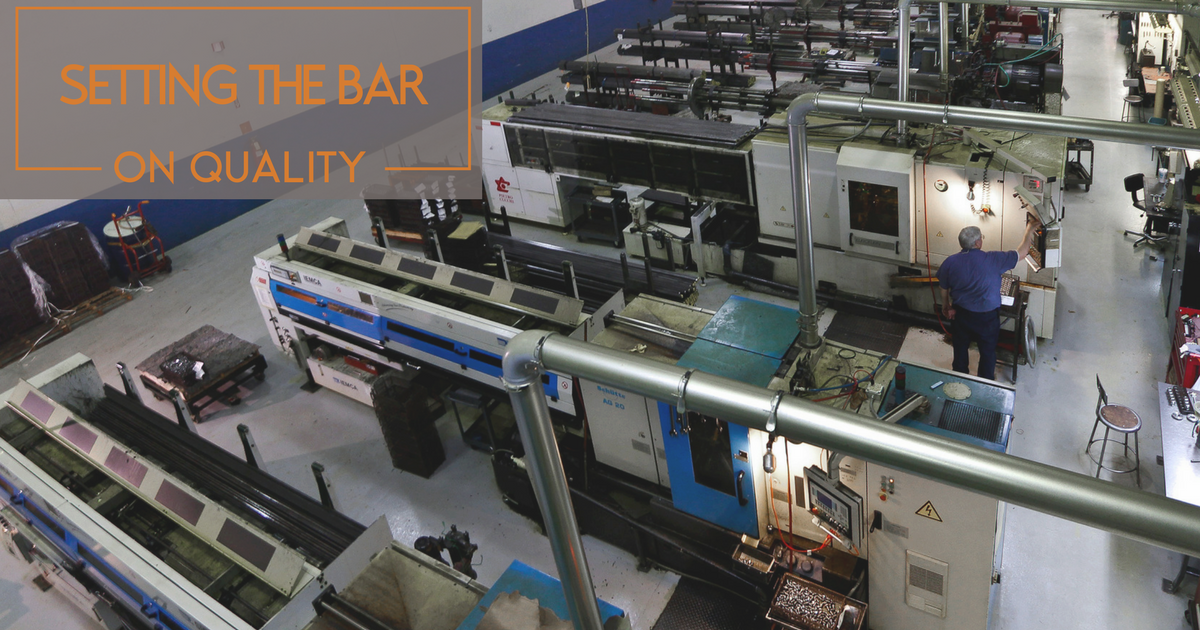 Global Hydraulic Fittings Supplier
Air-Way is the Original Equipment Manufacturer (OEM) of hydraulic fittings and hose assemblies for several major industry manufacturers. As the specification originator, we help set the standard for the design and production process – a position we've earned based on our dedication to quality manufacturing of both industry standard and customer-specific parts. Customers count on us to set the bar high, and that by maintaining an Air-Way caliber of quality, they can trust in the reputation of our hydraulic fittings, no matter where they are manufactured.
We have established a quality management system that is in conformance with the International Quality System Standard ISO 9001:2008 and began the process of achieving an ISO 14001:2015 Environmental Management Certification in 2016. By receiving this certification, Air-Way will become more resource-efficient, reduce waste, and establish a greater sense of trust and environmental sustainability with our customers. Both ISO certifications reflect our commitment to not only high quality manufacturing, but environmental awareness as well.
Facility Updates. Improved Quality.
We recently extended our geographic reach and overall hydraulic solutions by becoming "One Air-Way," welcoming Hydra-Flex, Inc. into the fold and now support two international locations as well as regional facilities in Michigan, Ohio, Indiana, and North Carolina. Our goal is to solidify the idea that regardless of the location, as a global hydraulic fitting supplier, the Air-Way caliber of quality is consistent no matter where the operation resides.
For example, Air-Way recently updated our production and warehouse facility in Shandong, China by separating the production and machining processes from final assembly areas. This helps us ensure the assembly of quality products that meet or exceed the higher levels of cleanliness required by customers. By creating a controlled separation between these two spaces, any residual contamination or other particles created during the production process is separate from the assembly line.
As a global manufacturing leader, we sell all over the world. By setting production standards and establishing professional control over all assembly processes, we ensure that Air-Way not only meets, but exceeds expectations of our manufacturing and distribution customers worldwide.
Forging Ahead
We are taking these steps for customers, old and new, who see value in working with a process-driven international hydraulic fittings manufacturer focused on delivering higher quality parts, as efficiently as possible, and in an environmentally conscious manner.
We've never been one to operate under a status quo mentality, and as we continue to advance, trust that the Air-Way caliber of quality and service will continue to improve alongside our manufacturing capabilities and customer-focused service. Our aim is high – and yours should be too.
Contact us today to learn more about our hydraulic fitting and hose capabilities, or shop our online catalog anytime.
Engineering Capabilities: Trust Our Experience in Custom Designs

At Air-way Manufacturing, our engineering capabilities allow us to specialize in custom designs for fittings that are specific to your hydraulic application.
READ MORE

9 Testing Capabilities at Air-Way That Set Us Apart From Our Competitors

Discover nine of the testing capabilities at Air-Way that help us be one of the largest independent and most trusted hydraulic fitting manufacturers in the United States.
READ MORE

Our Commitment to Manufacturing Sustainability at Air-Way

Clean energy improvements continue to be an important mission for the US and the world. The US Department of Energy (DOE) recently announced $18.4 million through the Technology Commercialization Fund (TCF) for seven national laboratory projects with the goal of getting more clean energy technologies to the marketplace. This provides an opportunity for manufacturing sustainability and sustainable business practices as a whole.
READ MORE