Metal Matters: Combat Hydraulic Fitting Corrosion with Corrosion-Resistant Metal Materials
Friday, March 17, 2017
Refined metals (such as steel, stainless steel, and brass) do not naturally occur and over time tend to revert to their more stable mineral forms. This process is called corrosion – the gradual destruction of refined metals by chemical and/or electrochemical reactions within their environment. While considered a natural, inevitable process, it's still a consideration to production and product development. Hydraulic fitting manufacturers, like Air-Way Manufacturing, prevent corrosion by controlling the design, protective coating, and material selection of every fitting made.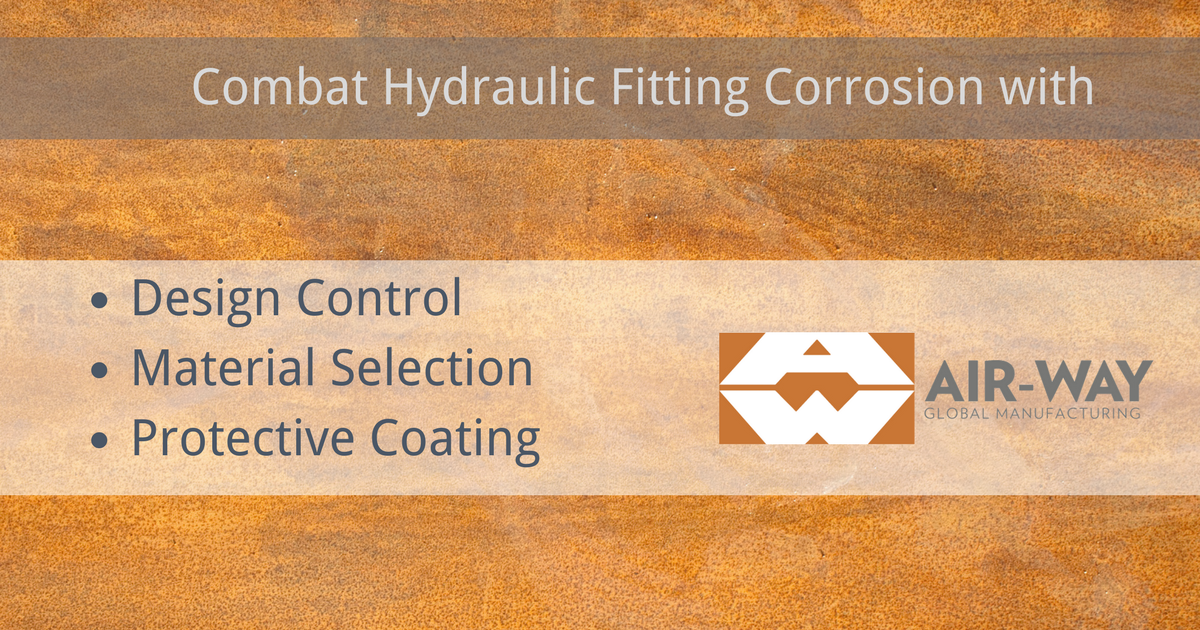 When selecting the right manufacturing material and/or protective plating for hydraulic fittings, consider the type of fluid that will be flowing through the fitting, at what pressure, and what temperature both the internal and external environment will be functioning at.
Refined Metal Comparisons
Corrosion-resistant hydraulic fitting materials must have the right strength and corrosion resistance to safely handle high pressure environments typical of hydraulic systems. Metal fittings and stainless steel hydraulic fittings are generally used with most hydraulic systems due to their high-pressure ratings. Some plastics can have a higher resistance to corrosion, but their lower strength and durability make them poorly suited for hydraulic systems.
Four common metal materials used for fittings are carbon steel, stainless steel, brass, and aluminum.
Carbon Steel: Carbon steel is durable, strong, and maintains a high resistance to heat. An alloy of iron and carbon, carbon steel hydraulic fittings are lower cost and frequently used in the agricultural, industrial, and construction sector because of their affinity to high pressure, high strength environments.
Stainless Steel: Stainless steel displays the same strength and durability of carbon steel while also providing excellent corrosion resistance. It's considered the most suitable material for hydraulic fitting applications where the fluids and/or external environments are highly corrosive. At low pressure specifically, stainless steel is your best bet.
Brass: Brass has a moderate strength level with good corrosion resistance in lower pressure situations. This kind of refined metal is typically used for smaller compression and threaded fittings. It is not recommended for temperatures higher than 400 degrees as it becomes soft and loses strength.
Aluminum: Aluminum is light weight and corrosion resistant. It's commonly used in low density, low pressure applications and can be alloyed with zinc, copper, silicon, etc. to improve strength. Aluminum can handle a higher pressure than brass and is a good choice for lightweight applications.
Corrosion Resistant Plating and Coatings
External plating or coating can be applied to carbon steel hydraulic fittings to extend their life in highly corrosive environments that use harsh medias such as salt sprays and fertilizers.
At Air-Way Global Manufacturing we offer three primary plating options:
Electroless nickel plating
Zinc nickel plating
Electrodeposited zinc. plating
Standard to all steel hydraulic fittings manufactured by Air-Way, the new electrodeposited zinc trivalent plating offers a significantly higher corrosion resistance rating when compared to its predecessor – zinc with hexavalent chromate. Withstanding white corrosion for 240 hours and red corrosion for 360 hours, its longevity and high resistance to corrosion make it an excellent coating for all our steel fittings.
Learn more about our extensive hydraulic fitting inventory here, our three primary plating options or contact us today with any specificaiton or applicaiton questions you may have.
Celebrating Family Owned Business Month: Air-Way's History, Pride, and Future

In this blog, we are shedding light on the remarkable journey of Air-Way Manufacturing. From humble beginnings in 1950 to becoming a global player in manufacturing, Air-Way's story is one of pride, innovation, and relentless dedication to their craft.
READ MORE

6 Ways to Keep Your Hydraulic Fittings Leak Free

A common and persistent issue in hydraulic systems is leaks, which can lead to inefficiencies, downtime, and increased maintenance costs. To prevent leaks and ensure the optimal performance of your hydraulic system, follow these essential guidelines.
READ MORE

The Importance of Working with a Company Emphasizing Domestic Business Operations

Work with a company that emphasizes domestic operations, can offer numerous advantages and contributes to the overall success of businesses and the economy.
READ MORE