Air-Way Your Connection for Voss Fittings in North America
Thursday, April 6, 2017
Air-Way specializes in high quality hydraulic fittings and adapters, but did you know we also partner with high-end companies worldwide allowing us to stock our inventory with the very best fittings the industry offers? We are a key supplier of Voss Fluid Adapters and Couplings- and one of the only companies that sells the Voss Fitting Line in North America.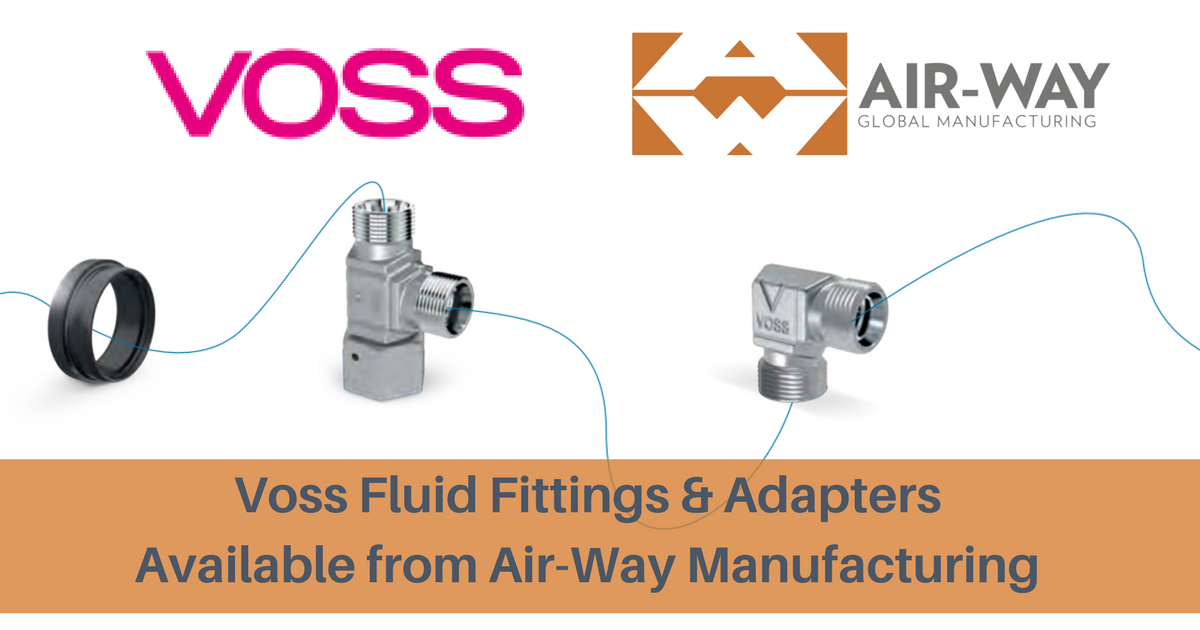 Headquartered in Germany, Voss is a leader in tubing and connection technology and is one of the top suppliers of fluid system components - such as DIN, flareless, bite type, and compression fittings - serving both the vehicle/automotive and mechanical engineering sectors.
Voss Fittings product range is extensive, including cutting rings, soft seal and flared couplings, tube forming systems, flange couplings, and a wide range of accessories. Their 24-degree DIN tube coupling (as specified in ISO 8434-1 and DIN 2353) are among the most widespread hydraulic coupling systems worldwide.
At Air-Way, customer confidence is everything and we offer top quality products you can trust. All products manufactured by Voss have optimum corrosion protection, provided by a Voss Coat surface finish containing no hexavalent chromium. Comprehensive salt-spray tests are conducted in accordance with DIN EN ISO 9227 and have shown resistance to corrosion well after 1,000 hours. Now, this is a product we believe in.
Like Air-Way, Voss is passionate about their customers and their industry. From project planning and engineering, to production and assembly, Voss products provide evidence-based solutions to even the toughest hydraulic application challenges. As a representative of Voss Fittings, Air-Way stands behind their product promise and proudly offers this brand of high quality tubing and connection fittings to our customers on a global scale.
Learn more about Voss on their website, or check out the Voss Fittings Product Catalog PDF on our website here. If you have questions about specifying or pricing on Voss fittings, please contact us today or simply request a quote now.
6 Ways to Keep Your Hydraulic Fittings Leak Free

A common and persistent issue in hydraulic systems is leaks, which can lead to inefficiencies, downtime, and increased maintenance costs. To prevent leaks and ensure the optimal performance of your hydraulic system, follow these essential guidelines.
READ MORE

The Importance of Working with a Company Emphasizing Domestic Business Operations

Work with a company that emphasizes domestic operations, can offer numerous advantages and contributes to the overall success of businesses and the economy.
READ MORE

Newsletter–June-2023

Curious what Air-Way and our employees have been up to recently? Check out our June newsletter with some amazing stories including the 2022 employees of the year, the Morels Mushroom Annual Contest winners, and more!
READ MORE