5 Reasons Your Company Should Attend National Conferences
Tuesday, January 24, 2023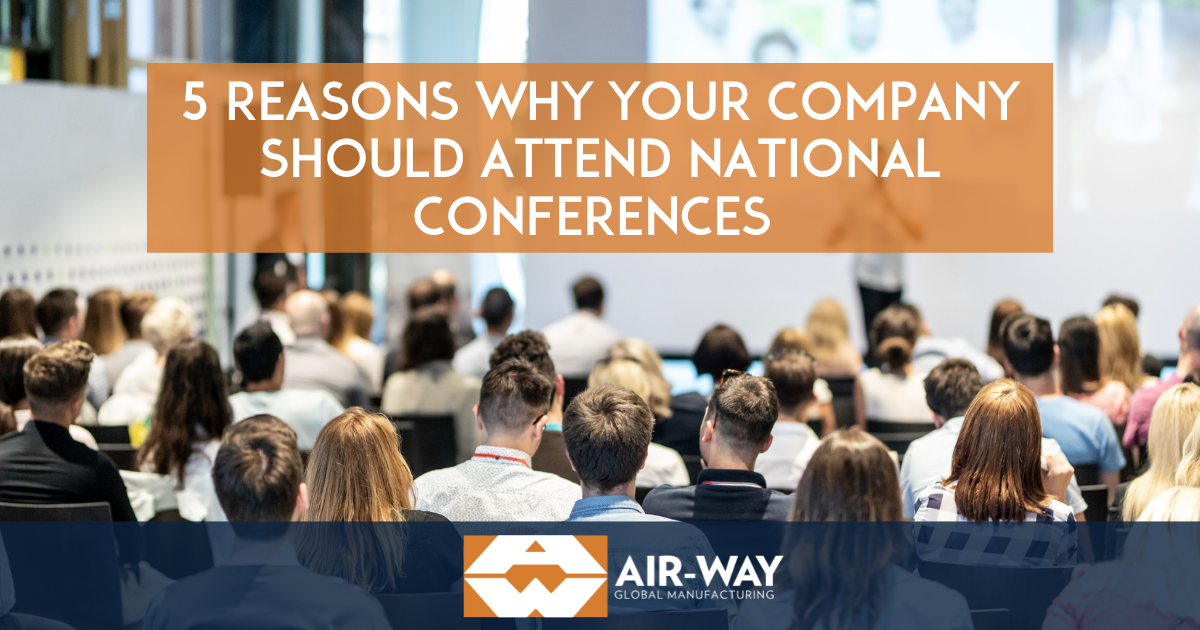 Did you know that 87.5% of the success of a business is based on the ability to relate to people, internally and externally? So, networking and the efficient management of contacts are necessary tools for companies to evolve in today's modern business world.
National conferences came to a stand still during the pandemic. Now they are back on the rise as companies and people are looking for ways to learn and connect outside of their organization. It might be in your best interest to be one of the first business-minded people to start attending national conferences on a regular basis again.
Below, we highlight five reasons your company should attend national relevant conferences.
1. Unveil New Trends
By attending conferences, you can learn about the most recent in-depth industry news that is exclusively relevant to your sector. You will benefit from the comprehensive knowledge about your industry as well as where the trends will go, and importantly how to adapt to them moving forward.
As a company that is always looking for innovation and investment in our evolution, national conferences offer inspiration and cutting-edge technology that we can use to elevate ourselves as a business. The dedication to keep Air-Way ahead of the competition is what has made us an industry-preferred source for customer-specific manufactured adapters.
2. Meet Industry Influencers
When attending national conferences, you will have the opportunity to meet industry influencers and learn from their recommendations first-hand. A high-level event will usually have an agenda filled with highly prestigious national and international speakers.
3. Apply Knowledge to Your Business
After listening to several speakers and presentations as well as new and improved strategies, you can apply this knowledge to your own business. Some new benefits you can gain may include latest industry developments and professional tips on how to face new challenges.
4. Learn How to Set Yourself Apart from Competition
Oftentimes, national conferences will cover the success stories and strategies from companies with great growth. You will have the opportunity to learn from them with different tips and strategies that you can implement within your own business to set yourself apart from your competitors.
5. Network Within the Industry
The final reason you should attend national conferences is for networking opportunities. Usually, there is a dedicated time for networking where attendees can take advantage of creating connections with other professionals in the industry.
Networking is a great opportunity to generate leads and new potential customers for your business. Con-Expo 2023 is the largest construction networking show in North America, which Air-Way will be attending. At Con-Expo there is an opportunity to meet industry leaders, build new relationships within the community, AND find the equipment, services, and people within your construction field.
Visit us at booth S-82355 in the South Hall!

Have a question or need help with your next project? Reach out today to start a conversation with our expert team.
6 Ways to Keep Your Hydraulic Fittings Leak Free

A common and persistent issue in hydraulic systems is leaks, which can lead to inefficiencies, downtime, and increased maintenance costs. To prevent leaks and ensure the optimal performance of your hydraulic system, follow these essential guidelines.
READ MORE

The Importance of Working with a Company Emphasizing Domestic Business Operations

Work with a company that emphasizes domestic operations, can offer numerous advantages and contributes to the overall success of businesses and the economy.
READ MORE

Newsletter–June-2023

Curious what Air-Way and our employees have been up to recently? Check out our June newsletter with some amazing stories including the 2022 employees of the year, the Morels Mushroom Annual Contest winners, and more!
READ MORE