Flares for Tubing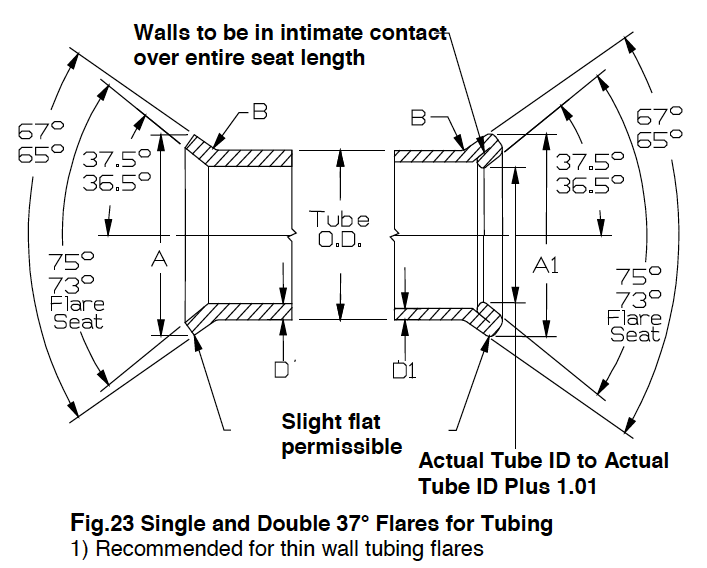 Download this section of the catalog here (PDF)
Select proper tubing for the application, including material compatibility, system fluid , operating pressure, mechanical loading, etc. For single flaring to SAE J533, SAE J524 or J525 tubing is recommended. For double flaring applications, tubing to SAE J524, J525, J526 or J356 may be used. For applications using stainless steel fittings, fully annealed tubing per ASTM A213, ASTM A249 or ASTM A269 is recommended.
Prepare tube end by cutting to required length. End should be trimmed square within+/- 1°.
Deburr O.D. and l.D. of tube. Refer to Fig.24 and Table M for recommended tube chamfers for heavy wall tubing.
Clean tube to remove all dirt and grit from both O.D. and l.D. of tube.
Assemble tube nut and sleeve on tube. The threaded end of nut and flared end of sleeve must point toward the end of the tube to be flared.
Using the correct flaring tool for the tube size and desired flare angle, flare the tube end. Refer to Fig.23 for thin wall tubing flares and to Fig .24 for typical hydraulic system pressure line tubing flares.
Inspect flare to the dimensions indicated in Fig .23, Fig.24 and Table M. In addition , flare should be checked for concentricity, thin out, cracks, nicks, loose slivers, burrs, pits or other defects which may prevent sealing.