Adaptor Unions / Female NPSM Pipe Swivel Ends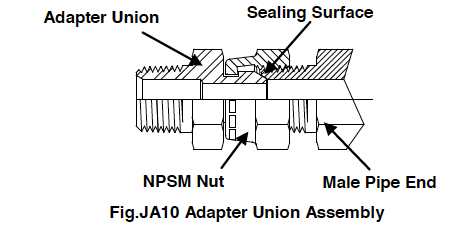 Download this section of the catalog here (PDF)
Inspect components for damage or contamination.
Check for 30 degree female seat on male pipe end.
Align tube/hose to mating swivel allowing hand connection. To assure proper alignment, two to three turns of nut should be easily permitted.
Tighten swivel nut to recommended torque listed in the following table.
Notes:
Refer to the appropriate assembly instruction for adapter union port ends, i.e.: male pipe, female pipe or 0-Ring straight thread.
Female NPSM pipe swivels seal on the male nose of the female swivel end and the 30 degree female seat on the male pipe end. The NPSM swivel nut uses a straight mechanical pipe thread and is not a sealing member.
Ensure that the male pipe end to be assembled has been machined with the optional 30 degree female seat. A standard 45 degree chamfer will not seal properly.