Top 14 Reasons You Should Accept That Second or Third Shift Opportunity
Tuesday, June 21, 2022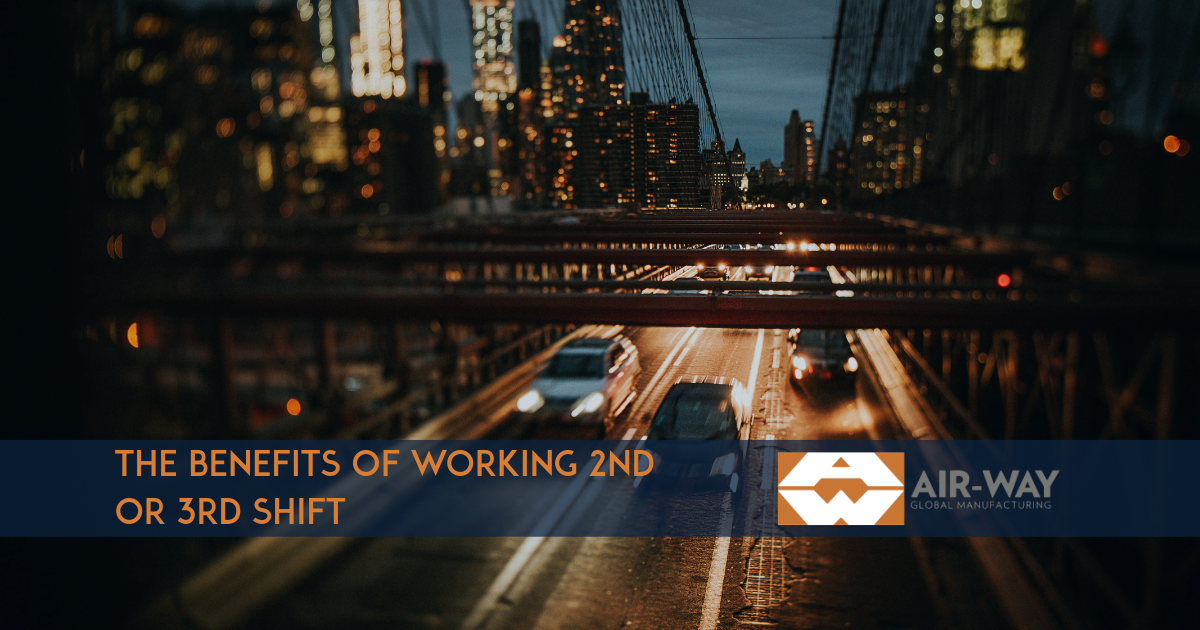 The Shift Less Traveled
Second and third shift positions tend to be less popular than a typical day shift; however, there are plenty of benefits of taking the shift less traveled. Working at an unconventional time can have positive effects on your work life balance – if you take advantage of them. Even though there are too many reasons to list that support taking a second or third shift, here are 14 reasons why a second or third shift is the way to go!
Shift Premiums
It's common for companies to incentivize employees to work second and third shifts with increased pay. These bumps in pay can really add up, especially when you factor in overtime pay. Employers know that there are inconveniences that come with working second and third shifts, which is why most will go above and beyond to keep their hard-working employees in these roles happy.
Reduced Competition
Highly prized positions can attract droves of applicants, making it hard to stand out in the crowd, even when you are overqualified. What you may not know is that a lot of the same positions are offered on second and third shifts. This presents the opportunity to get in with a company and prove value in a less desired time slot. Most businesses see the value of promoting from within allowing successful second and third shift employees to be first in line if they want to switch to day shift.
Use Your Day to the Fullest
Working second or third shifts means you will have more of the day to yourself. It presents a great opportunity to be more involved in what you care about. For example, you could expand your education, spend more time with pets, and give daytime hobbies like hiking more attention.
More Opportunities for Experience
Night shifts do not staff as many employees compared to the day shift. For this reason, people working on the night shift are cross trained in more areas. Situations will arise that call for extra hands even if they aren't experts in the area. These moments are great resume builders and might even lead one to a career path they hadn't considered.
Obtain and Show Management Skills
Turnover is typically higher for second and third shifts, allowing for a potentially faster track to a management position. Night shift is the perfect place to practice management skills because teams are smaller, and the culture is more relaxed. Leadership and management experience are highly valued skills in the workforce that can be steppingstones to higher paying positions.
Saving on Food Costs
Food expenses can add up quickly when you eat out a lot or if you're buying food from the company cafeteria every day. Night shift presents an interesting situation because the cafeteria won't be open, and restaurants will be closed during break. Therefore, creating an opportunity to pack a cost efficient and healthy lunch that won't break the bank.
Check out this comprehensive guide about when to eat on night shift and how to meal prep correctly to reach your goals: When Should I Eat on Night Shift
Team Comradery
The smaller teams that compose a night shift can all relate to the struggles of working through the night. It's this shared togetherness that can create a sense of unity quicker and more meaningful than on day shift. Coworkers that collaborate seamlessly make for a more enjoyable work environment– not to mention it improves production too.
Helpful Tip: Carpool with one or more of your new nightshift coworkers. Save on fuel and get home from work safer having people to help keep each other awake driving home.
Different Sleep Schedule
Second and Third shift operate on different hours than day shift, meaning you'll be sleeping at different times of the day as well. If you're not a fan of early mornings, then second shift might be the right fit for you. You'll generally arrive around 5pm and work until after midnight. Therefore, you get to sleep in and miss out on the early morning grind. Third shift goes through the night until early morning, which means you can make the most of your daylight hours the way you see fit and get to business overnight.
Naps During Break
Napping on your break can be tough, especially if you're in your car and the sunlight is beaming down on you. However, some people rely on a power nap to sustain them the energy to make it through the rest of the day. This is where it can be an advantage to be on night shift, it's dark outside, it's cooler outside in the evening, and your body is naturally designed to sleep when the sun goes down. Making use of a power nap can help reduce the use of caffeine to stay productive during a shift.
Special Privileges
The more relaxed workplace of second and third shift sometimes allows for privileges that aren't normally permissible during a dayshift. During the day, appearances need to be kept up and company guidelines are enforced word for word. On the contrary, management on night shift usually bends the rules. This could mean dressing down, eating at your desk, listening to music, etc. It's easier to supervise this behavior with a smaller team and when you don't have to worry about client meetings or the CEO stopping in.
Easier Commuting
Rush hour can be frustrating when getting to and from work. Not to mention that if you have a long commute, it will drain even more time out of your day. Working on second or third shift pushes your commuting hours out of the busiest times. As a result, you'll be able to commute to work quickly and easily without having to sit in wall-to-wall traffic.
Worried about falling asleep while night driving? Check out these 10 tips to help you stay alert.
Extra Savings Potential for Parents
Living from paycheck to paycheck AND paying for daycare can be stressful. Parents that are looking for a way to keep more money in their pockets should consider working opposite shifts. By having one parent take a second shift or third shift, it allows for someone to always be at home looking after the child.
Flexibility for Scheduling
Working in the evenings gives you all the free time during the day to make it to appointments. You won't be locked into your lunch hour or after work like everyone else. Instead, you'll have the freedom to take any open slot for an appointment that is less popular to the masses. Having more options when scheduling than people working a 9 to 5 allows you to create the work-life balance that works for you.
Helpful Tip: Working second or third shift also allows you to go to the gym or other community spaces during their less busy times. You can also find savings in these less busy times: movie matinees, restaurant "happy hours", etc.
Closing The Loop
There are many businesses that rely on being open around the clock. As a second or third shift employee, you are doing the essential work that keeps the business running. There is value and motivation to be found working a night shift. In fact, there are many positions that interact with customers who might be in a time of need where there aren't many around to help. You get to see and do the meaningful work and that will consistently earn you personal and professional merit.
Are you looking for a second or third shift position with a manufacturing company that has a great culture? Check out the careers available at Air-Way, a family driven business and the largest independent hydraulic manufacturer in the United States.
6 Ways to Keep Your Hydraulic Fittings Leak Free

A common and persistent issue in hydraulic systems is leaks, which can lead to inefficiencies, downtime, and increased maintenance costs. To prevent leaks and ensure the optimal performance of your hydraulic system, follow these essential guidelines.
READ MORE

The Importance of Working with a Company Emphasizing Domestic Business Operations

Work with a company that emphasizes domestic operations, can offer numerous advantages and contributes to the overall success of businesses and the economy.
READ MORE

Newsletter–June-2023

Curious what Air-Way and our employees have been up to recently? Check out our June newsletter with some amazing stories including the 2022 employees of the year, the Morels Mushroom Annual Contest winners, and more!
READ MORE