The Importance of Working with a Company Emphasizing Domestic Business Operations
Wednesday, July 19, 2023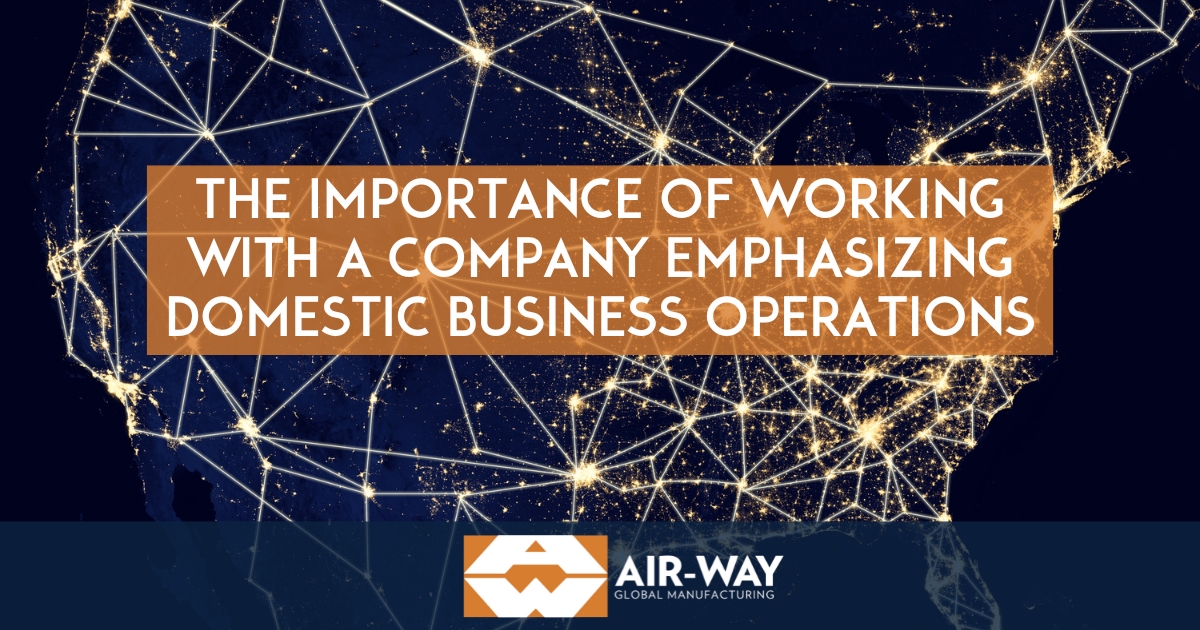 In today's interconnected world, where global markets and international trade have become the norm, the concept of doing business domestically may seem overshadowed.
However, working with a company that emphasizes domestic operations can offer numerous advantages and contribute to the overall success of businesses and the economy. This blog will dive into the importance of collaborating with a company, like Air-Way, that focuses on doing business domestically.
What Is a Domestic Business?
A domestic business isn't taxed the same as a foreign corporation and may need to pay fees or duties on products being imported. With domestic trade, the seller and buyer live in the same country, meaning the trade agreement is based on laws, practices, and customs that the specific country follows.
There are many advantages a domestic corporation has, including the following:
Lower transportation cost

Small-scale enterprises are encouraged

Low cost of the transaction

Less time between production of goods and sale of goods
Economic Stability and Growth
Supporting domestic businesses contributes to the economic stability and growth of a country. By investing in local companies, businesses help generate employment opportunities, which in turn reduces unemployment rates and fosters economic prosperity.
Domestically-focused companies contribute to the national tax base, allowing governments to invest in infrastructure, education, and healthcare systems, which further promote economic growth.
Supply Chain Resilience
There is vulnerability in relying heavily on global supply chains. Working with a company that prioritizes domestic operations can help mitigate these risks.
Domestic suppliers provide a more reliable supply chain, reducing the likelihood of disruptions due to natural disasters, unforeseen circumstances, and so on.
This stability enhances business continuity and minimizes the potential negative impact on operations.
Quality Control and Regulatory Compliance
Collaborating with domestic companies often means adhering to local quality standards and regulatory frameworks.
Domestic businesses are typically subject to strict regulations and compliance requirements, which ensure the quality and safety of products or services. By working with a company that complies with these standards, businesses can enhance their reputation, instill trust among consumers, and mitigate potential legal or reputational risks.
Air-Way Reduces Lead Times with Domestic Business
Whether you need a custom design or off-the-shelf hydraulic fitting, Air-Way Global Manufacturing's expert engineering team, comprehensive inventory, and US-based, in-house manufacturing will assure you have the products you need as quickly as possible.
Air-Way is an ISO 9001:2015 certified manufacturer, as well as certified to ISO 14001:2015, which demonstrates our commitment to the environment; we are also an approved supplier to several of the largest and most recognized Original Equipment Manufacturers (OEMs)in the world.
Working together, you will benefit from both the technical expertise of a manufacturer who owns and controls the manufacturing process, along with world class delivery and quality performance.
We look forward to working alongside you to help with your specific hydraulic fitting needs. Please give us a call at 800-253-1036, or contact us today.
6 Ways to Keep Your Hydraulic Fittings Leak Free

A common and persistent issue in hydraulic systems is leaks, which can lead to inefficiencies, downtime, and increased maintenance costs. To prevent leaks and ensure the optimal performance of your hydraulic system, follow these essential guidelines.
READ MORE

Newsletter–June-2023

Curious what Air-Way and our employees have been up to recently? Check out our June newsletter with some amazing stories including the 2022 employees of the year, the Morels Mushroom Annual Contest winners, and more!
READ MORE

Maximizing Employee Performance with Automation Investment

Automation has been transforming the manufacturing industry for decades, but recent advancements in technology have accelerated the pace of change. From robots and machine learning algorithms to advanced data analytics, automation is revolutionizing the way products are designed, produced, and delivered.
READ MORE