The Difference between Forged and Brazed Hydraulic Fittings
Monday, September 23, 2019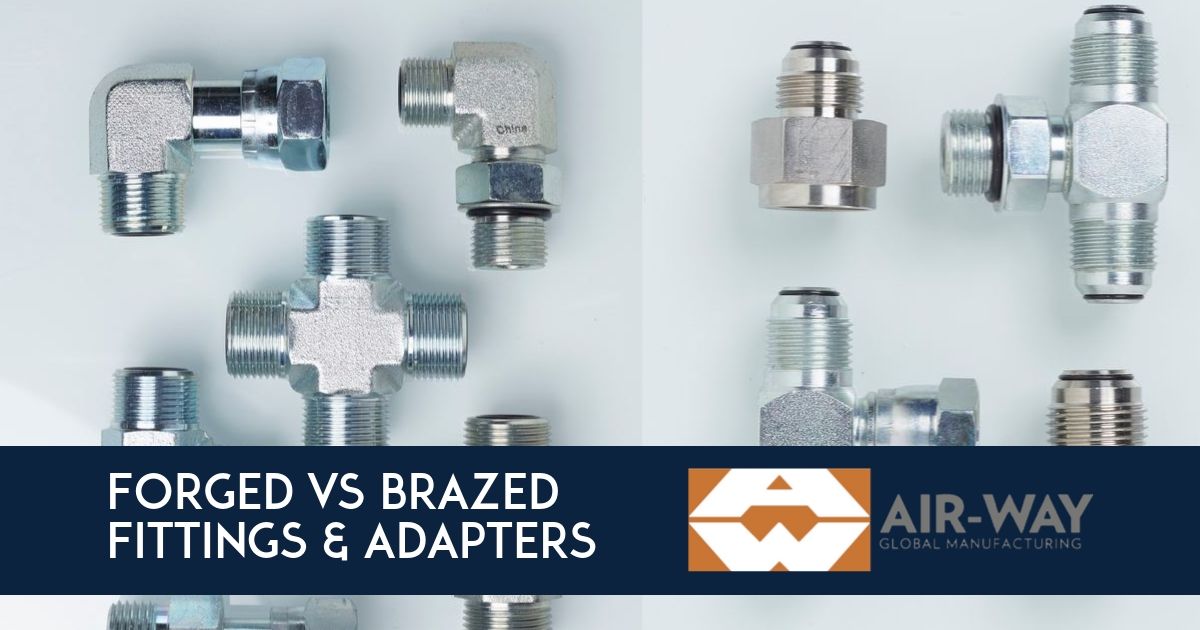 Air-Way is pleased to offer two manufacturing styles of hydraulic fittings, both forged and brazed. While there are similarities between the two, there are also several noteworthy differences. Below, we'll dive deeper into what forged and brazed fittings are and how they differ.
Forged Hydraulic Fittings
Forged hydraulic fittings and adapters are machined out of one piece of metal. Since forged fittings are one piece, they can typically be manufactured with less material, resulting in a smaller wrench flat, and ultimately a more compact design. The general drawback of forged fittings, however, is less flexibility and increased material waste. Forgings also require volumes that justifies the cost of the forge tooling. As a global hydraulic fitting manufacturer, Air-Way does have a location in China, which produces forged fittings and adapters. We also keep an inventory of forged fitting blanks in our US based inventory so we can machine them to spec, when needed.
There are two main types of forging: hot forging and cold forging. While hot forging involves heating metal above its recrystallization temperature, cold forging involves heating metal at room temperature or any temperature below recrystallization. While Air-Way does produce some components and plugs incorporating the cold forge process (cold heading), the majority of our forged adapters are hot forged.
In addition two different types of forging, there are various processes for it. These processes include:
Open die forging: Open die forging occurs when flat dies with no precut profiles participate in forging.
Closed die forging: Also known as impression die forging, closed die forging uses molds, which are attached to an anvil while a hammer directs heated metal to flow into the die's cavities.
Press forging: During press forging, the metal sits on a stationary die while a compression die applies pressure to achieve the ideal shape.
Roll forging: Roll forging focuses on increasing rods or wires in length. Heated metal bars are placed between two rotating rolls that apply continuous pressure to shape the metal.
Adapters supplied by Air-Way Global Mfg. are processed through the closed die or press forging method.
Brazed Hydraulic Fittings & Adapters
Brazed adapters are created from multiple machined components that are combined together, resulting in a finished part. As compared to forged fittings, brazed fittings allow for more customizations with different components. Low volume solutions, as well as customizations can become cost effective using brazed adapters. There are different processes for brazing including:
Torch brazing: This is the most common type of mechanized brazing, torch brazing consists of three categories: machine, manual, and automatic.
Furnace brazing: Furnace brazing is widely seen in industrial environments as it can generate large amounts of parts and involves a continuous belt, with controlled atmosphere and heat cycle.
Silver brazing: Silver brazing uses a silver alloy based filler and is often referred to as silver soldering or hard soldering.
Braze welding: Braze welding uses a bronze or brass filler rod with flux to join the pieces together.
All brazed adapters supplied by Air-Way Global MFG. are manufactured through furnace brazing
Both forged and brazed hydraulic fittings offer advantages depending on the application requirements. Whether you're looking for a solid forged hydraulic fitting, or need a custom hydraulic fitting to meet your exact specifications, a brazed fitting may be in order. No matter what your hydraulic application is, Air-Way delivers exceptional flexibility by offering standard and custom adapters. Both brazed and forged styles of our adapters are qualified to the same working pressures and performance standards, meeting the SAE specifications.
Request a Quote, Pricing or More Information
If you'd like further information on the difference between our forged and brazed hydraulic fittings, or if you're looking for a quote, simply contact us today or request an account online.
Coronavirus Response For Customers

We remain staffed and in production at all locations, both US and China, including our Edgerton, Ohio, facility. Air-Way supplies Original Equipment Manufacturers in the Agriculture, Construction, Fire and Rescue, Defense, Access Equipment, and Material Handling industries to name a few. Several of our largest customers have been classified as "Essential Critical Infrastructure". As an integral supplier to these companies, Air-Way will continue operations at all of our facilities with as little disruption as possible.
READ MORE

Seven Key Qualities To Consider When Selecting Your Supplier

Just like a chain is only as good as its weakest link, a company is only as good as its worst supplier. Suppliers play a critical role in the production process, providing the materials a company uses to produce its own products and provide services. The right supplier can help a manufacturer improve the production process, maximize capabilities, create cost efficiencies, and deliver a higher-quality product. For some organizations, their suppliers are the secret sauce to their own success.
READ MORE

ATTENTION: Visitors to Air-Way Global Manufacturing Facilities

Air-Way proudly associates with businesses throughout the world and empathizes with the hardships that organizations are experiencing as a result of the coronavirus (COVID-19). Currently, this is a global concern, particularly in China and parts of Europe. As a company, we have an obligation to do our part to prevent its spread.
READ MORE