OEMs Cut Machine Power, But Not Productivity
Wednesday, May 3, 2017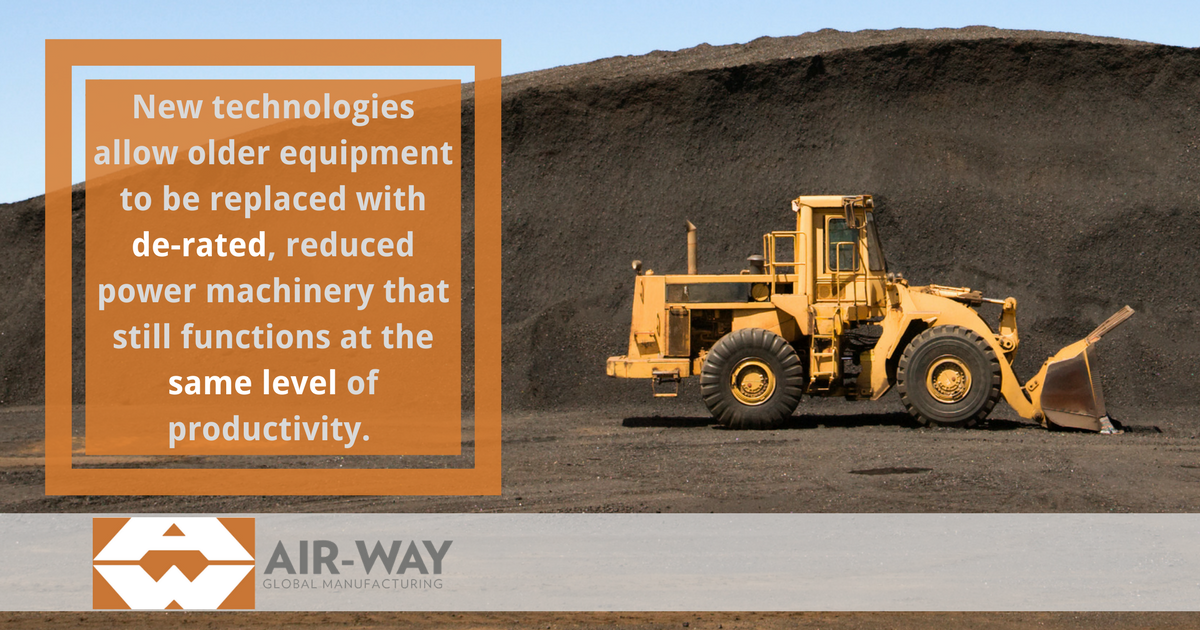 Energy conservation and management is becoming increasingly important, and while max power is an attractive attribute in heavy machinery, it doesn't always have to be. OEMs are expanding their product lines to offer customers equipment built for efficiency – debunking the idea that less horsepower leads to a reduction in productivity. De-rating, or an OEM's effort to lower the power ratings of their equipment, is due in part to the increased cost of fuel manufacturers are experiencing and is in response to more stringent emission regulations made by the U.S. Environmental Protection Agency (EPA). OEMs are now adding 74hp (horsepower) and lower machinery to their inventory lists, providing customers with more cost-effective, environmentally friendly options.
The benefits of de-rating.
New, more efficient technologies have allowed customers to replace older equipment with de-rated, reduced power machinery that still function at the same level of productivity. Reducing the maximum power of a machine reduces an OEM's required compliance with EPA Tier 4 Final Emission regulations, thereby minimizing an OEM's production costs and lowering the initial investment cost for the customer. That, coupled with the improved fuel efficiency of de-rated machinery models, makes them a more affordable option for customers in a variety of industries.
The stigma associated with de-rating.
De-rating represents a piece of equipment performing at a rate lower than what it's capable of. Many of us function under the mentality that the bigger and stronger it is, the better - but is it cost effective? Many times, the core structural elements of a de-rated model are the same as the original. The hydraulic system features the same pumps and controls as the comparable higher horsepower models and regardless of the power offered, the structural strength of the equipment is consistent.
Many OEMs see lower-horsepower equipment as a long-term trend and solid option for customers that don't require maximum power output at all times. More compact and less expensive, de-rated machinery still packs a punch and delivers a level of productivity purchasers of heavy machinery have come to expect.
Air-Way Global Manufacturing provides fittings and hose assemblies for a variety of hydraulic applications and solutions. Regardless of the OEM's intent – high or low horsepower machinery - our quality based inventory stays consistent to our brand promise. As the industry changes, so do the needs of our customers. We have history of collaboration and expert engineering for specially designed hydraulic applications and stay on-trend with any technological advancements in equipment manufacturing that make the product more efficient for the user.
To learn more about Air-Way's hydraulic offerings please contact us today.
Sources:
http://www.forconstructionpros.com/equipment/fleet-maintenance/diesel-engines/article/12301920/how-equipment-makers-are-cutting-machine-power-without-sacrificing-productivity
http://www.oemoffhighway.com/engines/engines/0.5-to-10-hp/article/12185667/cut-power-without-productivity
Cross References Made Easy with Online Conversations Tools from Air-Way

At Air-Way Global Manufacturing, we make it as easy as possible to find the right part with the perfect fit for your industry application and equipment requirements. Learn how we've taken steps to streamline the process, making your search a snap.
READ MORE

What Hydraulic Fittings are Ideal for Food Processing Facilities?

Hydraulic fittings must meet stringent sanitary and aseptic standards within food and beverage processing facilities to keep production and assembly lines moving. Highly corrosive environments, extreme temperatures and submersive settings are all common components of a food processing facility and many hydraulic fitting materials are not engineered to withstand such harsh environments. So, when it comes down to it, what kind of food-grade fitting is best?
READ MORE

What's the Difference Between AN and JIC Fittings & Where Does Air-Way "Fit" In?

In the hydraulics industry, JIC and AN fittings are terms thrown around and searched for online interchangeably. But, are they? Are JIC and AN hydraulic fittings the same thing? And if not, what's the difference? Air-Way digs in.
READ MORE