Custom Hydraulic Fittings: The Right Hydraulic Fitting for Your Application
Thursday, March 25, 2021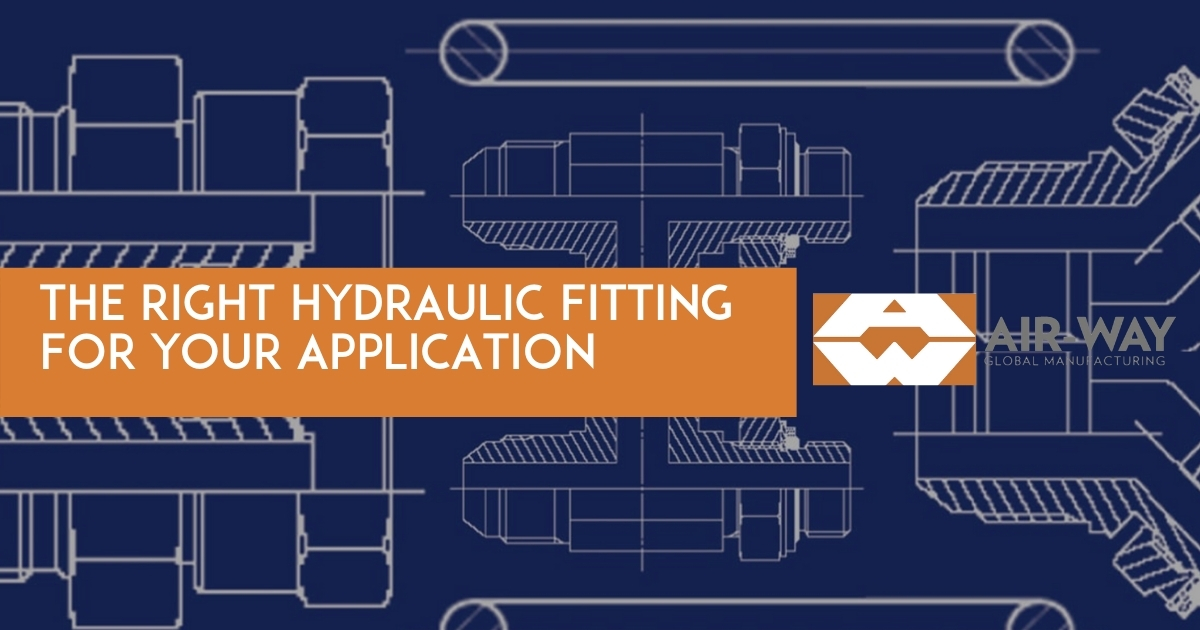 A custom hydraulic fitting solution can ensure you have the right concept, design, and material for a perfect solution.
Without the right hydraulic system connections, machinery will not work effectively or efficiently to provide the desired result. Sometimes, the only way to ensure a proper fit for your application is with a custom hydraulic fitting solution from Air-Way Global Manufacturing. Custom fittings resolve design and machine issues before they become problematic. Additionally, custom fitting components can improve efficiency by reducing the number of connections and / or leak paths.
By working with the dedicated, U.S. based design team at Air-Way you will receive a fitting with the right concept, design and material for a perfect solution.
Engineering Capabilities
Air-Way custom fittings are designed, tested, and manufactured in-house at our U.S. locations. Our engineering team partners directly with OEM engineers and product managers to design fittings that are specific to your hydraulic application. We leverage our extensive hydraulic fitting engineering experience to supply solutions that help OEM engineers efficiently prototype, qualify, and move swiftly from concept to production. We consider your production timeline and budget as well as specifications such as hydraulic pressure tolerance, location, clearance, and function.
Protype & Testing
To ensure the custom part is exact to your specifications and project requirements, we will work with your engineering team to develop the appropriate proto-type and qualification plan. A CAD solid model of your initial fitting concept can be created and provided electronically. CAD/CAM drawings maximize the initial development and design phase. A production prototype can be created to help prove that the design is viable, and that the fitting will function as it should. It also allows the fitting to be thoroughly tested before production when necessary.
Air-Way's in-house testing process validates design, manufacturing, and component acceptance. Our industry-standard qualification testing includes:
Cyclic endurance (impulse) testing
Static pressure testing
Salt spray testing
Gravimetric cleanliness testing
Torque coefficient testing
Customer testing as required
Rather than simply providing product, we believe in working with our customers to find the best solution for their application. We supply hydraulic fittings for a large variety of industries and uses.
Whether you need to alter a standard fitting or create an entirely new fitting concept from scratch, the team at Air-Way has the experience, equipment and service to provide you with a finished part that meets your needs in your specified budget and timeline. Contact us today to learn more or get started.
Celebrating Family Owned Business Month: Air-Way's History, Pride, and Future

In this blog, we are shedding light on the remarkable journey of Air-Way Manufacturing. From humble beginnings in 1950 to becoming a global player in manufacturing, Air-Way's story is one of pride, innovation, and relentless dedication to their craft.
READ MORE

6 Ways to Keep Your Hydraulic Fittings Leak Free

A common and persistent issue in hydraulic systems is leaks, which can lead to inefficiencies, downtime, and increased maintenance costs. To prevent leaks and ensure the optimal performance of your hydraulic system, follow these essential guidelines.
READ MORE

The Importance of Working with a Company Emphasizing Domestic Business Operations

Work with a company that emphasizes domestic operations, can offer numerous advantages and contributes to the overall success of businesses and the economy.
READ MORE