Air-Way's 2021 Employees of the Year
Saturday, January 1, 2022
Air-Way is proud to recognize our hard-working employees that went above and beyond in 2021. We are able to provide excellent products and value to our customers because of the dedication and work ethic of our team. These three Air-Way employees went the extra mile and embody the family-minded values that motivate our company culture.
Joe Wells: Maintenance Manager (Hamilton, IN)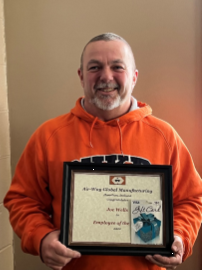 Joe has been with Air-Way for nearly 33 years. Joe defines "hard worker." He is a team player who is not afraid to lend a hand wherever he's needed.
Dylan Peters: (Olivet, MI)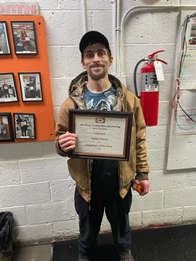 Dylan has also jumped on the fast-track to learning a skilled trade, one of the many opportunities that Air-Way offers. Dylan moved from a General Labor position right into the Automatic Screw Machines where we look forward to seeing him continue to grow.
Zach Gibson: Newly Promoted 2nd Shift Supervisor (Edgerton, OH)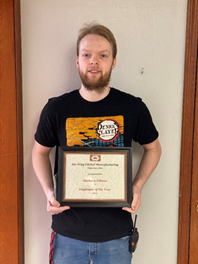 Zach is a prime example of how Air-Way offers opportunity for rapid advancement. After joining the company straight out of high school in 2018, Zach has moved up quickly through different departments. His hard work further led to the offer of a management position after only 4 years of employment.
Air-Way is always looking for employees who enjoy a hard-working team-driven environment. Check out our current job openings and grow with our company!
Celebrating Family Owned Business Month: Air-Way's History, Pride, and Future

In this blog, we are shedding light on the remarkable journey of Air-Way Manufacturing. From humble beginnings in 1950 to becoming a global player in manufacturing, Air-Way's story is one of pride, innovation, and relentless dedication to their craft.
READ MORE

6 Ways to Keep Your Hydraulic Fittings Leak Free

A common and persistent issue in hydraulic systems is leaks, which can lead to inefficiencies, downtime, and increased maintenance costs. To prevent leaks and ensure the optimal performance of your hydraulic system, follow these essential guidelines.
READ MORE

The Importance of Working with a Company Emphasizing Domestic Business Operations

Work with a company that emphasizes domestic operations, can offer numerous advantages and contributes to the overall success of businesses and the economy.
READ MORE