3 Major Signs of Hydraulic System Failure
Friday, November 17, 2017
Part 1 of our 2-part series focused on the most common reasons behind hydraulic system failure, touching on fluid contamination, heat-aging, abrasion, and insertion depth. Now, let's move past the causes and focus on the signs and symptoms.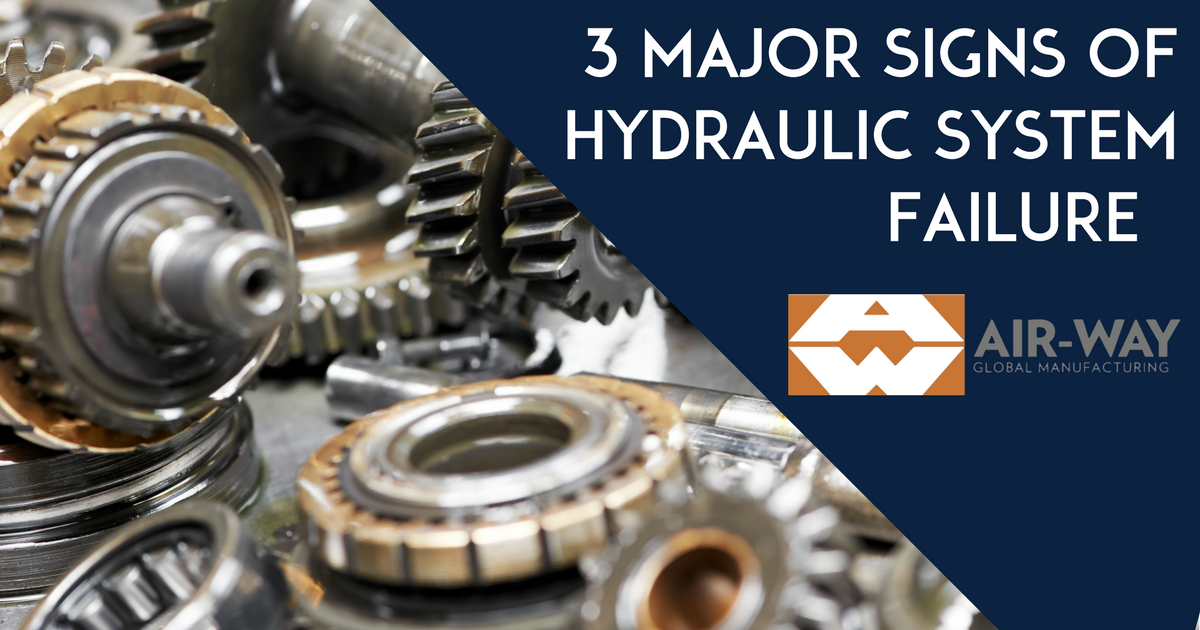 Brendan Casey of Machinery Lubrication describes three easily detectable symptoms that give early warning something's wrong with your hydraulic system.
Abnormal Noise
Abnormal noise in hydraulic systems is often caused by aeration or cavitation. Aeration occurs when air contaminates the hydraulic fluid. Air in the hydraulic fluid makes an alarming banging or knocking noise when it compresses and decompresses, as it circulates through the system.
Cavitation occurs when the volume of fluid demanded by any part of a hydraulic circuit exceeds the volume of fluid being supplied. This causes the absolute pressure in that part of the circuit to fall below the vapor pressure of the hydraulic fluid. This results in the formation of vapor cavities within the fluid, which implode when compressed, causing a characteristic knocking noise.
High Fluid Temperature
Fluid temperatures above 180°F (82°C) can damage seals and accelerate degradation of the fluid. This means that the operation of any hydraulic system at temperatures above 180°F is detrimental and should be avoided. In addition to damaging seals and reducing the service life of the hydraulic fluid, high fluid temperature can cause damage to system components through inadequate lubrication as a result of excessive thinning of the oil film (low viscosity).
Slow Operation
A reduction in machine performance is often the first indication that there is something wrong with a hydraulic system. This usually manifests itself in longer cycle times or slow operation.
If you're seeing these symptoms in your equipment or machinery, it's time to consider some preventative maintenance before any major damage is done.
Whether it's a preventative measure or emergency response, Air-Way has the capacity, inventory, and shipping capability to help you repair or replace your hydraulic fittings and hose assemblies quickly and reliably. This reduces the downtime our customers experience when their systems fail and fast component repair or replacement is time critical.
To learn more about our hydraulic offerings you can view our catalog online, or please contact us today!
Sources:
http://www.machinerylubrication.com/Read/531/hydraulic-root-causes\
http://blog.parker.com/top-8-reasons-hydraulic-hoses-fail
Top 14 Reasons You Should Accept That Second or Third Shift Opportunity

Second and third shift positions tend to be less popular than a typical day shift; however, there are plenty of benefits of taking the shift less traveled. Working at an unconventional time can have positive effects on your work life balance – if you take advantage of them.
READ MORE

Successful Supply Drive From Edgerton

The employees at Air-Way in Edgerton recently completed a school supply drive with all contributed items being donated to Edgerton Elementary School. The team in Edgerton collected 804 school supplies and were able to split the supplies between Edgerton Elementary, Edon Elementary, and St. Mary's in Edgerton.
READ MORE

The 6 Values That Motivate our Family Built Business

At Air-Way Manufacturing, we have a strong commitment to providing innovative, quality driven and value-minded hydraulic solutions. Our company operates with the guidance of our six core values, which are designed to reflect the family minded culture that is a result of experienced leadership from the founding families. By continuing to develop best practices and reevaluate our decision making processes as necessary, we are able to meet the demands of our customers, employees, and community.
READ MORE